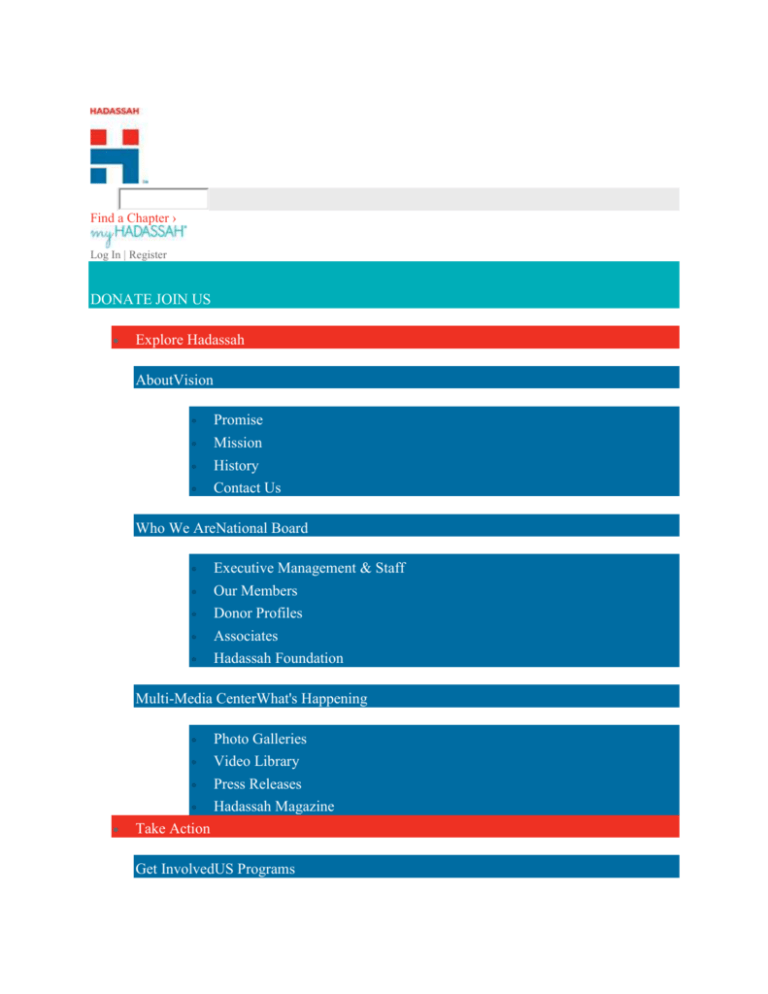 Find a Chapter ›
Log In | Register
DONATE JOIN US

Explore Hadassah
AboutVision

Promise

Mission
History
Contact Us


Who We AreNational Board

Executive Management & Staff

Our Members
Donor Profiles
Associates
Hadassah Foundation



Multi-Media CenterWhat's Happening





Photo Galleries
Video Library
Press Releases
Hadassah Magazine
Take Action
Get InvolvedUS Programs

Belong
AdvocateDomestic Advocacy



Israel & the World
Become an Advocate
Contact Government Officials
Ways to GiveKeepers of the Gate

Chai Society


Yahrzeit, Certificates & More
 Planned Giving & Estates
 Institutional/Foundation/Corporate Giving
 Designated Giving
Health & Medicine
Advancing Health & Medicine in IsraelHadassah's Hospitals

Trauma Care

Medical Research
The Tower
Cardiac Care
Breast Cancer / BRCA Gene Research



Promoting Healthy Living in the USEvery Beat Counts: Hadassah's Heart Health
Program


Breast Cancer Awareness
 Advocate for Women's Health
Building Community
Connecting Our MembersHadassah Leadership Fellows

Attorneys Council

Physicians Council
Nurses Council
Know Your Worth


Connecting to IsraelDefining Zionism

Israel Advocacy

Youth Aliyah
Young Judaea
Missions


User Login
Existing User
Login
Assistance
* = Required Fields
* User Name:
Forgot User
Name?
*Password:
Submit
Forgot Password?
Log in using one of your preferred sites
No social media sites were configured for
login.
Help
Login Failure
Help
Are you a new user?
Register to get your user name and password and access
personalized areas. Registration is quick and easy.
Tab to the user name input.
Contact Us
40 Wall Street
New York, NY 10005
E: support@hadassah.org
More ›
Membership Questions
E: membership@hadassah.org
P: (800) 664-5646
Donation Questions
E: donorservices@hadassah.org
P: (800) 928-0685
Missions Department
E: missions@hadassah.org
P: (800) 237-1517
Site Map Jobs Financials Privacy Statement Terms & Conditions
© 2016 Hadassah. The Women's Zionist Organization of America. All Rights Reserved.