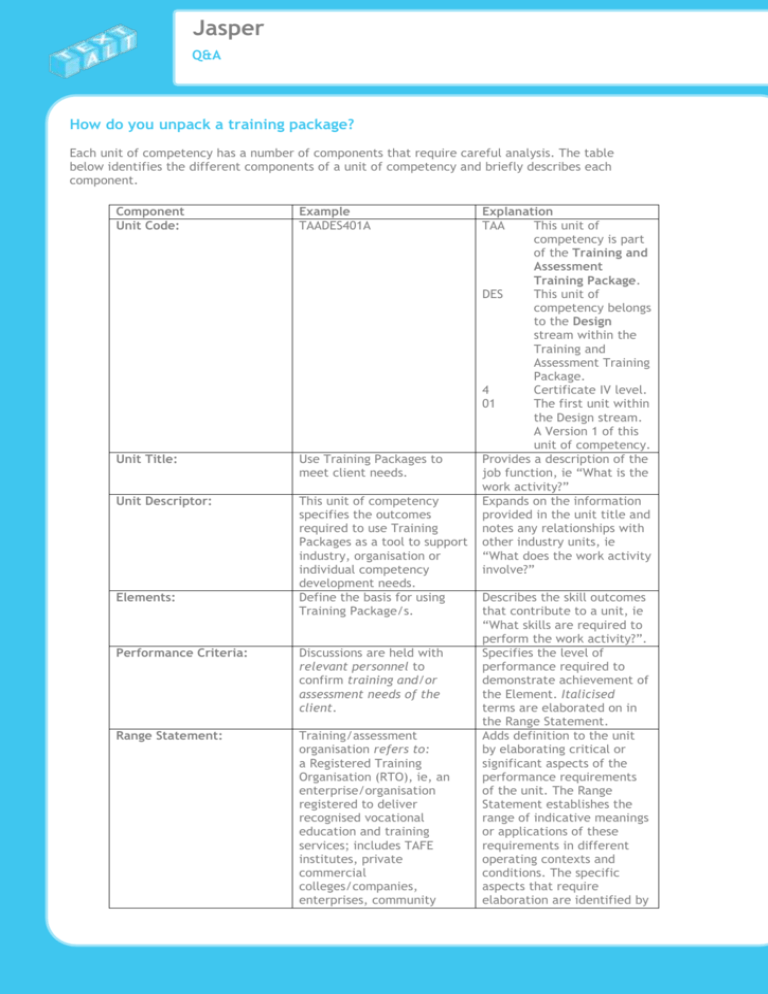 Jasper
Q&A
How do you unpack a training package?
Each unit of competency has a number of components that require careful analysis. The table
below identifies the different components of a unit of competency and briefly describes each
component.
Component
Unit Code:
Example
TAADES401A
Unit Title:
Use Training Packages to
meet client needs.
Unit Descriptor:
This unit of competency
specifies the outcomes
required to use Training
Packages as a tool to support
industry, organisation or
individual competency
development needs.
Define the basis for using
Training Package/s.
Elements:
Performance Criteria:
Discussions are held with
relevant personnel to
confirm training and/or
assessment needs of the
client.
Range Statement:
Training/assessment
organisation refers to:
a Registered Training
Organisation (RTO), ie, an
enterprise/organisation
registered to deliver
recognised vocational
education and training
services; includes TAFE
institutes, private
commercial
colleges/companies,
enterprises, community
Explanation
TAA
This unit of
competency is part
of the Training and
Assessment
Training Package.
DES
This unit of
competency belongs
to the Design
stream within the
Training and
Assessment Training
Package.
4
Certificate IV level.
01
The first unit within
the Design stream.
A Version 1 of this
unit of competency.
Provides a description of the
job function, ie "What is the
work activity?"
Expands on the information
provided in the unit title and
notes any relationships with
other industry units, ie
"What does the work activity
involve?"
Describes the skill outcomes
that contribute to a unit, ie
"What skills are required to
perform the work activity?".
Specifies the level of
performance required to
demonstrate achievement of
the Element. Italicised
terms are elaborated on in
the Range Statement.
Adds definition to the unit
by elaborating critical or
significant aspects of the
performance requirements
of the unit. The Range
Statement establishes the
range of indicative meanings
or applications of these
requirements in different
operating contexts and
conditions. The specific
aspects that require
elaboration are identified by
Jasper
Q&A
Component
Evidence Guide:
Example
organisations, group training
companies and schools.
A person who demonstrates
competency in this unit must
be able to provide evidence
that he/she can source,
interpret and use a Training
Package to adapt or
customise competency
standards for an industry,
organisation or individual.
Explanation
the use of italics in the
Performance Criteria.
The Evidence Guide provides
advice to inform and support
appropriate assessment of
this unit. It contains an
overview of the assessment
requirements followed by
identification of specific
aspects of evidence that will
need to be addressed in
determining competence.
The Evidence Guide is an
integral part of the unit and
should be read and
interpreted in conjunction
with the other components
of competency.