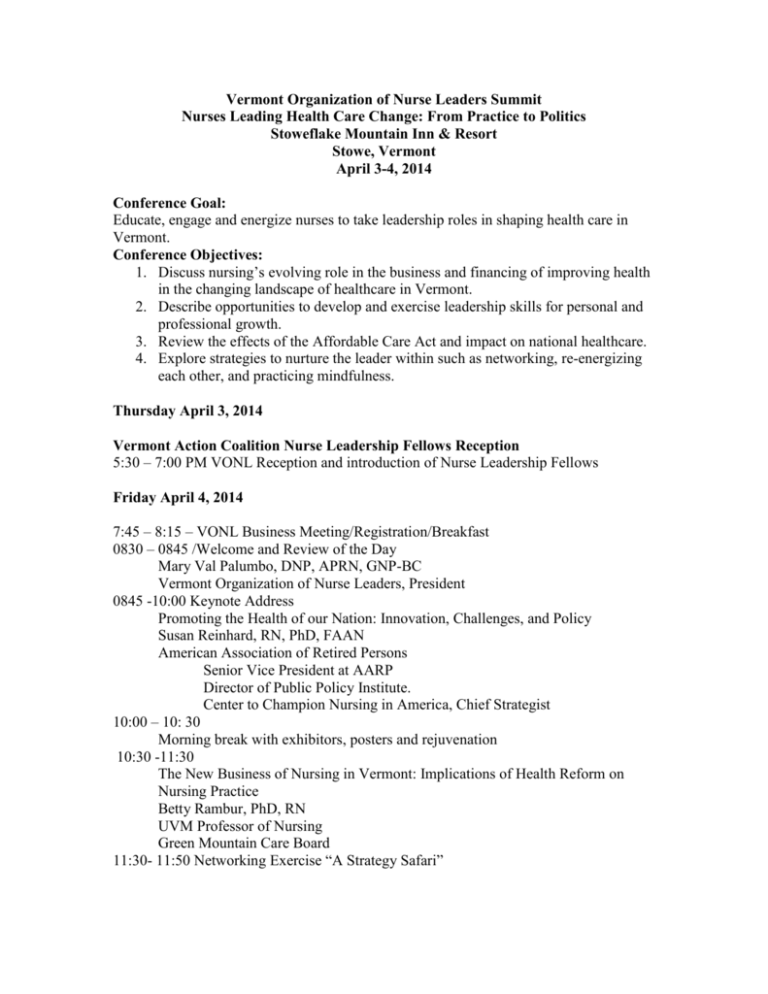 Vermont Organization of Nurse Leaders Summit
Nurses Leading Health Care Change: From Practice to Politics
Stoweflake Mountain Inn & Resort
Stowe, Vermont
April 3-4, 2014
Conference Goal:
Educate, engage and energize nurses to take leadership roles in shaping health care in
Vermont.
Conference Objectives:
1. Discuss nursing's evolving role in the business and financing of improving health
in the changing landscape of healthcare in Vermont.
2. Describe opportunities to develop and exercise leadership skills for personal and
professional growth.
3. Review the effects of the Affordable Care Act and impact on national healthcare.
4. Explore strategies to nurture the leader within such as networking, re-energizing
each other, and practicing mindfulness.
Thursday April 3, 2014
Vermont Action Coalition Nurse Leadership Fellows Reception
5:30 – 7:00 PM VONL Reception and introduction of Nurse Leadership Fellows
Friday April 4, 2014
7:45 – 8:15 – VONL Business Meeting/Registration/Breakfast
0830 – 0845 /Welcome and Review of the Day
Mary Val Palumbo, DNP, APRN, GNP-BC
Vermont Organization of Nurse Leaders, President
0845 -10:00 Keynote Address
Promoting the Health of our Nation: Innovation, Challenges, and Policy
Susan Reinhard, RN, PhD, FAAN
American Association of Retired Persons
Senior Vice President at AARP
Director of Public Policy Institute.
Center to Champion Nursing in America, Chief Strategist
10:00 – 10: 30
Morning break with exhibitors, posters and rejuvenation
10:30 -11:30
The New Business of Nursing in Vermont: Implications of Health Reform on
Nursing Practice
Betty Rambur, PhD, RN
UVM Professor of Nursing
Green Mountain Care Board
11:30- 11:50 Networking Exercise "A Strategy Safari"
11:50 – 12:20 Buffet Lunch
12:20 – 1:30 Dessert and Panel Discussion
Leading "The Business" of Nursing
Panel:
Carol Conroy, DNP, MBA, RN, CNOR
CNO and VP Operations Southwestern Vermont Medical Center
Irene Bonin MS, RN
Senior Health Care Consultant, Hayes Management Consulting
Past Board Member at Franklin West Supervisory Union
Christine Ryan, MS, RN
Vermont State Nurses Association Lobbyist
Kim Eugair APRN
Family Nurse Practitioner in Private Practice
1:30 – 2:00 Visit with exhibitors, posters and rejuvenation
2:00 – 3:00 The Leader Within: Minding the Minder
Why we need self-care and mindful presence
Tom Plunkett, MSW, LICSW
3:00- 3:15
Afternoon Break
3:15 -3:45
Plenary Session
Wrap up with Susan Reinhard, PhD, RN, FAAN
3:45 – 4:00
Awards and Wrap Up
Mary Val Palumbo, DNP, APRN, GNP-BC
Vermont Organization of Nurse Leaders, President
Additional Information:

$150 per person for Summit registration

VONL will provide 3 complementary registrations (value of $450.00) to each Vermont
School of Nursing.
Each organization is requested to submit one poster for display at the conference.




CNE credits will be available for April 4, 2014 conference.
Planning Committee: Billie Allard, Shiela Boni, Carol Conroy, Deb Mone, Mary Val
Palumbo, Hollie Shaner-McCrae, Irene Bonin, Annie Moore-Cox, Jean Cody
Southwestern Vermont Medical Center Education Department is an approved provider
of continuing nursing education by the Vermont State Nurses Association's Committee
on Education an accredited approver by the American Nurses Credentialing Center's
Commission on Accreditation.