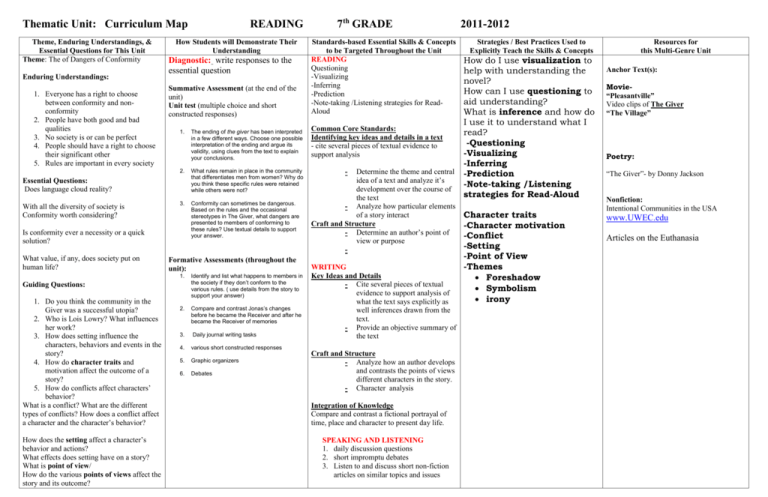 Thematic Unit: Curriculum Map
Theme, Enduring Understandings, &
Essential Questions for This Unit
Theme: The of Dangers of Conformity
Enduring Understandings:
1. Everyone has a right to choose
between conformity and nonconformity
2. People have both good and bad
qualities
3. No society is or can be perfect
4. People should have a right to choose
their significant other
5. Rules are important in every society
How Students will Demonstrate Their
Understanding
Diagnostic: write responses to the
essential question
Summative Assessment (at the end of the
unit)
Unit test (multiple choice and short
constructed responses)
1.
What rules remain in place in the community
that differentiates men from women? Why do
you think these specific rules were retained
while others were not?
3.
Conformity can sometimes be dangerous.
Based on the rules and the occasional
stereotypes in The Giver, what dangers are
presented to members of conforming to
these rules? Use textual details to support
your answer.
Is conformity ever a necessity or a quick
solution?
What value, if any, does society put on
human life?
Formative Assessments (throughout the
unit):
1.
Identify and list what happens to members in
the society if they don't conform to the
various rules. ( use details from the story to
support your answer)
2.
Compare and contrast Jonas's changes
before he became the Receiver and after he
became the Receiver of memories
3.
Daily journal writing tasks
4.
various short constructed responses
5.
Graphic organizers
6.
Debates
Guiding Questions:
1. Do you think the community in the
Giver was a successful utopia?
2. Who is Lois Lowry? What influences
her work?
3. How does setting influence the
characters, behaviors and events in the
story?
4. How do character traits and
motivation affect the outcome of a
story?
5. How do conflicts affect characters'
behavior?
What is a conflict? What are the different
types of conflicts? How does a conflict affect
a character and the character's behavior?
How does the setting affect a character's
behavior and actions?
What effects does setting have on a story?
What is point of view/
How do the various points of views affect the
story and its outcome?
The ending of the giver has been interpreted
in a few different ways. Choose one possible
interpretation of the ending and argue its
validity, using clues from the text to explain
your conclusions.
2.
Essential Questions:
Does language cloud reality?
With all the diversity of society is
Conformity worth considering?
READING
7th GRADE
Standards-based Essential Skills & Concepts
to be Targeted Throughout the Unit
READING
Questioning
-Visualizing
-Inferring
-Prediction
-Note-taking /Listening strategies for ReadAloud
Common Core Standards:
Identifying key ideas and details in a text
- cite several pieces of textual evidence to
support analysis
-
Determine the theme and central
idea of a text and analyze it's
development over the course of
the text
- Analyze how particular elements
of a story interact
Craft and Structure
- Determine an author's point of
view or purpose
WRITING
Key Ideas and Details
- Cite several pieces of textual
evidence to support analysis of
what the text says explicitly as
well inferences drawn from the
text.
- Provide an objective summary of
the text
Craft and Structure
- Analyze how an author develops
and contrasts the points of views
different characters in the story.
- Character analysis
Integration of Knowledge
Compare and contrast a fictional portrayal of
time, place and character to present day life.
SPEAKING AND LISTENING
1. daily discussion questions
2. short impromptu debates
3. Listen to and discuss short non-fiction
articles on similar topics and issues
2011-2012
Strategies / Best Practices Used to
Explicitly Teach the Skills & Concepts
How do I use visualization to
help with understanding the
novel?
How can I use questioning to
aid understanding?
What is inference and how do
I use it to understand what I
read?
-Questioning
-Visualizing
-Inferring
-Prediction
-Note-taking /Listening
strategies for Read-Aloud
Character traits
-Character motivation
-Conflict
-Setting
-Point of View
-Themes
 Foreshadow
 Symbolism
 irony
Resources for
this Multi-Genre Unit
Anchor Text(s):
Movie"Pleasantville"
Video clips of The Giver
"The Village"
Poetry:
"The Giver"- by Donny Jackson
Nonfiction:
Intentional Communities in the USA
www.UWEC.edu
Articles on the Euthanasia
What is a theme? How does a story evolve
around its theme?
6. At what times would euthanasia be
considered beneficial?
7. What is symbolism? What symbols
are used in the novel?
8. How is irony used in the novel?
9. What is foreshadowing and how is it
developed in the story?
10. What is the importance of
individualism?
11. What is Plot and how is it developed?