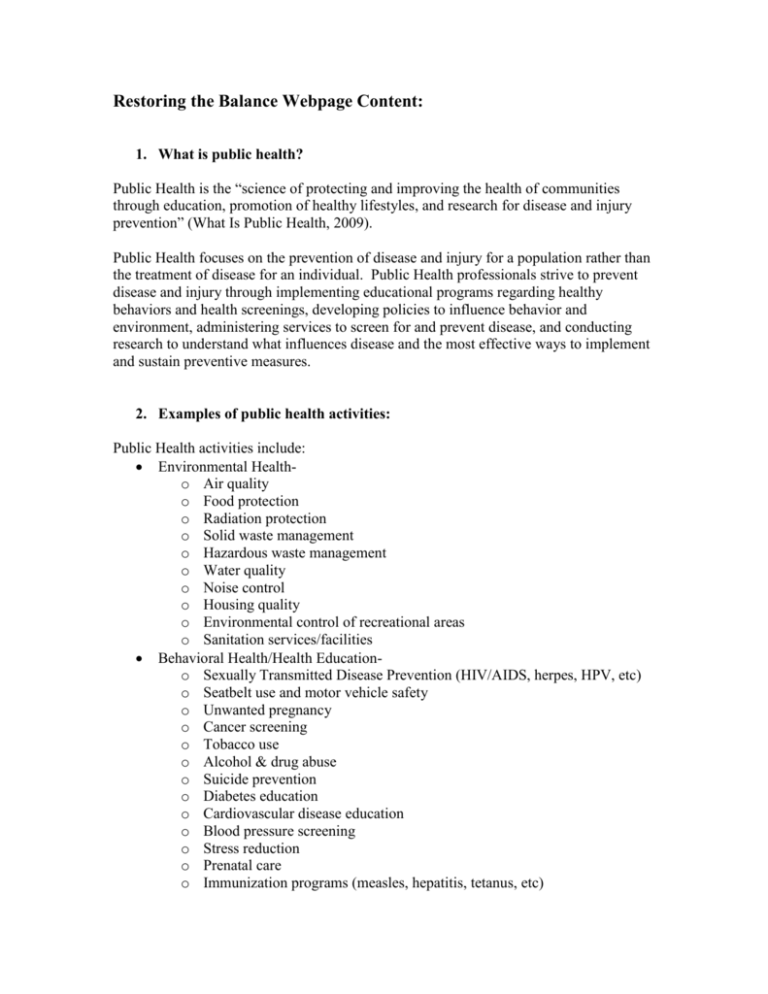 Restoring the Balance Webpage Content:
1. What is public health?
Public Health is the "science of protecting and improving the health of communities
through education, promotion of healthy lifestyles, and research for disease and injury
prevention" (What Is Public Health, 2009).
Public Health focuses on the prevention of disease and injury for a population rather than
the treatment of disease for an individual. Public Health professionals strive to prevent
disease and injury through implementing educational programs regarding healthy
behaviors and health screenings, developing policies to influence behavior and
environment, administering services to screen for and prevent disease, and conducting
research to understand what influences disease and the most effective ways to implement
and sustain preventive measures.
2. Examples of public health activities:
Public Health activities include:
 Environmental Healtho Air quality
o Food protection
o Radiation protection
o Solid waste management
o Hazardous waste management
o Water quality
o Noise control
o Housing quality
o Environmental control of recreational areas
o Sanitation services/facilities
 Behavioral Health/Health Educationo Sexually Transmitted Disease Prevention (HIV/AIDS, herpes, HPV, etc)
o Seatbelt use and motor vehicle safety
o Unwanted pregnancy
o Cancer screening
o Tobacco use
o Alcohol & drug abuse
o Suicide prevention
o Diabetes education
o Cardiovascular disease education
o Blood pressure screening
o Stress reduction
o Prenatal care
o Immunization programs (measles, hepatitis, tetanus, etc)






o Emergency preparedness
Biostatistics/Epidemiologyo Determine what causes a disease or injury
o Determine what the risks of a disease or injury are
o Determine who is at risk of a disease or injury
o Determine how to prevent further incidences of disease or injury
o Determine social trends of disease or injury
o Evaluate new treatments of disease or injury
o Estimating and forecasting scenarios of disease or injury
o Explaining biological phenomena
Health Services Administration/Managemento Delivering effective public health services through planning, organization,
policy formulation and analysis, finance, economics and marketing
o Managing human and fiscal resources of health facilities (health
departments, health insurance companies, hospitals, etc)
Maternal and Child Healtho Advocate for maternal and child health delivery systems
o Educate on and promote maternal and child health
o Provide information and access to birth control
o Dispense vaccinations to children
Nutritiono Researches how food and nutrients affect the wellness of a population
o Educate on the dangers of overeating and malnourishment
o Promote healthy eating
o Develop programs to provide healthy foods to populations and decrease
unhealthy items
International/Global Healtho Population policy/demography globally
o Health care finance and economics globally
o Public nutrition and food security globally
o Mental health and medical anthropology globally
o Infectious disease research and control globally
o International health policy and management
Public Health Policyo Legislative action at the local, state and federal level to improve health
o Advocating for public health improvements
(What Is Public Health, 2009)
3. Public health today- Our nations, our sovereignty
As sovereign nations, tribes are responsible for the overall health and well-being of their
members along with the land and environment of their tribe. Tribal communities get sick
less frequently and spend less money on health care as a result of tribal public health
initiatives. This means better long term outcomes for the Tribes, such as economic
productivity and an improved quality of life. Statistics show that Indian Country
continues to lag far behind other communities in basic resources and services, leaving our
communities more vulnerable to increased health risks, disease and injuries. Together,
we can overcome these barriers by supporting and advancing tribal public health
programs and initiatives.
To improve the health and well-being of the Tribal community, Healthy People 2010 and
the Indian Health Service have developed the following primary prevention areas of
focus. These focus areas highlight the public health issues that are of concern to the
AI/AN population and need to be addressed through public health activities.
 Asthma
 Diabetes
 Nutrition
 Obesity
 Physical Activity & Exercise
 Tobacco Cessation
4. Why is public health important to Indian Country?
Public Health has impacted the lives of American Indian/Alaska Natives for decades.
1) Prevention of infant deaths from diarrhea in the late 1970s through Oral
Rehydration Therapy (ORT).
2) Eradication of Hib Disease and Bacterial Meningitis in the early 1990s through a
new vaccine first used in White Mountain Apache and Navajo Populations.
3) Wiping out Pneumococcal Disease in the late 1990s through a large scale vaccine
trial.
4) Promoting youth development since 1996 through the Native Vision program that
has served more than 10,000 youth and 25,000 community members from tribes
across the nation.
5) Providing a home-based outreach program to the youngest most vulnerable
families since 1998, through the Family Spirit: Child Care Education and
Outreach for Teen Parents program.
6) Training American Indian/Alaska Native health professionals and scholars at the
Johns Hopkins School of Public Health since 2001.
7) Preventing youth suicide since 2004 through training on youth crisis screening
and the development of community-based interventions.
8) Preventing RSV Disease since 2004 through a new antibody that fights the lifethreatening respiratory illness.
(Johns Hopkins University, 2009)
What still needs to be done?
 The IHS and Tribal health care facilities/equipment and sanitation
facilities are old or non-existent. The average IHS facility is 30 years old
and $476 million worth of maintenance needs are backlogged (IHS, 2009).
 10% of Indian homes lack safe and adequate water supply.
 There is a lack of authority to provide cancer screenings and the rate of
mortality from cervical cancer is 1.9 times higher in AI/ANs than in all
other races (IHS, 2009).
 There is a lack of diabetes awareness and education and AI/ANs are 2.3
times as likely as white adults to be diagnosed with diabetes (CDC, 2008).
 There is a lack of prenatal education and care and AI/AN babies are twice
as likely as non-Hispanic white babies to die from sudden infant death
syndrome (CDC, 2008).
 There is a lack of attention to unintentional injuries which account for
41% of the years of productive life lost for AI/ANs and is the leading
cause of death for AI/ANs ages 15-24 years.
5. How can you help in Restoring the Balance?
For Health Care Professionals:
 Provide public health information/handouts/brochures to your clients.
 Advocate for preventive screenings in your health care facility
 Discuss public health concerns and issues with your clients.
 Promote a healthy lifestyle!
For Health Care Consumers:
 Discuss health screenings and healthy behaviors with your health care
provider.
 Be an advocate for your own health! Inquire about injury prevention, safe
housing, water supply, exercise, health screenings and nutritious food
options!