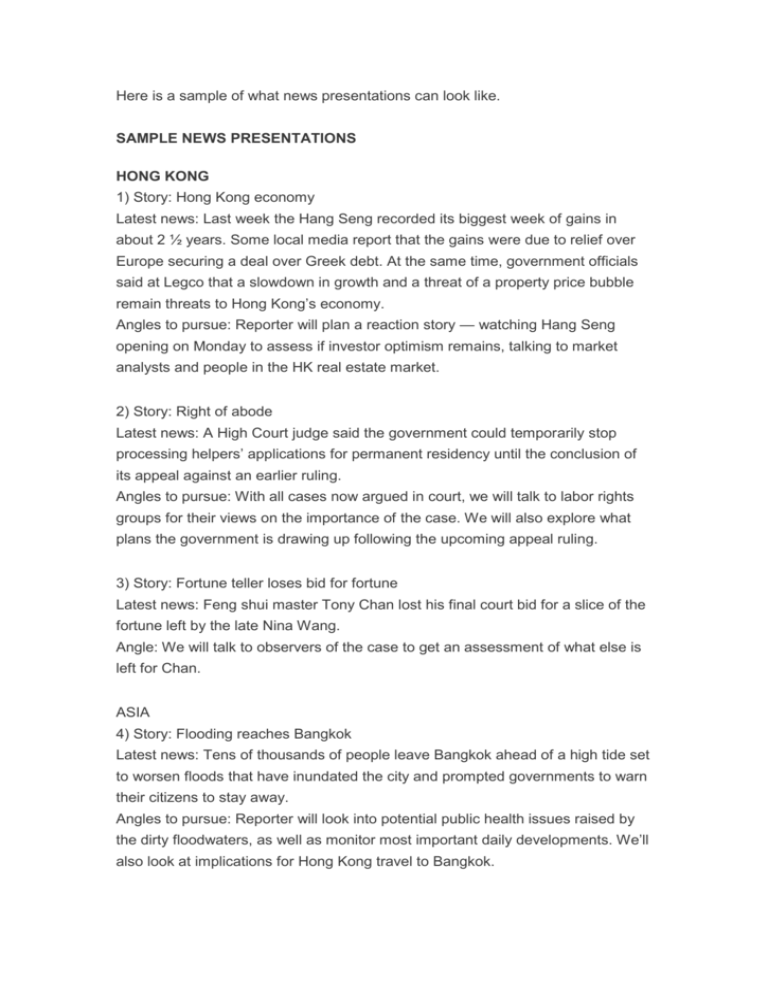 Here is a sample of what news presentations can look like.
SAMPLE NEWS PRESENTATIONS
HONG KONG
1) Story: Hong Kong economy
Latest news: Last week the Hang Seng recorded its biggest week of gains in
about 2 ½ years. Some local media report that the gains were due to relief over
Europe securing a deal over Greek debt. At the same time, government officials
said at Legco that a slowdown in growth and a threat of a property price bubble
remain threats to Hong Kong's economy.
Angles to pursue: Reporter will plan a reaction story — watching Hang Seng
opening on Monday to assess if investor optimism remains, talking to market
analysts and people in the HK real estate market.
2) Story: Right of abode
Latest news: A High Court judge said the government could temporarily stop
processing helpers' applications for permanent residency until the conclusion of
its appeal against an earlier ruling.
Angles to pursue: With all cases now argued in court, we will talk to labor rights
groups for their views on the importance of the case. We will also explore what
plans the government is drawing up following the upcoming appeal ruling.
3) Story: Fortune teller loses bid for fortune
Latest news: Feng shui master Tony Chan lost his final court bid for a slice of the
fortune left by the late Nina Wang.
Angle: We will talk to observers of the case to get an assessment of what else is
left for Chan.
ASIA
4) Story: Flooding reaches Bangkok
Latest news: Tens of thousands of people leave Bangkok ahead of a high tide set
to worsen floods that have inundated the city and prompted governments to warn
their citizens to stay away.
Angles to pursue: Reporter will look into potential public health issues raised by
the dirty floodwaters, as well as monitor most important daily developments. We'll
also look at implications for Hong Kong travel to Bangkok.
5) Story: China / security moves
Latest news: China last week placed new curbs on bloggers and entertainment.
During this past weekend, the National People's Congress Standing Committee
endorsed amendments to the Resident Identity Card Law. The move allows police
to detain citizens in busy public areas if they are not carrying their ID cards. Rights
advocates fear the new definition could allow abuse.
Angles to pursue: We will report on reaction in Hong Kong — from official and
authoritative sources, and also talk to rights groups based here.
WORLD
6) Story: EU reaches debt deal with Greece
Latest news: The EU last week approved a deal to reduce Greek debt, and plan it
says will help the indebted European country and avert a potential collapse in
European banking. At the end of the week, the EU announced it would seek
China's help to fund the deal.
Angles to pursue: This will be an advancer to the G20 summit at the end of this
week. We will report on China's response to the EU bid, and the move by Europe
to not look for American help, but help in Asia.
7) Story: Qantas to return to air
Latest news: Qantas was expected to resume flying Monday after an Australian
tribunal ordered an end to the strikes that had prompted the airline to ground its
entire fleet over the weekend, stranding thousands of people around the world.
Angles to pursue: We will look at the impact from the weekend – will travelers use
Qantas, and what are Hong Kong travel agents telling their customers. We'll go to
the HK airport to see if the lines are returning to normal. And how are other airlines
being affected by this move by Qantas.
8) Story: World's population
Latest news: The world's population reaches 7 billion today (Monday, Oct. 31),
according to the United Nations. It is the highest figure yet and has placed
renewed attention on issues such as the environment, food production and even
political stability within developing countries with fast-rising populations.
Angles to pursue: We will talk to analysts to report a story on the top issues raised
by the quickening pace of population growth — the impact on the environment,
food and political stability.