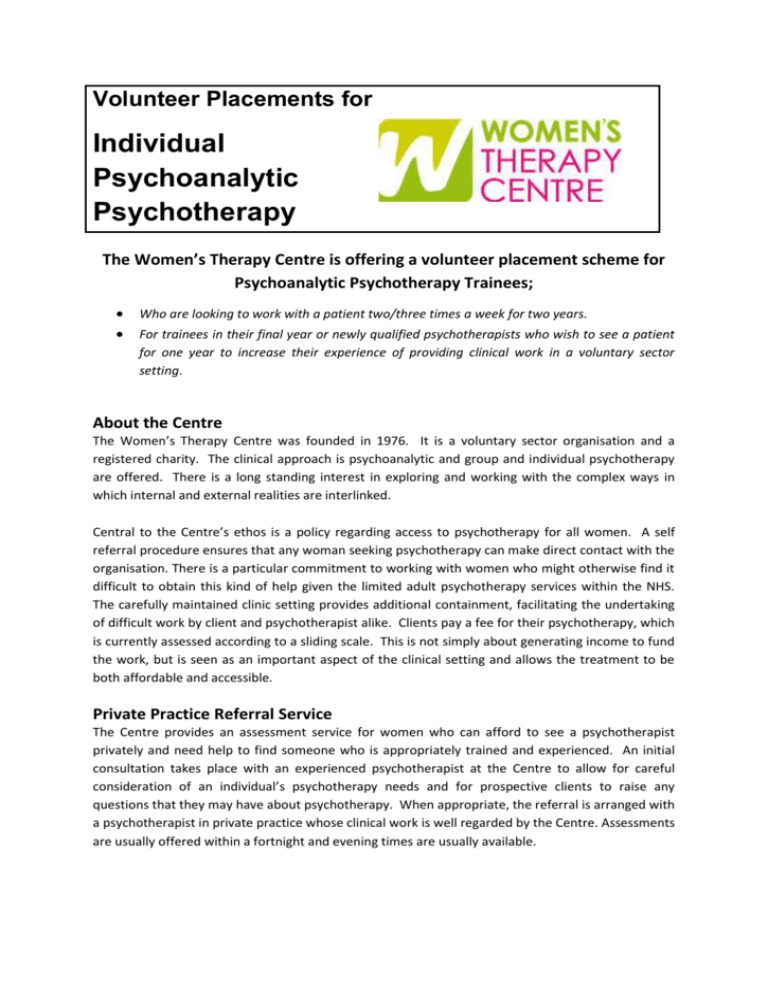 Volunteer Placements for
Individual
Psychoanalytic
Psychotherapy
The Women's Therapy Centre is offering a volunteer placement scheme for
Psychoanalytic Psychotherapy Trainees;


Who are looking to work with a patient two/three times a week for two years.
For trainees in their final year or newly qualified psychotherapists who wish to see a patient
for one year to increase their experience of providing clinical work in a voluntary sector
setting.
About the Centre
The Women's Therapy Centre was founded in 1976. It is a voluntary sector organisation and a
registered charity. The clinical approach is psychoanalytic and group and individual psychotherapy
are offered. There is a long standing interest in exploring and working with the complex ways in
which internal and external realities are interlinked.
Central to the Centre's ethos is a policy regarding access to psychotherapy for all women. A self
referral procedure ensures that any woman seeking psychotherapy can make direct contact with the
organisation. There is a particular commitment to working with women who might otherwise find it
difficult to obtain this kind of help given the limited adult psychotherapy services within the NHS.
The carefully maintained clinic setting provides additional containment, facilitating the undertaking
of difficult work by client and psychotherapist alike. Clients pay a fee for their psychotherapy, which
is currently assessed according to a sliding scale. This is not simply about generating income to fund
the work, but is seen as an important aspect of the clinical setting and allows the treatment to be
both affordable and accessible.
Private Practice Referral Service
The Centre provides an assessment service for women who can afford to see a psychotherapist
privately and need help to find someone who is appropriately trained and experienced. An initial
consultation takes place with an experienced psychotherapist at the Centre to allow for careful
consideration of an individual's psychotherapy needs and for prospective clients to raise any
questions that they may have about psychotherapy. When appropriate, the referral is arranged with
a psychotherapist in private practice whose clinical work is well regarded by the Centre. Assessments
are usually offered within a fortnight and evening times are usually available.
The Team
All psychotherapists and other staff at the Centre are women. There are no men in the Centre, but it
is felt to be essential that men are kept in mind. All staff working at the Centre are bound by a rule
of confidentiality and a handbook of detailed clinical and organisational policies and procedures.
Opportunities for Trainees at the Centre
1. 2 year volunteer contract for patients seen 2 or 3 times weekly or 1 year contract for patients
seen on a weekly basis.
2. Clinical experience with 1/ 2 clients either seen three times or once weekly.
3. To be a member of a once weekly supervision group with an experienced psychoanalytic
psychotherapist if supervision is not offered by the training organisation.
4. To work with a more disturbed client group than might be seen in a private setting.
5. To gain experience within a voluntary sector setting.
6. To develop a professional network.
7. To be part of clinical meetings to discuss assessments and the ongoing clinical work of other
therapists.
8. To have some cross fertilisation between individual and group work.
9. To develop their thinking about particular issues related to working with women by attending
a series of workshops run by the staff.
10. To participate in organisational away days.
11. To compile monitoring and evaluation data.
Seminar Series
Seminars are run in the Centre in place of the regular Wednesday clinical meetings. These are
attended by the staff team and trainees. A WTC therapist takes responsibility for one workshop each
working with a colleague if appropriate, to present some theoretical material looking at both the
experiences of working with an individual and a group. Relevant clinical material gathered at the
Centre acts as a basis for the discussions.
The topics for the seminars include the following areas
 working with refugees
 domestic violence
 sexual abuse
 eating disorders
 cross cultural issues
 psychotherapy in an organisational setting
 trauma
 working with an interpreter
Training Patients
Staff psychotherapists at the Centre assess women regularly. Many of these are referred to the
services provided by the Centre and others are placed on a waiting list until there is a vacancy. The
Centre has a commitment to identifying women whom they feel would benefit from being seen
three times a week and discussing with them the possibility of working more intensively. If they
appear interested and demonstrate a capacity to commit to the process they are referred on to an
accredited psychoanalytic psychotherapist within the Centre and then to the training organisation if
they request this, so their suitability as a training patient can be assessed. If the Centre, training
organisation and trainee are in agreement that the woman will be appropriate for the volunteer
placement scheme they will be offered a two year contract with a trainee at the Centre.
Setting up the Placement

Trainees interested in applying for the volunteer placement scheme will be asked to submit
a C.V. and brief covering statement.

Trainees are required to come to the Centre for an informal interview with the Coordinator
of Clinical services and a member of the psychotherapy staff team.

Clinical responsibility is shared jointly between the training organisation and WTC. Review
meetings will be organised between the trainee, WTC and the training organisation to
discuss how the placement is progressing.

Trainees are issued with a volunteer placement contract at the beginning of their placement.

Trainees are expected to attend a once weekly supervision group for one hour run by an
experienced psychoanalytic psychotherapist if they are not being supervised by their training
organisation. If supervision is being offered externally then the trainee will be expected to
meet with a staff psychotherapist on a monthly basis for clinical management. Trainees will
be asked to write twice yearly reports about their patients. Trainees will be encouraged to
attend a meeting with other members of the Honorary Scheme once a term.

Attendance at the monthly intake meeting on a Wednesday is optional.

Trainees are expected to undergo a CRB check and sign a confidentiality agreement.