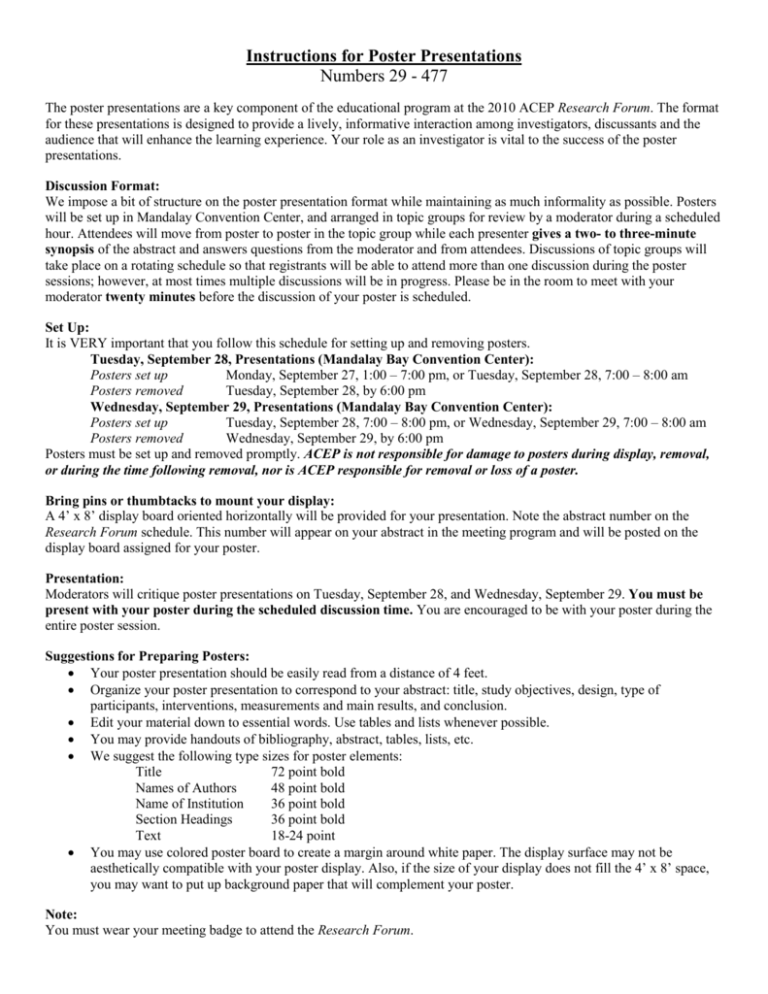 Instructions for Poster Presentations
Numbers 29 - 477
The poster presentations are a key component of the educational program at the 2010 ACEP Research Forum. The format
for these presentations is designed to provide a lively, informative interaction among investigators, discussants and the
audience that will enhance the learning experience. Your role as an investigator is vital to the success of the poster
presentations.
Discussion Format:
We impose a bit of structure on the poster presentation format while maintaining as much informality as possible. Posters
will be set up in Mandalay Convention Center, and arranged in topic groups for review by a moderator during a scheduled
hour. Attendees will move from poster to poster in the topic group while each presenter gives a two- to three-minute
synopsis of the abstract and answers questions from the moderator and from attendees. Discussions of topic groups will
take place on a rotating schedule so that registrants will be able to attend more than one discussion during the poster
sessions; however, at most times multiple discussions will be in progress. Please be in the room to meet with your
moderator twenty minutes before the discussion of your poster is scheduled.
Set Up:
It is VERY important that you follow this schedule for setting up and removing posters.
Tuesday, September 28, Presentations (Mandalay Bay Convention Center):
Posters set up
Monday, September 27, 1:00 – 7:00 pm, or Tuesday, September 28, 7:00 – 8:00 am
Posters removed
Tuesday, September 28, by 6:00 pm
Wednesday, September 29, Presentations (Mandalay Bay Convention Center):
Posters set up
Tuesday, September 28, 7:00 – 8:00 pm, or Wednesday, September 29, 7:00 – 8:00 am
Posters removed
Wednesday, September 29, by 6:00 pm
Posters must be set up and removed promptly. ACEP is not responsible for damage to posters during display, removal,
or during the time following removal, nor is ACEP responsible for removal or loss of a poster.
Bring pins or thumbtacks to mount your display:
A 4' x 8' display board oriented horizontally will be provided for your presentation. Note the abstract number on the
Research Forum schedule. This number will appear on your abstract in the meeting program and will be posted on the
display board assigned for your poster.
Presentation:
Moderators will critique poster presentations on Tuesday, September 28, and Wednesday, September 29. You must be
present with your poster during the scheduled discussion time. You are encouraged to be with your poster during the
entire poster session.
Suggestions for Preparing Posters:
 Your poster presentation should be easily read from a distance of 4 feet.
 Organize your poster presentation to correspond to your abstract: title, study objectives, design, type of
participants, interventions, measurements and main results, and conclusion.
 Edit your material down to essential words. Use tables and lists whenever possible.
 You may provide handouts of bibliography, abstract, tables, lists, etc.
 We suggest the following type sizes for poster elements:
Title
72 point bold
Names of Authors
48 point bold
Name of Institution
36 point bold
Section Headings
36 point bold
Text
18-24 point
 You may use colored poster board to create a margin around white paper. The display surface may not be
aesthetically compatible with your poster display. Also, if the size of your display does not fill the 4' x 8' space,
you may want to put up background paper that will complement your poster.
Note:
You must wear your meeting badge to attend the Research Forum.