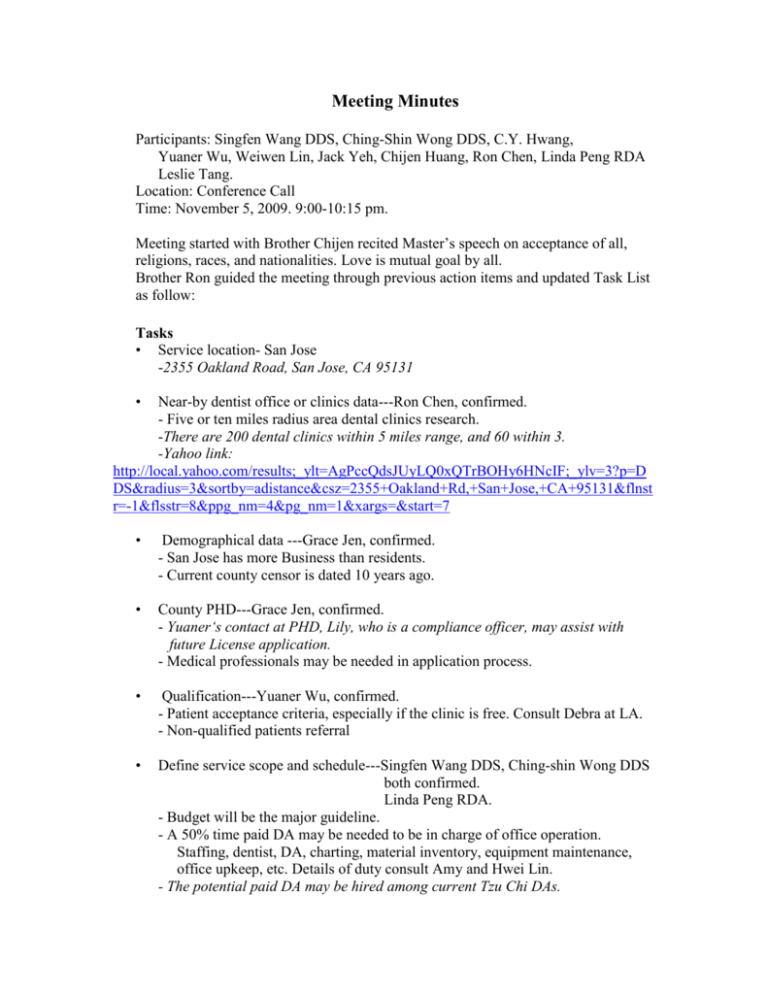 Meeting Minutes
Participants: Singfen Wang DDS, Ching-Shin Wong DDS, C.Y. Hwang,
Yuaner Wu, Weiwen Lin, Jack Yeh, Chijen Huang, Ron Chen, Linda Peng RDA
Leslie Tang.
Location: Conference Call
Time: November 5, 2009. 9:00-10:15 pm.
Meeting started with Brother Chijen recited Master's speech on acceptance of all,
religions, races, and nationalities. Love is mutual goal by all.
Brother Ron guided the meeting through previous action items and updated Task List
as follow:
Tasks
• Service location- San Jose
-2355 Oakland Road, San Jose, CA 95131
•
Near-by dentist office or clinics data---Ron Chen, confirmed.
- Five or ten miles radius area dental clinics research.
-There are 200 dental clinics within 5 miles range, and 60 within 3.
-Yahoo link:
http://local.yahoo.com/results;_ylt=AgPccQdsJUyLQ0xQTrBOHy6HNcIF;_ylv=3?p=D
DS&radius=3&sortby=adistance&csz=2355+Oakland+Rd,+San+Jose,+CA+95131&flnst
r=-1&flsstr=8&ppg_nm=4&pg_nm=1&xargs=&start=7
•
Demographical data ---Grace Jen, confirmed.
- San Jose has more Business than residents.
- Current county censor is dated 10 years ago.
•
County PHD---Grace Jen, confirmed.
- Yuaner's contact at PHD, Lily, who is a compliance officer, may assist with
future License application.
- Medical professionals may be needed in application process.
•
Qualification---Yuaner Wu, confirmed.
- Patient acceptance criteria, especially if the clinic is free. Consult Debra at LA.
- Non-qualified patients referral
•
Define service scope and schedule---Singfen Wang DDS, Ching-shin Wong DDS
both confirmed.
Linda Peng RDA.
- Budget will be the major guideline.
- A 50% time paid DA may be needed to be in charge of office operation.
Staffing, dentist, DA, charting, material inventory, equipment maintenance,
office upkeep, etc. Details of duty consult Amy and Hwei Lin.
- The potential paid DA may be hired among current Tzu Chi DAs.
- Service day may start with Sunday when most DDSs are off regular duty.
- May add one weekday which is scheduled after the survey of all DDSs' schedule.
By Jenny.
- Scheduling will be coordinated with current dental outreach program.
•
Operation resource---Jack Yeh, Chijen Huang, confirmed
- Service day
- misc support - 委員, 午餐, 慈濟人文等.
- Facility planning-portable, mobile
- Non-service day
- Administration – patient reservation, case, and referral.
- Patient reservation may be done by special group of volunteers at SJ
office.
-SJ office may set up an extension line for dental reservation purpose or
others—TBD
- Follow-up and general inquiry
- Follow Tzu Chi four in one structure for volunteer scheduling support.
•
Internal training---Jack Yeh, confirmed.
- service or non-service related volunteers.
•
Professional training---Linda Peng RDA. Confirmed
- DDS needs professional assistance from DA. Currently, the experienced DAs
are difficult to schedule, while less experienced DAs need chance to practice.
- Possiblility of DDS take in interns at their private clinic.
- Identify potential trainees among Tzu Chi volunteers.
•
Regulatory requirement---Yuaner Wu, confirmed.
- Consultant Tom Terry is current Tzu Chi regulatory advisor, who advises in
writing of Compliance Manual. He has one year contract with Tzu Chi. Need to
inform him of San Jose new location, therefore possible new regulations.
•
Budgeting---Chijen Huang.
- Consult LA model.
- Yuaner will be the contact with LA.
- An initial budget will be decided with further revision.
- Material, equipment, personnel.
•
Referral and community connection---Chung-Yuen Hwang, confirmed
- Hospital/Medical Center Affiliation. A list of such centers is attached.
- What can these centers accommodate our referral? Service scope needs to be
established.
- DDS decision based on good will.
-LA model which excludes elective procedure.
-Medical emergency referral.
-After hour referral.
-Out of Tzu Chi service scope referral-elected by patients.
- California Healthy Family can be one of the referral centers but covers
children and young adult only.
- Establish MOU with such centers.
- Contact with local dental clinic.
•
Patient confidentiality –Weiwen Lin
- X-ray images and patient information stored in a portable device (notebook)
can be taken easily. Shared files over network needs security guard.
- Assign patient number for security purpose.
Summary from Nov. monthly call with LA Medical Foundation

Clinics license :
- Satellite clinics (both Fresno and SJ) : based on Milpitas office address,
but can change to SJ new facility by amendament after granted
- License should be in place 2-3 weeks after PHD visiting Medical Foundation on 11/16; afterwards, we can start business license
application locally

Fixed-location Dental program :
- fixed-location dental service is covered by the license
- sister Debra suggests to render service using mobile van ONLY
- office space can still be used for registration, waiting area and charting
- budget, service scope and frequency is still under evaluation
Action items:
1. Referral and community connection---information collection
Continue by C.Y. Hwang.
2. Field trip to SJ office to explore possible site/area for Fixed Dental Clinic.
3. Revisit above list.
4. Upload reports to wiki.