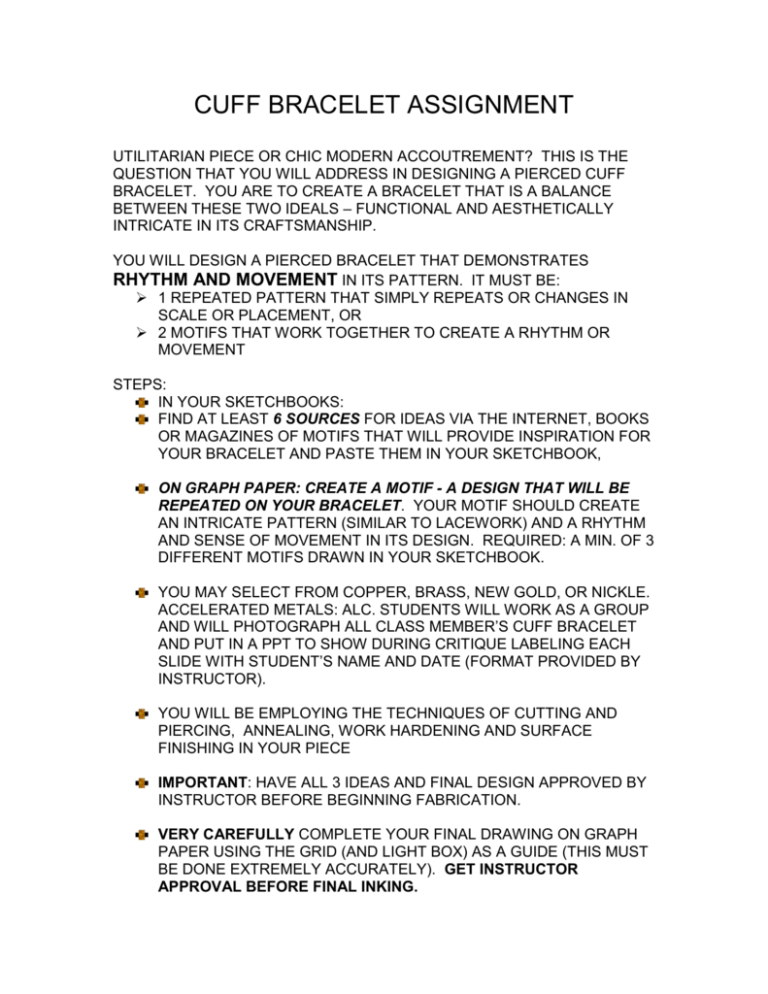 CUFF BRACELET ASSIGNMENT
UTILITARIAN PIECE OR CHIC MODERN ACCOUTREMENT? THIS IS THE
QUESTION THAT YOU WILL ADDRESS IN DESIGNING A PIERCED CUFF
BRACELET. YOU ARE TO CREATE A BRACELET THAT IS A BALANCE
BETWEEN THESE TWO IDEALS – FUNCTIONAL AND AESTHETICALLY
INTRICATE IN ITS CRAFTSMANSHIP.
YOU WILL DESIGN A PIERCED BRACELET THAT DEMONSTRATES
RHYTHM AND MOVEMENT IN ITS PATTERN. IT MUST BE:
 1 REPEATED PATTERN THAT SIMPLY REPEATS OR CHANGES IN
SCALE OR PLACEMENT, OR
 2 MOTIFS THAT WORK TOGETHER TO CREATE A RHYTHM OR
MOVEMENT
STEPS:
IN YOUR SKETCHBOOKS:
FIND AT LEAST 6 SOURCES FOR IDEAS VIA THE INTERNET, BOOKS
OR MAGAZINES OF MOTIFS THAT WILL PROVIDE INSPIRATION FOR
YOUR BRACELET AND PASTE THEM IN YOUR SKETCHBOOK,
ON GRAPH PAPER: CREATE A MOTIF - A DESIGN THAT WILL BE
REPEATED ON YOUR BRACELET. YOUR MOTIF SHOULD CREATE
AN INTRICATE PATTERN (SIMILAR TO LACEWORK) AND A RHYTHM
AND SENSE OF MOVEMENT IN ITS DESIGN. REQUIRED: A MIN. OF 3
DIFFERENT MOTIFS DRAWN IN YOUR SKETCHBOOK.
YOU MAY SELECT FROM COPPER, BRASS, NEW GOLD, OR NICKLE.
ACCELERATED METALS: ALC. STUDENTS WILL WORK AS A GROUP
AND WILL PHOTOGRAPH ALL CLASS MEMBER'S CUFF BRACELET
AND PUT IN A PPT TO SHOW DURING CRITIQUE LABELING EACH
SLIDE WITH STUDENT'S NAME AND DATE (FORMAT PROVIDED BY
INSTRUCTOR).
YOU WILL BE EMPLOYING THE TECHNIQUES OF CUTTING AND
PIERCING, ANNEALING, WORK HARDENING AND SURFACE
FINISHING IN YOUR PIECE
IMPORTANT: HAVE ALL 3 IDEAS AND FINAL DESIGN APPROVED BY
INSTRUCTOR BEFORE BEGINNING FABRICATION.
VERY CAREFULLY COMPLETE YOUR FINAL DRAWING ON GRAPH
PAPER USING THE GRID (AND LIGHT BOX) AS A GUIDE (THIS MUST
BE DONE EXTREMELY ACCURATELY). GET INSTRUCTOR
APPROVAL BEFORE FINAL INKING.
TRANSFER YOUR DESIGN FROM GRAPH PAPER TO METAL BY
GLUING GRAPH PAPER ON METAL BLANK. CUT AND PIERCE
YOUR DESIGN.
FILE AS NEEDED
WET-DRY SANDPAPER: USE THE 4 GRADUATED LEVELS - 220, 320,
400, 600 GRIT (IN WATER)
ANNEAL (WEARING GOGGLES), SHAPE AND WORK HARDEN YOUR
BRACELET OVER BRACELET MANDREL
FINISH YOUR PIECE WITH EITHER A SATIN (EMERY FINISH), HIGH
GLOSS (BUFFER/POLISHER) OR ANTIQUE FINISH (LIVER OF
SULFER).