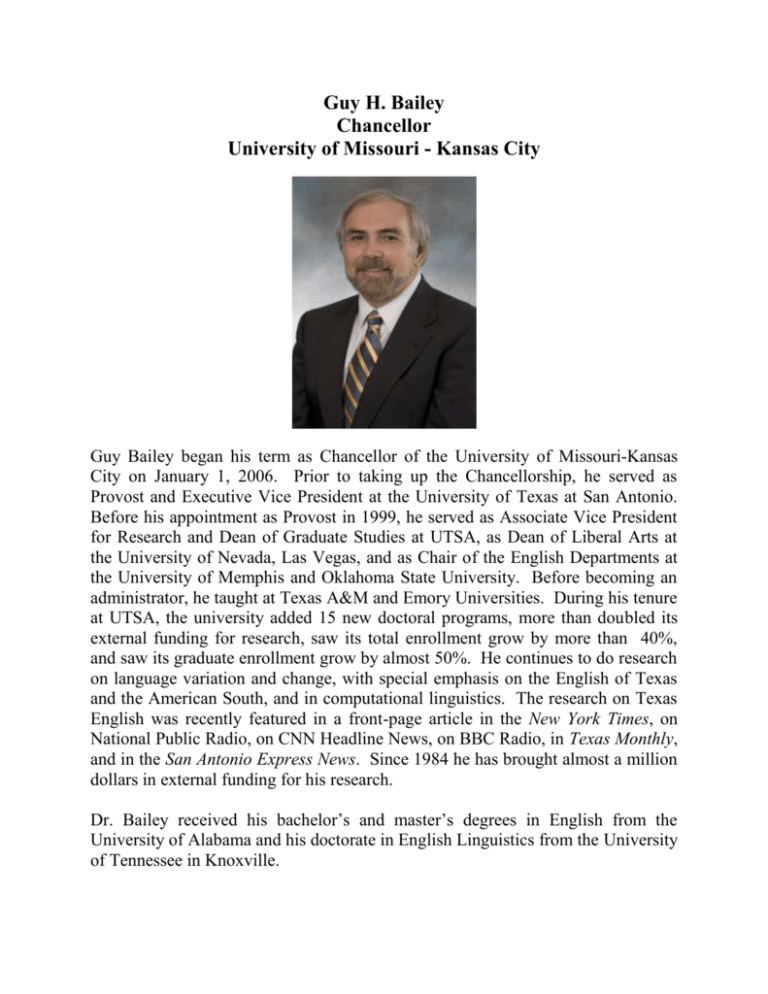 Guy H. Bailey
Chancellor
University of Missouri - Kansas City
Guy Bailey began his term as Chancellor of the University of Missouri-Kansas
City on January 1, 2006. Prior to taking up the Chancellorship, he served as
Provost and Executive Vice President at the University of Texas at San Antonio.
Before his appointment as Provost in 1999, he served as Associate Vice President
for Research and Dean of Graduate Studies at UTSA, as Dean of Liberal Arts at
the University of Nevada, Las Vegas, and as Chair of the English Departments at
the University of Memphis and Oklahoma State University. Before becoming an
administrator, he taught at Texas A&M and Emory Universities. During his tenure
at UTSA, the university added 15 new doctoral programs, more than doubled its
external funding for research, saw its total enrollment grow by more than 40%,
and saw its graduate enrollment grow by almost 50%. He continues to do research
on language variation and change, with special emphasis on the English of Texas
and the American South, and in computational linguistics. The research on Texas
English was recently featured in a front-page article in the New York Times, on
National Public Radio, on CNN Headline News, on BBC Radio, in Texas Monthly,
and in the San Antonio Express News. Since 1984 he has brought almost a million
dollars in external funding for his research.
Dr. Bailey received his bachelor's and master's degrees in English from the
University of Alabama and his doctorate in English Linguistics from the University
of Tennessee in Knoxville.