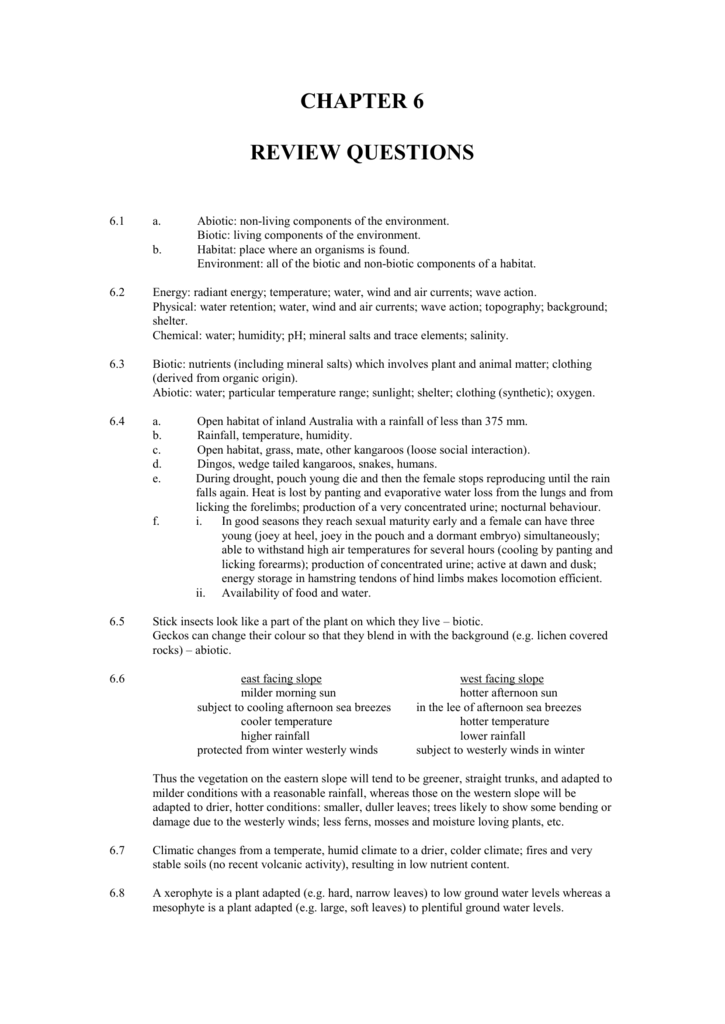 CHAPTER 6
REVIEW QUESTIONS
6.1
a.
b.
Abiotic: non-living components of the environment.
Biotic: living components of the environment.
Habitat: place where an organisms is found.
Environment: all of the biotic and non-biotic components of a habitat.
6.2
Energy: radiant energy; temperature; water, wind and air currents; wave action.
Physical: water retention; water, wind and air currents; wave action; topography; background;
shelter.
Chemical: water; humidity; pH; mineral salts and trace elements; salinity.
6.3
Biotic: nutrients (including mineral salts) which involves plant and animal matter; clothing
(derived from organic origin).
Abiotic: water; particular temperature range; sunlight; shelter; clothing (synthetic); oxygen.
6.4
a.
b.
c.
d.
e.
f.
6.5
6.6
Open habitat of inland Australia with a rainfall of less than 375 mm.
Rainfall, temperature, humidity.
Open habitat, grass, mate, other kangaroos (loose social interaction).
Dingos, wedge tailed kangaroos, snakes, humans.
During drought, pouch young die and then the female stops reproducing until the rain
falls again. Heat is lost by panting and evaporative water loss from the lungs and from
licking the forelimbs; production of a very concentrated urine; nocturnal behaviour.
i.
In good seasons they reach sexual maturity early and a female can have three
young (joey at heel, joey in the pouch and a dormant embryo) simultaneously;
able to withstand high air temperatures for several hours (cooling by panting and
licking forearms); production of concentrated urine; active at dawn and dusk;
energy storage in hamstring tendons of hind limbs makes locomotion efficient.
ii. Availability of food and water.
Stick insects look like a part of the plant on which they live – biotic.
Geckos can change their colour so that they blend in with the background (e.g. lichen covered
rocks) – abiotic.
east facing slope
milder morning sun
subject to cooling afternoon sea breezes
cooler temperature
higher rainfall
protected from winter westerly winds
west facing slope
hotter afternoon sun
in the lee of afternoon sea breezes
hotter temperature
lower rainfall
subject to westerly winds in winter
Thus the vegetation on the eastern slope will tend to be greener, straight trunks, and adapted to
milder conditions with a reasonable rainfall, whereas those on the western slope will be
adapted to drier, hotter conditions: smaller, duller leaves; trees likely to show some bending or
damage due to the westerly winds; less ferns, mosses and moisture loving plants, etc.
6.7
Climatic changes from a temperate, humid climate to a drier, colder climate; fires and very
stable soils (no recent volcanic activity), resulting in low nutrient content.
6.8
A xerophyte is a plant adapted (e.g. hard, narrow leaves) to low ground water levels whereas a
mesophyte is a plant adapted (e.g. large, soft leaves) to plentiful ground water levels.
6.9
a.
b.
c.
A sclerophyte is a plant with rigid, often small leaves.
They are adapted to soils of low fertility and also allow the plant to survive water stress
and fire.
Australian soils are termed 'ancient' in that there has been no recent volcanic activity to
replenish soil mineral nutrients. The climate is such that much of the continent is
subject to hot dry summers and so ground water levels are low and the possibility of fire
is high.
6.10
a.
b.
Amount of lichen on the bark of trees, predators.
Amount of pollution in the air which affects the lichen growth.
6.11
As a control to ensure that the birds were selecting a specific colour of the moth in each
environment.
6.12
'Wallum' refers to both a type of plant – the wallum oak Banksia aemula, and associated
vegetation – and to the area in which this type of vegetation is found – sandy areas close to the
sea in Queensland.
6.13
a.
b.
c.
Low nutrient soils: association with nitrogen fixing bacteria in root nodules (e.g.
wattles); mycorrhizae; extensive shallow root systems; lignotubers; insectivores.
Water stress: large root system; sclerophylly; angling leaves towards the trunk; sunken
stomata; hairs on undersurfaces of leaves.
Fires: production of oils and tannins to encourage rapid burning; paper bark containing
large amounts of water; dormant buds or lignotubers; underground rhizomes, tubers or
bulbs to allow regrowth; thick bark.
6.14
Changes in temperature and rainfall can affect the growth of vegetation. This either directly or
indirectly affects the animals in that area. When conditions are adverse, many plants become
deciduous, or above ground parts die off. The animals may then either migrate out of the area
or go into a state of torpor.
6.15
Organisms bring about changes in their environment by providing food or habitats for others,
eliminating wastes, removing water, adding organic matter, absorbing light, taking in food
from others, using others for habitats, altering carbon dioxide levels, removing minerals,
providing shade, or altering oxygen levels.
6.16
a.
b.
c.
d.
e.
Pioneer species: the first plants to colonise bare ground.
Climax community: a community which remains stable over a very long period of time.
Disclimax community: the result of vegetation changes due to degradation activities by
organisms.
Primary succession: stages in community change from bare ground to a climax
community.
Secondary succession: stages in community change which occur when the dominant
species of a climax community is removed.