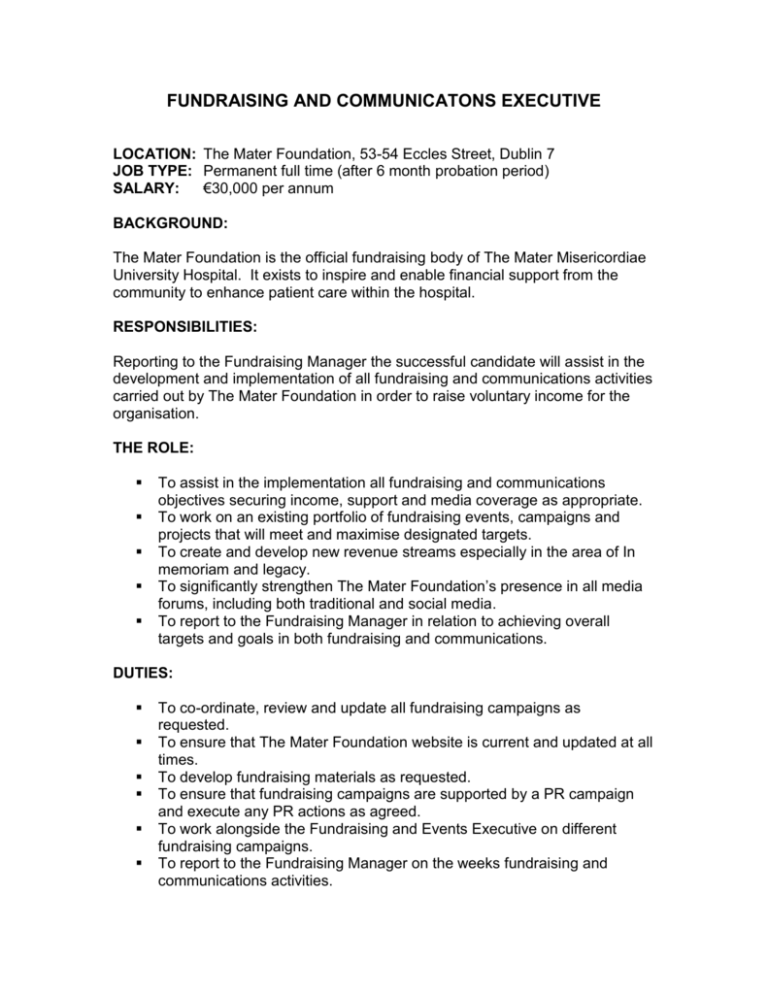 FUNDRAISING AND COMMUNICATONS EXECUTIVE
LOCATION: The Mater Foundation, 53-54 Eccles Street, Dublin 7
JOB TYPE: Permanent full time (after 6 month probation period)
SALARY:
€30,000 per annum
BACKGROUND:
The Mater Foundation is the official fundraising body of The Mater Misericordiae
University Hospital. It exists to inspire and enable financial support from the
community to enhance patient care within the hospital.
RESPONSIBILITIES:
Reporting to the Fundraising Manager the successful candidate will assist in the
development and implementation of all fundraising and communications activities
carried out by The Mater Foundation in order to raise voluntary income for the
organisation.
THE ROLE:





To assist in the implementation all fundraising and communications
objectives securing income, support and media coverage as appropriate.
To work on an existing portfolio of fundraising events, campaigns and
projects that will meet and maximise designated targets.
To create and develop new revenue streams especially in the area of In
memoriam and legacy.
To significantly strengthen The Mater Foundation's presence in all media
forums, including both traditional and social media.
To report to the Fundraising Manager in relation to achieving overall
targets and goals in both fundraising and communications.
DUTIES:






To co-ordinate, review and update all fundraising campaigns as
requested.
To ensure that The Mater Foundation website is current and updated at all
times.
To develop fundraising materials as requested.
To ensure that fundraising campaigns are supported by a PR campaign
and execute any PR actions as agreed.
To work alongside the Fundraising and Events Executive on different
fundraising campaigns.
To report to the Fundraising Manager on the weeks fundraising and
communications activities.


To work with external charities on joint projects as required.
Promote the charity's aims and objectives at all times.
SKILLS AND QUALITIES REQUIRED:












Passionate about the voluntary sector and the work of The Mater
Foundation.
Minimum of 2 year's experience in fundraising, communications or
marketing preferably in the voluntary sector and hopefully as part of a
fundraising team.
Comprehensive grasp of modern fundraising/sales techniques including
new media.
Knowledge of legacy, in memoriam or other fundraising methods desirable
Education to degree level or relevant experience gained in either the
voluntary or business sector.
Excellent written skills, with experience of writing for websites.
Excellent computer skills including Microsoft Word and Excel.
Experience of working with Raisers Edge highly desirable.
Excellent inter-personal skills and ability to work well within a team.
Self-motivator, flexible, innovative and enthusiastic.
Ability to communicate verbally and in writing at all levels while ensuring a
high degree of accuracy.
Good project management and planning skills.
Requirements of all Mater Foundation Staff:










Commitment to the purpose of The Mater Foundation and to work within
the values, policies and procedures of the organisation and in the context
of current legislation and regulations.
To ensure cost effective fundraising practices and systems are adhered to
at all times.
Be friendly, enthusiastic and donor focussed.
Show commonsense and initiative.
To participate in regular supervision with your line manager.
To actively participate in team and staff meetings and service reviews/
evaluations.
To report any area of concern to your line manager in a timely manner.
To show reasonable flexibility in relation to hours of attendance to meet
the needs of the work. Work during unsocial hours may be required.
To have a flexible approach to the work in response to organisational
change, development and review of best practice.
To identify training needs with your line manager and participate in training
opportunities to the role.



To be vigilant to any Health, Safety and Welfare risks in the workplace and
bring any concerns to the attention of your line manager.
To participate in the efficient flow of information within the organisation by
sharing and seeking information as appropriate.
To undertake other duties as may be requested by the Fundraising
Manager or CEO from time to time.
Note: This Job Description will be reviewed and updated in line with the needs of
the organisation.