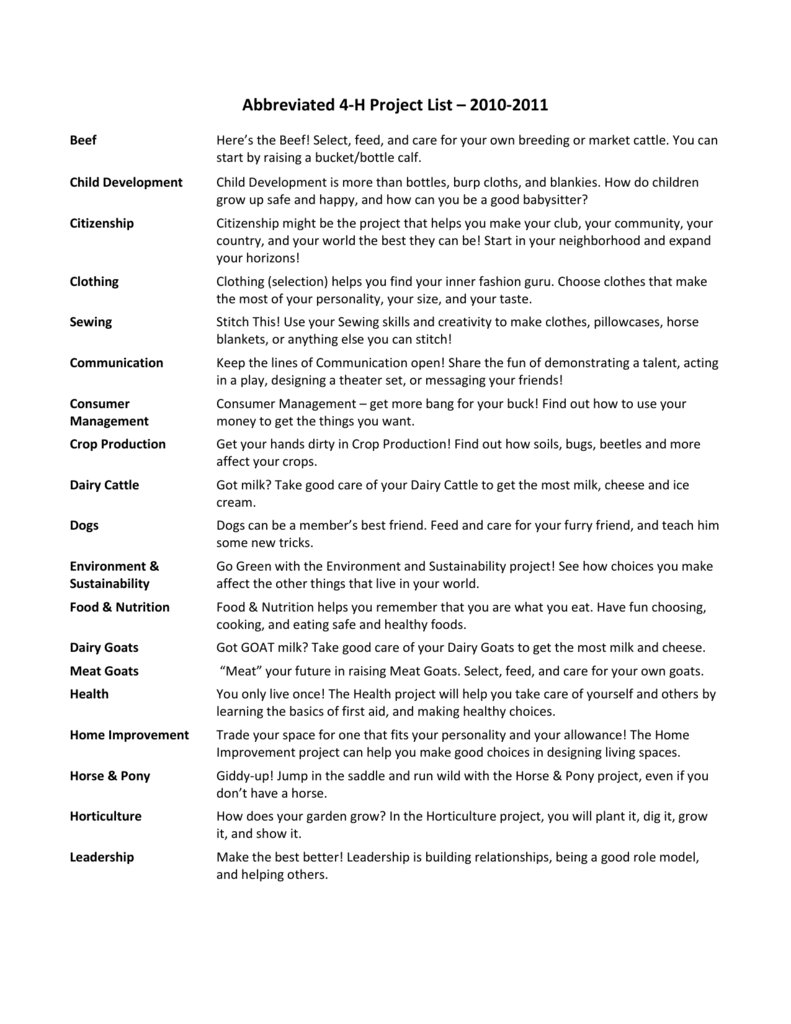 Abbreviated 4-H Project List – 2010-2011
Beef
Here's the Beef! Select, feed, and care for your own breeding or market cattle. You can
start by raising a bucket/bottle calf.
Child Development
Child Development is more than bottles, burp cloths, and blankies. How do children
grow up safe and happy, and how can you be a good babysitter?
Citizenship
Citizenship might be the project that helps you make your club, your community, your
country, and your world the best they can be! Start in your neighborhood and expand
your horizons!
Clothing
Clothing (selection) helps you find your inner fashion guru. Choose clothes that make
the most of your personality, your size, and your taste.
Sewing
Stitch This! Use your Sewing skills and creativity to make clothes, pillowcases, horse
blankets, or anything else you can stitch!
Communication
Keep the lines of Communication open! Share the fun of demonstrating a talent, acting
in a play, designing a theater set, or messaging your friends!
Consumer
Management
Consumer Management – get more bang for your buck! Find out how to use your
money to get the things you want.
Crop Production
Get your hands dirty in Crop Production! Find out how soils, bugs, beetles and more
affect your crops.
Dairy Cattle
Got milk? Take good care of your Dairy Cattle to get the most milk, cheese and ice
cream.
Dogs
Dogs can be a member's best friend. Feed and care for your furry friend, and teach him
some new tricks.
Environment &
Sustainability
Go Green with the Environment and Sustainability project! See how choices you make
affect the other things that live in your world.
Food & Nutrition
Food & Nutrition helps you remember that you are what you eat. Have fun choosing,
cooking, and eating safe and healthy foods.
Dairy Goats
Got GOAT milk? Take good care of your Dairy Goats to get the most milk and cheese.
Meat Goats
"Meat" your future in raising Meat Goats. Select, feed, and care for your own goats.
Health
You only live once! The Health project will help you take care of yourself and others by
learning the basics of first aid, and making healthy choices.
Home Improvement
Trade your space for one that fits your personality and your allowance! The Home
Improvement project can help you make good choices in designing living spaces.
Horse & Pony
Giddy-up! Jump in the saddle and run wild with the Horse & Pony project, even if you
don't have a horse.
Horticulture
How does your garden grow? In the Horticulture project, you will plant it, dig it, grow
it, and show it.
Leadership
Make the best better! Leadership is building relationships, being a good role model,
and helping others.
Mechanics
Mechanics projects are for kids who love nothing better than the sound of an engine
purring! Restore your dad's muscle car, bring grandpa's 4020 back to life, keep your
clunker running, your lawnmower mowing, your lights blinking and your go-cart racing.
Music
Make some beautiful Music by writing a song, joining a band, playing an instrument or
singing in the shower!
Outdoor Adventures
There s'more to Outdoor Adventures than marshmallows! Go backpacking, hike a trail,
build a campfire, ride a bike, or reel in the big one.
Pets
Is your Pet a Hamster, a Hedgehog, a Himalayan cat, or a Hippo? Maybe it's not one of
the 4 H's, but it still needs feed, water, shelter, and love.
Photography
Say cheese! Photography is more than taking a picture or video, it's planning a shoot,
framing a picture, creating a video, and jazzing it up on your computer.
Poultry
It's not just chickens! Enroll in Poultry to learn how to care for cheepers, peepers,
quackers and gobblers.
Rabbits
Hop on over to the Rabbit project and find out about raising bunnies.
SESS
Hit your target in Safety and Education in Shooting Sports (SESS). Whether you're
interested in bows, rifles, or shotguns, this may be the sport for you.
Science & Technology
Be part of the future with Science & Technology. Challenge your mind by exploring the
world around you with hands-on science & math experiments. The sky's the limit—find
how to build a robot to clean your room, fly a model airplane, or become a pilot or an
astronaut.
Sheep
Lead the flock in the Sheep project by choosing, feeding, and caring for your own
breeding or market sheep.
Swine
Go whole hog in the Swine project! Find out where your pork chop on a stick comes
from, while you choose, feed, and care for your own pigs.
Veterinary Science
In the Veterinary Science project, you'll learn everything you need to know about
keeping animals healthy, and maybe find your true calling as a veterinarian.
Visual Art
Celebrate art! Visual Art allows you be creative and original using paint, chalk, clay,
metal, wood, or limitless mediums.
Woodworking
Measure twice, cut once in Woodworking! Keep yourself safe while building fun
projects.
Self-Determined
Blaze your own trail with a Self Determined project. Set your own limits by choosing
your passion, finding your information, and sharing what you learned.