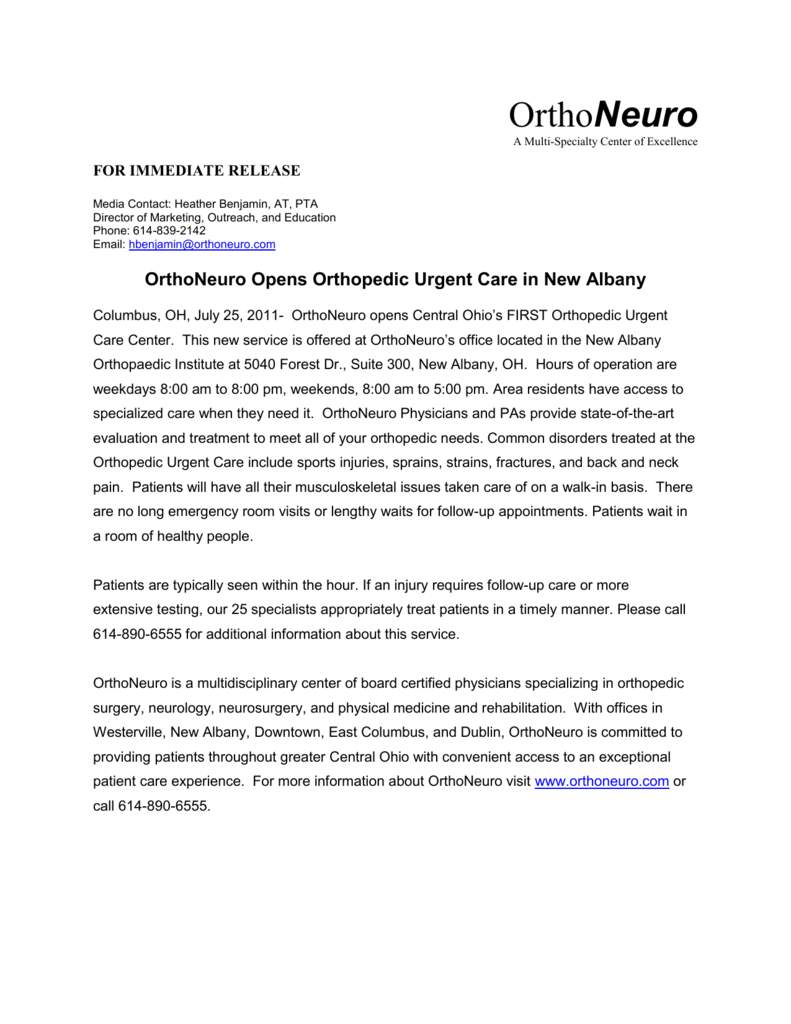 OrthoNeuro
A Multi-Specialty Center of Excellence
FOR IMMEDIATE RELEASE
Media Contact: Heather Benjamin, AT, PTA
Director of Marketing, Outreach, and Education
Phone: 614-839-2142
Email: [email protected]
OrthoNeuro Opens Orthopedic Urgent Care in New Albany
Columbus, OH, July 25, 2011- OrthoNeuro opens Central Ohio's FIRST Orthopedic Urgent
Care Center. This new service is offered at OrthoNeuro's office located in the New Albany
Orthopaedic Institute at 5040 Forest Dr., Suite 300, New Albany, OH. Hours of operation are
weekdays 8:00 am to 8:00 pm, weekends, 8:00 am to 5:00 pm. Area residents have access to
specialized care when they need it. OrthoNeuro Physicians and PAs provide state-of-the-art
evaluation and treatment to meet all of your orthopedic needs. Common disorders treated at the
Orthopedic Urgent Care include sports injuries, sprains, strains, fractures, and back and neck
pain. Patients will have all their musculoskeletal issues taken care of on a walk-in basis. There
are no long emergency room visits or lengthy waits for follow-up appointments. Patients wait in
a room of healthy people.
Patients are typically seen within the hour. If an injury requires follow-up care or more
extensive testing, our 25 specialists appropriately treat patients in a timely manner. Please call
614-890-6555 for additional information about this service.
OrthoNeuro is a multidisciplinary center of board certified physicians specializing in orthopedic
surgery, neurology, neurosurgery, and physical medicine and rehabilitation. With offices in
Westerville, New Albany, Downtown, East Columbus, and Dublin, OrthoNeuro is committed to
providing patients throughout greater Central Ohio with convenient access to an exceptional
patient care experience. For more information about OrthoNeuro visit www.orthoneuro.com or
call 614-890-6555.