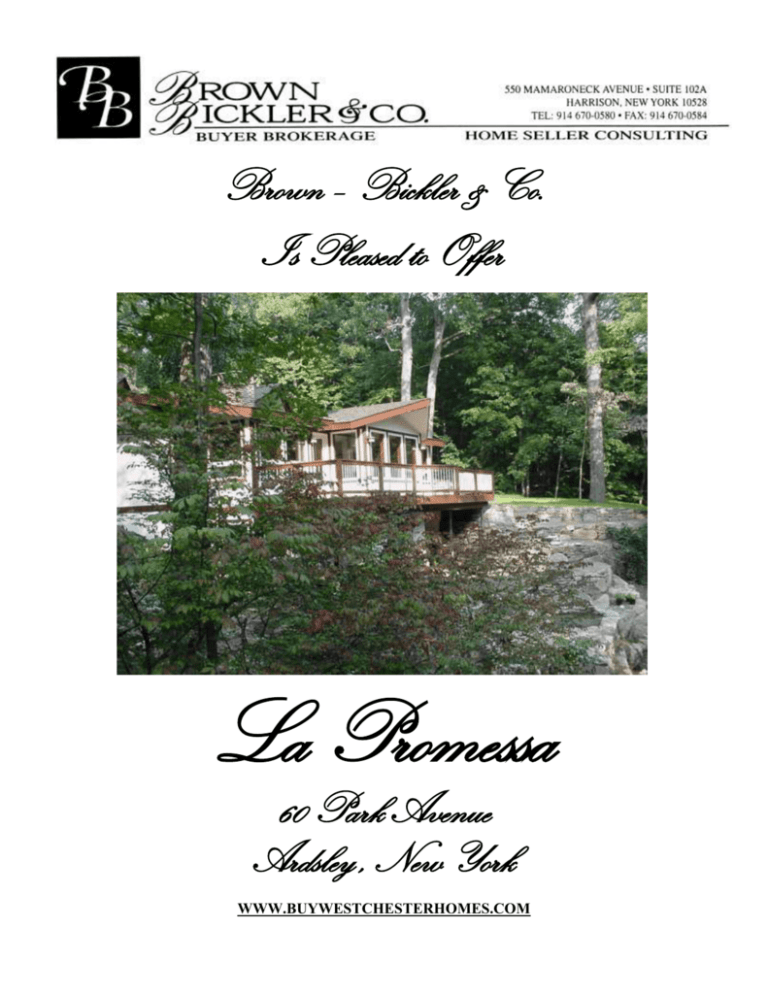 Brown – Bickler & Co.
Is Pleased to Offer
La Promessa
60 Park Avenue
Ardsley , New York
WWW.BUYWESTCHESTERHOMES.COM
LA PROMESSA
True to a promise made to its architect, and original owner, a hand picked group of craftsmen have spent
over a year restoring and enhancing this Stanley Torkelsen designed home in Ardsley's secluded "Twenty
One Acres" neighborhood. Stanley Torkelsen, a protégé of Edward Durell Stone (Architect of the Kennedy
Center in Washington as well as a number of modernist homes in the Westchester area), built La Promessa in
1950 for his own family's use. The upper section was added in 1970. Until 2002, another Torkelsen
designed home held the record sales price for an Ardsley residential property. This is the first time that
Stanley Torkelsen's own home has become available for purchase.
While only 30 minutes from Manhattan this totally updated residence sits high above "Twenty One Acres"
on an amazingly beautiful and private site comprising 1.35 wooded acres. From the street, a fieldstone-lined
drive carries you past ivy covered rock outcroppings to the base of a terraced hillside where an ornamental
pool receives a spring fed waterfall. Stone stairs rise through terrace walls, built of stone gathered on site, to
La Promessa. The home itself is a sun-splashed architectural gem, with separate sleeping and
living/entertainment areas, that seamlessly unites beautiful cathedral ceilinged interior spaces with the
unsurpassed natural beauty of its wooded and landscaped site. The various lawns and terraces provide
perfect settings for the display of sculpture and the open plan interior is excellently suited for the display of
art. Looking down over the homes of "Twenty One Acres", La Promessa is truly a world of its own.
The plan of La Promessa affords a flexible use of space, coupled with a separation of living and sleeping
areas that maximizes privacy. The layout of the lower portion of La Promessa provides a flow, and a
division of space, ideal for large scale indoor/outdoor entertaining, yet with areas that equally afford the
opportunity for warmly enjoying the company of family and friends on a more intimate scale. A state of the
art kitchen supports this lifestyle and a massive exposed brick chimney, with an "Eyes of God" fireplace that
was a central feature of the original design, completes the atmosphere.
The secluded upper portion of La Promessa contains the family's bedrooms and is reached by ascending a
glass enclosed, and sky lit, atrium staircase almost eight feet wide. Again, flexibility has been built into the
design. One of the bedrooms, with its original built in bookcases framed in exotic wood, can serve as a
library. Its walls of glass lead to a private deck and the kind of wooded vistas ideal for a private,
contemplative room. The Master Suite forms a wing of its own, with sweeping views from both the
bedroom and its luxurious bath. It too has its own private deck.
While an extensive use of glass affords sweeping outdoor vistas, the equally extensive use of exotic Brazilian
cherry and other rich woods throughout this sun-drenched home provides a luxurious warmth in any weather.
The high capacity two zone hydroair HV/AC system, fed by a high efficiency gas heating plant, interior
insulation as high as R-30, and "Low E" Anderson windows, allow you to completely control your interior
climate any time of the year. Outside, a substantial amount of the property remains undeveloped and
provides the new owner with various opportunities for additional landscaping, and for locating a very private
swimming pool if desired.