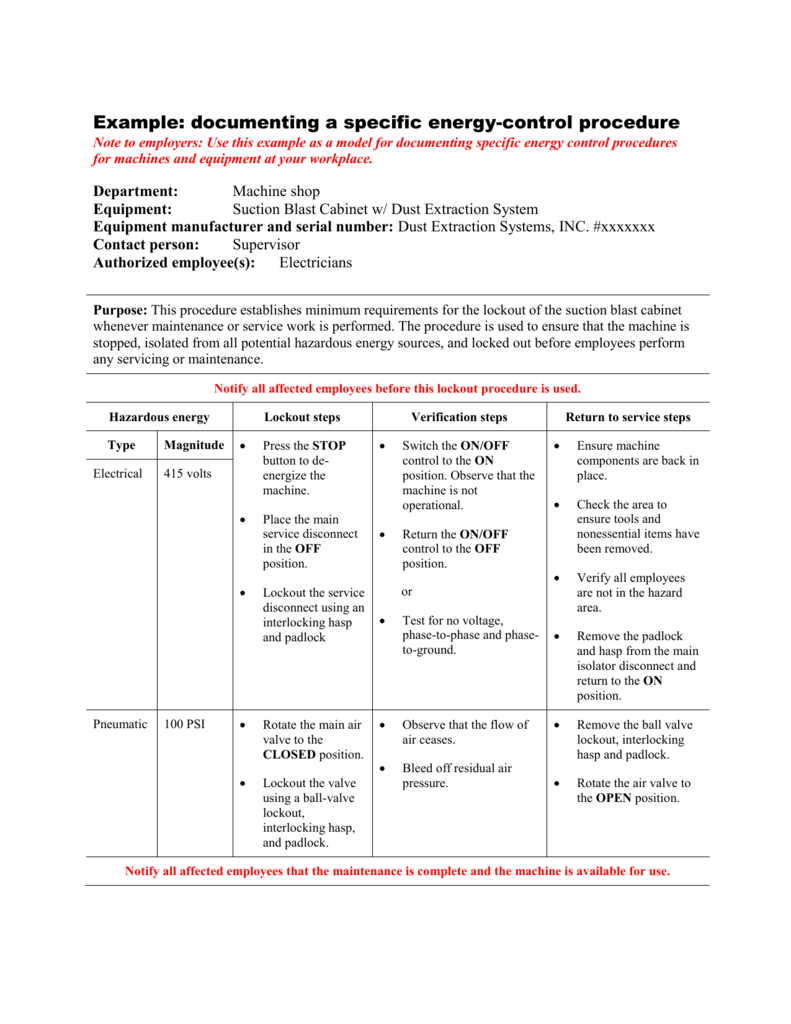 Example: documenting a specific energy-control procedure
Note to employers: Use this example as a model for documenting specific energy control procedures
for machines and equipment at your workplace.
Department:
Machine shop
Equipment:
Suction Blast Cabinet w/ Dust Extraction System
Equipment manufacturer and serial number: Dust Extraction Systems, INC. #xxxxxxx
Contact person:
Supervisor
Authorized employee(s):
Electricians
Purpose: This procedure establishes minimum requirements for the lockout of the suction blast cabinet
whenever maintenance or service work is performed. The procedure is used to ensure that the machine is
stopped, isolated from all potential hazardous energy sources, and locked out before employees perform
any servicing or maintenance.
Notify all affected employees before this lockout procedure is used.
Hazardous energy
Type
Electrical
Magnitude
Lockout steps

Press the STOP
button to deenergize the
machine.

Place the main
service disconnect
in the OFF
position.
415 volts

Pneumatic
100 PSI
Lockout the service
disconnect using an
interlocking hasp
and padlock

Rotate the main air
valve to the
CLOSED position.

Lockout the valve
using a ball-valve
lockout,
interlocking hasp,
and padlock.
Verification steps


Switch the ON/OFF
control to the ON
position. Observe that the
machine is not
operational.
Return the ON/OFF
control to the OFF
position.
Return to service steps

Ensure machine
components are back in
place.

Check the area to
ensure tools and
nonessential items have
been removed.

Verify all employees
are not in the hazard
area.

Remove the padlock
and hasp from the main
isolator disconnect and
return to the ON
position.

Remove the ball valve
lockout, interlocking
hasp and padlock.

Rotate the air valve to
the OPEN position.
or

Test for no voltage,
phase-to-phase and phaseto-ground.

Observe that the flow of
air ceases.

Bleed off residual air
pressure.
Notify all affected employees that the maintenance is complete and the machine is available for use.