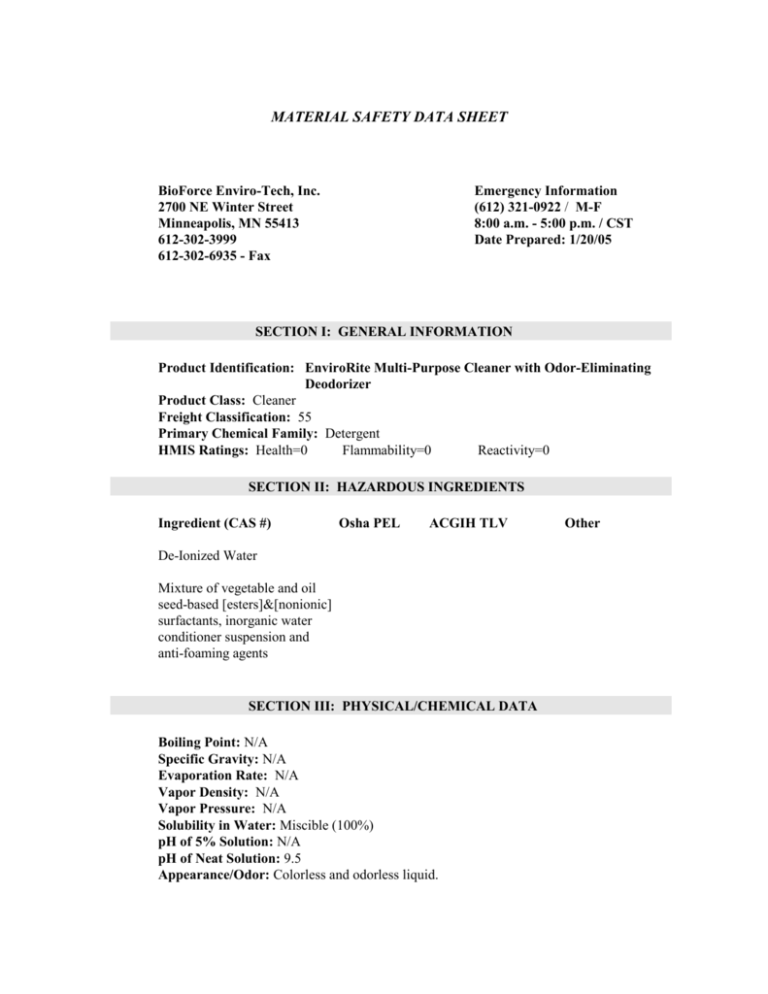 MATERIAL SAFETY DATA SHEET
BioForce Enviro-Tech, Inc.
2700 NE Winter Street
Minneapolis, MN 55413
612-302-3999
612-302-6935 - Fax
Emergency Information
(612) 321-0922 / M-F
8:00 a.m. - 5:00 p.m. / CST
Date Prepared: 1/20/05
SECTION I: GENERAL INFORMATION
Product Identification: EnviroRite Multi-Purpose Cleaner with Odor-Eliminating
Deodorizer
Product Class: Cleaner
Freight Classification: 55
Primary Chemical Family: Detergent
HMIS Ratings: Health=0
Flammability=0
Reactivity=0
SECTION II: HAZARDOUS INGREDIENTS
Ingredient (CAS #)
Osha PEL
ACGIH TLV
De-Ionized Water
Mixture of vegetable and oil
seed-based [esters]&[nonionic]
surfactants, inorganic water
conditioner suspension and
anti-foaming agents
SECTION III: PHYSICAL/CHEMICAL DATA
Boiling Point: N/A
Specific Gravity: N/A
Evaporation Rate: N/A
Vapor Density: N/A
Vapor Pressure: N/A
Solubility in Water: Miscible (100%)
pH of 5% Solution: N/A
pH of Neat Solution: 9.5
Appearance/Odor: Colorless and odorless liquid.
Other
SECTION IV: FIRE AND EXPLOSION DATA
Flash Point: N/A
Extinguishing Media: N/A
Special Fire Fighting Procedures: N/A
Unusual Fire and Explosion Hazards: None
SECTION V: REACTIVITY DATA
Stability: Stable
Hazardous Polymerization: Will Not Occur
Incompatibility (Materials To Avoid): Do not mix with petroleum products
Hazardous Decomposition Products: None
SECTION VI: HEALTH HAZARD DATA
Effects of overexposure/emergency and first aid procedures?
Eyes: Flush eyes with plenty of cool water. If irritation persists, seek medical aid.
Skin: Flush skin with plenty of water. If irritation persists, seek medical aid.
Ingestion: Seek medical attention immediately.
CARCINOGEN: The components in this product are not considered a carcinogen by
Osha, NTP, or IARC.
SECTION VII: SPILL, LEAK, AND DISPOSAL PROCEDURES
Small Spills: Flush spilled area with water.
Large Spills: Flush spilled area with water.
Waste Disposal Method: Flush to sanitary sewer with water.
SECTION VIII: PROTECTIVE MEASURES
Eye Protection: Recommended.
Protective Gloves: Not Required
Respiratory Protection: Not Required.
Ventilation: N/A
Work/Hygienic Practices: Wash hands after use.
Precautions: Keep out of reach of children. Use in accordance with label instructions.