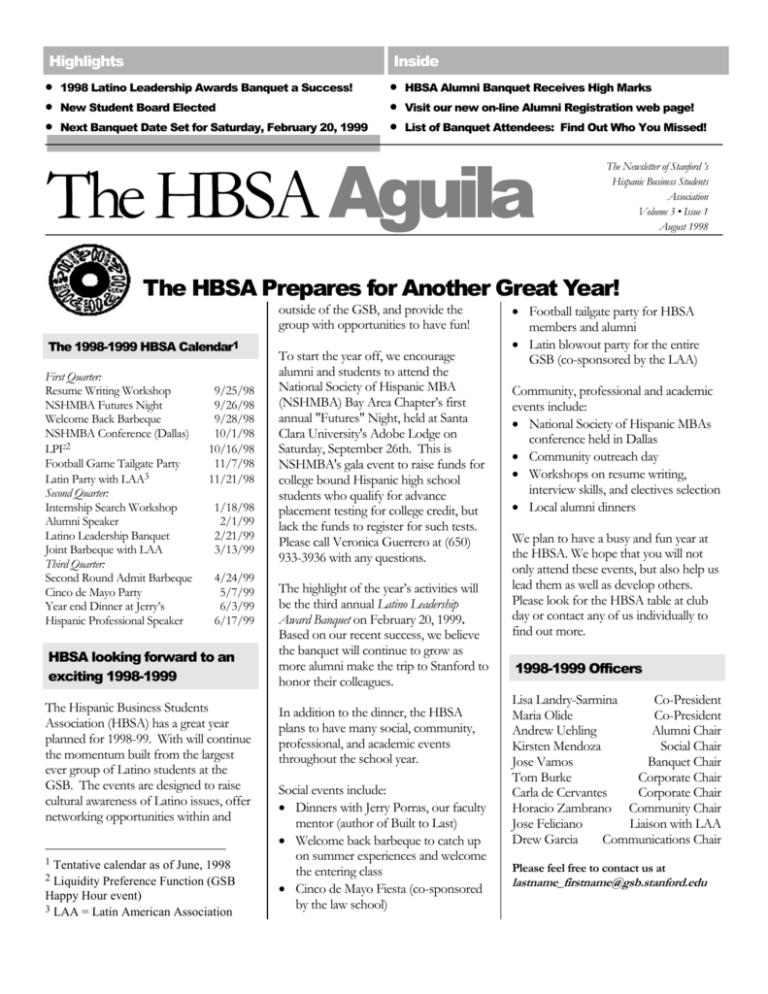 Highlights
Inside






1998 Latino Leadership Awards Banquet a Success!
New Student Board Elected
Next Banquet Date Set for Saturday, February 20, 1999
HBSA Alumni Banquet Receives High Marks
Visit our new on-line Alumni Registration web page!
List of Banquet Attendees: Find Out Who You Missed!
The HBSA Aguila
The Newsletter of Stanford 's
Hispanic Business Students
Association
Volume 3 • Issue 1
August 1998
The HBSA Prepares for Another Great Year!
outside of the GSB, and provide the
group with opportunities to have fun!
The 1998-1999 HBSA Calendar1
First Quarter:
Resume Writing Workshop
NSHMBA Futures Night
Welcome Back Barbeque
NSHMBA Conference (Dallas)
LPF2
Football Game Tailgate Party
Latin Party with LAA3
Second Quarter:
Internship Search Workshop
Alumni Speaker
Latino Leadership Banquet
Joint Barbeque with LAA
Third Quarter:
Second Round Admit Barbeque
Cinco de Mayo Party
Year end Dinner at Jerry's
Hispanic Professional Speaker
9/25/98
9/26/98
9/28/98
10/1/98
10/16/98
11/7/98
11/21/98
1/18/98
2/1/99
2/21/99
3/13/99
4/24/99
5/7/99
6/3/99
6/17/99
HBSA looking forward to an
exciting 1998-1999
The Hispanic Business Students
Association (HBSA) has a great year
planned for 1998-99. With will continue
the momentum built from the largest
ever group of Latino students at the
GSB. The events are designed to raise
cultural awareness of Latino issues, offer
networking opportunities within and
1
Tentative calendar as of June, 1998
Liquidity Preference Function (GSB
Happy Hour event)
3 LAA = Latin American Association
2
To start the year off, we encourage
alumni and students to attend the
National Society of Hispanic MBA
(NSHMBA) Bay Area Chapter's first
annual "Futures" Night, held at Santa
Clara University's Adobe Lodge on
Saturday, September 26th. This is
NSHMBA's gala event to raise funds for
college bound Hispanic high school
students who qualify for advance
placement testing for college credit, but
lack the funds to register for such tests.
Please call Veronica Guerrero at (650)
933-3936 with any questions.
The highlight of the year's activities will
be the third annual Latino Leadership
Award Banquet on February 20, 1999.
Based on our recent success, we believe
the banquet will continue to grow as
more alumni make the trip to Stanford to
honor their colleagues.
In addition to the dinner, the HBSA
plans to have many social, community,
professional, and academic events
throughout the school year.
Social events include:
 Dinners with Jerry Porras, our faculty
mentor (author of Built to Last)
 Welcome back barbeque to catch up
on summer experiences and welcome
the entering class
 Cinco de Mayo Fiesta (co-sponsored
by the law school)
 Football tailgate party for HBSA
members and alumni
 Latin blowout party for the entire
GSB (co-sponsored by the LAA)
Community, professional and academic
events include:
 National Society of Hispanic MBAs
conference held in Dallas
 Community outreach day
 Workshops on resume writing,
interview skills, and electives selection
 Local alumni dinners
We plan to have a busy and fun year at
the HBSA. We hope that you will not
only attend these events, but also help us
lead them as well as develop others.
Please look for the HBSA table at club
day or contact any of us individually to
find out more.
1998-1999 Officers
Lisa Landry-Sarmina
Co-President
Maria Olide
Co-President
Andrew Uehling
Alumni Chair
Kirsten Mendoza
Social Chair
Jose Vamos
Banquet Chair
Tom Burke
Corporate Chair
Carla de Cervantes
Corporate Chair
Horacio Zambrano Community Chair
Jose Feliciano
Liaison with LAA
Drew Garcia
Communications Chair
Please feel free to contact us at
lastname_firstname@gsb.stanford.edu
2 THE HBSA AGUILA AUGUST 1998
Highlights for First Year
Students
NSHMBA Conference:
The National Society of Hispanic MBAs
will be holding their annual conference in
Dallas, Texas on October 1-4, 1998. The
conference promises to offer many
career opportunities and a lot of fun.
Our Co-president Lisa Landry-Sarmina
received several job offers from contacts
she made at last year's conference. In
addition, Victor Arias, Class of 1981
alumnus, has offered to have a barbeque
for all GSB students who attend the
conference. If you are interested in
attending the conference, please send
Co-president Maria Olide an e-mail
(Olide_Maria@gsb.stanford.edu)
expressing your interest. She will then
contact you and help you make
arrangement to attend the conference.
Resume Writing Workshop:
It might seem too early to start thinking
about writing a resume; however, in
order to have the HBSA resume book
ready for the NSHMBA Conference on
October 1-4, 1998, we need to start as
soon as school starts. Fran Noble, from
the Career Management Center, has
graciously agreed to hold a resume
workshop exclusively for HBSA first year
students--a preview of a similar resume
workshop that the remainder of the first
years will need to attend a few weeks into
the quarter. Please mark your
calendars now for the Resume
Workshop to help held on Friday,
September 25, 1998.
Welcome BBQ
Professor and Club Advisor, Jerry
Porras, has offered to host our welcome
barbeque at his elegant home on
Monday, September 28, 1998 at about
6pm. It will be a great time for first years
to meet the other first year and the
second year HBSA members as well as
some alumni. Make sure not to miss the
fun!
On-line Alumni Registration!
The ever-evolving HBSA web site
now has an on-line form for alumni to
enter their current information for our
database. Please take the time to submit
your information, even if you receive
newsletters at the correct address.
Find the form at http://wwwleland.stanford.edu/group/gsb-hbsa and follow
the link to the alumni registration form.
- Drew Garcia
the class of 1998-99 held the largest class
of Hispanic students in the history of the
GSB. Having the numbers made a great
difference to the club and is what lead
Co-President Rodney Prezeau to say,
"it's a real club now!"
At the end of the Winter quarter, a new
board was elected (see listing above) for
the 1998-99 school year We would like to
say thank you to everyone who helped make
the 1997-98 school year a successful one, and
we are looking forward to having another
successful year in 1998-99!
- Maria Olide and Lisa Landry-Sarmina
Passing the Torch
1997-1998 HBSA Resume
Book Available in October
"It's a real club now!" expressed 97-98
Co-President Rodney Prezeau at the end
of year Hispanic Business Student
Association Barbeque. That statement
represents the culmination of an
incredible and important year for HBSA.
If you or your company is interested in
sourcing talented Latino students, look
no further. Here is a prime source!
Stanford GSB students have a variety of
interests including management
consulting, investment banking, and
high-tech. The HBSA resume book,
which includes resumes for all first and
second year HBSA members, will be
available in October, 1997. Donations to
the HBSA, to cover the cost of printing
the resume book, as well as postage and
handling, are recommended but not
required.
Two years ago, Albert Lemus and Matt
Pozos, 1995-96 and 1996-97 CoPresidents, envisioned an organization at
the GSB that fostered community
among Hispanic students and alumni and
fostered their professional and personal
advancement. It was their vision and
commitment that gave birth to the first
annual Latino Leadership Award
Banquet, which was held in February of
1997. The Banquet brought together
students, alumni, admits, faculty and
administration to share in an evening full
of inspiration, camaraderie and unity.
The vision was furthered by 1997-98 CoPresidents Rodney Prezeau and Jonathan
Romanowsky. Their great commitment
was an important factor in making the
1997-98 school year a very successful
year for HBSA. In addition to the
Second Annual Latino Leadership Award
Banquet, HBSA held an LPF2, a resume
workshop, several barbeques and several
dinners with various corporations. The
success of HBSA was fueled by the fact
If you are interested in obtaining a
resume book you can contact Tom
Burke at
Burke_Thomas@gsb.stanford.edu
or Maria Olide at
Olide_Maria@gsb.stanford.edu.
Advertise Your Company Here!
We have space available to run
advertisements or announcements. For
further information, please contact Maria
Olide at Olide_Maria@gsb.stanford.edu.
3 THE HBSA AGUILA AUGUST 1998
Second Annual HBSA Alumni
Banquet a Hit!
For the second year in a row, the
Stanford Faculty Club's main dining
room served as the backdrop for a
gathering of Latino students and
alumni, who swapped stories and
caught up over cocktails. The ninety or
so attendees, up from seventy-five at
last year's inaugural event, had a
fabulous evening. Dean A. Michael
Spence gave all present a formal
introduction to the evening's events.
After dinner, the HBSA Co-Presidents,
Jonathan Romanowsky and Rodney
Prezeau, started off the formal awards
ceremony by introducing two new
traditions. In order to enhance the
community aspect of the award, last
year's Jerry I. Porras Award winner,
Fernando Inzunza (JD/MBA 1977),
was recruited to present the award to
this year's winner, Victor Arias Jr.
(MBA 1982). The attendees were also
treated to the unveiling of the Jerry I.
Porras Award commemorative plaque,
which describes the purpose of the
award and lists each year's winner.
Following the ceremony, the plaque was
to be permanently displayed on the
second floor foyer of the GSB.
Before conferring the award, however,
Fernando Inzunza took a moment to
honor the man for whom the award
was named, Dr. Jerry Porras, a member
of our own GSB faculty. In addition to
acting as a mentor for Latino students
at the GSB for nearly a quarter century,
Dr. Porras was himself a recipient of
the Brillante Award from the National
Society of Hispanic MBAs and is the
co-author of the celebrated bestseller
Built to Last. During his short
acceptance speech, Victor Arias Jr., also
a member of the Stanford Board of
Trustees, thanked everyone present for
the award and the students for
organizing the event.
After the conferral of the award, the
crowd was entertained by the Mariachi
Cardenal de Stanford, a student group
that performs traditional Mexican
music. Dr. Porras concluded the formal
part of the evening with a final toast to
all present and a hope that this event
would continue to serve as an annual
gathering of the community. As a final
note, Jonathan Romanowsky and
Rodney Prezeau wrapped up the night
by thanking the sponsors of the
evening, Goldman Sachs, and the
administrators, without whose help the
evening would not have been possible.
Showing their commitment to the
banquet as well as the HBSA in general,
the distinguished list of faculty and
administrators in attendance included
Michael Spence, David Brady, Margaret
Neale, George Parker, Marie Mookini,
Lynne Reynolds, Allison Rouse, and
James Van Horne. Also in attendance
were members of the HBSA's sister
organization on campus, the Latin
American Association, demonstrating
the closer ties these two organizations
have recently forged.
Many attendees then retired to the Blue
Chalk in downtown Palo Alto for
drinks and a few games of pool. Award
winners mixed with other alumni,
present students, and admits in a casual
environment late into the night.
- Rodney Prezeau
Victor Arias Recieves 1998
Jerry I. Porras Award
The 1998 Jerry I. Porras Award for
Latino Leadership was presented to
Victor Arias, Jr. (Class of 1981). The
Jerry I. Porras Award has officially
become a tradition at the GSB. The
award was presented at the second
Latino Leadership Award Banquet,
which was held on Saturday, February 21,
1998 at the Stanford Faculty Club. The
Jerry I. Porras Award, named after
current GSB professor and advocate for
Hispanic students at the GSB, was
created last year in order to honor Latino
GSB graduates who have contributed to
the Hispanic community throughout
their careers.
The unanimous selection of Victor Arias
was based on his dedication to various
Latino communities, the GSB and
Stanford University. Despite his young
age, Victor has given a lifetime's worth of
community service. After leaving the
GSB, Victor became a co-founder of the
National Society of Hispanic MBAs
(NSHMBA), which is a nationwide
umbrella organization focused on
assisting Hispanics through their careers.
NSHMBA provides scholarships for
potential MBA students, forums for
MBA graduates to meet potential
employers and ample social and
networking events. Also, Victor served as
the president of the Stanford Business
School Alumni Association. In addition,
Victor is the first Hispanic GSB graduate
to serve on Stanford University's Board
of Trustees, a position he has held since
1996. Other achievements include
serving on University of Dallas Board of
Councillors, being a trustee of the Union
League Boys and Girls Club, serving on
the City of Chicago Advisory Panel being
a board member of the Irving, Texas
Economic Development Foundation
and acting as trustee of the Irving
Symphony Orchestra.
Despite his many accomplishments,
Victor was quite surprised to learn that
he had been chosen for the award. In his
acceptance speech, Victor emphasized
the importance of giving back to the
community and his belief that Latino
graduates of the GSB are in position to
make great contributions to their
Hispanic communities. He also praised
Jerry Porras and Fernando Inzunza, the
1997 award winner, for acting as great
role models for him, and other GSB
students and alumni.
4 THE HBSA AGUILA AUGUST 1998
In addition to his charitable acts, Victor
has achieved tremendous professional
and personal success. He has held
Partner and Vice President positions at
LaSalle Partners and Faison-Stone (both
world class real estate firms), respectively.
Most recently, he acted on his
entrepreneurial aspirations and started
DHR International, the 10th largest
executive recruitment firm in the
country. Finally, he has a beautiful family
with his wife Sandy and children Victor,
Jacob and Crista. Lisa Landry-Sarmina
commented after the banquet, "It's
wonderful to have a young GSB alumni
achieve success and give back to the
community and his school. He's
definitely made a difference." Rodney
Prezeau said, "Victor is a great role
model. His passion for community
service and devotion to his alma mater
should inspire current GSB students and
alumni to do more."
After the banquet, Victor joined a group
of GSB students and alumni at a game of
pool at the Blue Chalk Cafe. Still riding
his high, Victor, "the Shark" proceeded
to win eight consecutive pool matches.
That evening, the man could do no
wrong.
- Jonathan Romanowsky
GSB Alumni and Students
Attending the 1997 Banquet
Gary Andazola, Alumni
Victor Arias, Alumni
Gabriel Baldinucci, GSB Admit
Andres Botero, Class '99
David Brady, GSB Associate Dean of Academic
Affairs and Director of Executive Education
Carolyn Brady, Guest
Tom Burke, Class '99
Ignacio Bustamante, Alumni
Ed Camarena, Alumni
Guille Castellanos, Alumni
Jim Cervantes, Alumni
Furio Ciacci, Class '98
Eddie Clay, GSB Admit
Christina Clay, Guest
Juan Cuadros, Alumni
Daniela Drake, Class '98
Michael Duran, Class '98
Javier Ergueta, Alumni
Petra Ergueta, Guest
Mario Estavillo, Alumni
Marjorie Estavillo, Guest
Roberto Estrada, Alumni
Roberto Fernandez, GSB Professor of
Organizational Behavior
Carol Fernandez, Guest
Andrew Garcia, Class '99
Ignacio Giraldo, Class '99
Maria Clara Giraldo, Guest
Carlos Gomez-Alzaga, Class '98
Joseph Manuel Guzman, GSB PhD
Ana Maria Guzman, Guest
Tomas Heguy, Class '98
Geoff Heredia, Class '98
Fernando Inzunza, Alumni
Claudia Holguin, Guest
Lisa Landry-Sarmina, Class '99
Albert Lemus, Alumni
Sarah Valdovinos, Guest
Mauricio Leon, Alumni
Richard Jr. Leza, Alumni
Ashley Fieglein, Guest
Richard Sr. Leza, Alumni
Cindy, Guest
Scott Lopez-Gelormino, Alumni
William Lorie, Guest
Tony Medrano, Law School/GSB Admit
Jill Medrano, Guest
Leticia Miranda, Alumni
Jose Luis Mogollon, Class '99
Marie Mookini, GSB Director of MBA Admissions
Maggie Neale, GSB Professor of Organizational
Behavior, Associate Dean for Academic Affairs
Al Lindahl, Guest
Maria Olide, Class '99
Marco Fumagalli, Guest
Dan Olsen, Class '99
Caroline Prinn, Guest
Sean O'Malley, Class '99
George Parker, GSB Associate Dean for Academic
Affairs and Director of the MBA Program
Joan Parker, Guest
Juan Pereira, Class '98
Eric Perez-Grovas, Class '99
Jerry Porras, GSB Lane Professor of
Organizational Behavior and Change and Director
of the Leading and Managing Change Executive
Program
Matt Pozos, Alumni
Therese Inkman, Guest
Rodney Prezeau, Class '98
Vicky Daniels, Guest
Renato Ramirez, Class '98
Lynne Reynolds, GSB Director of Alumni
Relations
Tony Reynolds, Guest
Miriam Rivera, Alumni
Clint Corver, Guest
Jonathon Romanowsky, Class '98
Mindie Barkoff, Guest
Allison Rouse, GSB Assistant Director of MBA
Admissions
Paul Salazar, Alumni
Tom Perez, Guest
Eric Salvatierra, GSB Admit
Meredith Ackley, Guest
Laura Sanchez, Alumni
Mike Spence, GSB Dean
Monica Cappuccini, Guest
Danny Swick, Guest
Ron Tuzon, Guest
Veronica Guerrero, Guest
Andrew Uehling, Class '99
Tiffany Kitto, Guest
Jose Vamos, Class '99
Jim VanHorne, GSB Giannini Professor of
Banking and Finance
Mrs. Van Horne, Guest
Anidia Zabala, Alumni
Patrick Payton, Guest
Horacio Zambrano, Class '99
Don't Miss Next Year's
Banquet on February 20, 1999
Next year's Latino Award Banquet will
be held at the Stanford on Saturday,
February 20, 1999. Mark your calendars
now!