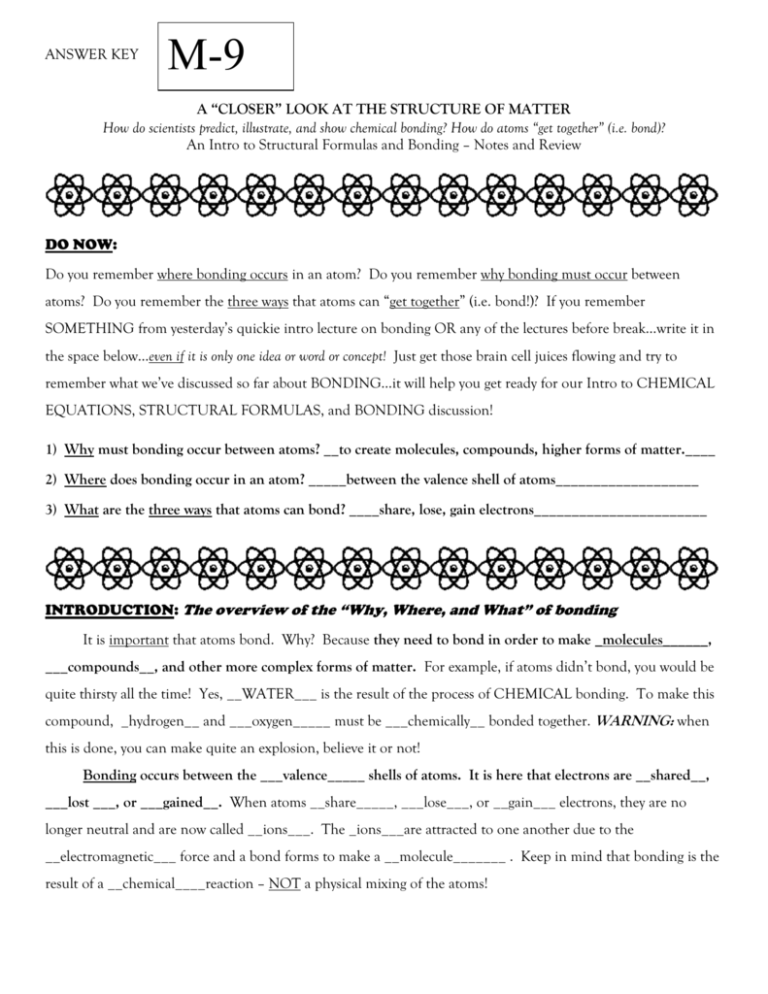 ANSWER KEY
M-9
A "CLOSER" LOOK AT THE STRUCTURE OF MATTER
How do scientists predict, illustrate, and show chemical bonding? How do atoms "get together" (i.e. bond)?
An Intro to Structural Formulas and Bonding – Notes and Review
DO NOW:
Do you remember where bonding occurs in an atom? Do you remember why bonding must occur between
atoms? Do you remember the three ways that atoms can "get together" (i.e. bond!)? If you remember
SOMETHING from yesterday's quickie intro lecture on bonding OR any of the lectures before break…write it in
the space below…even if it is only one idea or word or concept! Just get those brain cell juices flowing and try to
remember what we've discussed so far about BONDING…it will help you get ready for our Intro to CHEMICAL
EQUATIONS, STRUCTURAL FORMULAS, and BONDING discussion!
1) Why must bonding occur between atoms? __to create molecules, compounds, higher forms of matter.____
2) Where does bonding occur in an atom? _____between the valence shell of atoms___________________
3) What are the three ways that atoms can bond? ____share, lose, gain electrons_______________________
INTRODUCTION: The overview of the "Why, Where, and What" of bonding
It is important that atoms bond. Why? Because they need to bond in order to make _molecules______,
___compounds__, and other more complex forms of matter. For example, if atoms didn't bond, you would be
quite thirsty all the time! Yes, __WATER___ is the result of the process of CHEMICAL bonding. To make this
compound, _hydrogen__ and ___oxygen_____ must be ___chemically__ bonded together. WARNING: when
this is done, you can make quite an explosion, believe it or not!
Bonding occurs between the ___valence_____ shells of atoms. It is here that electrons are __shared__,
___lost ___, or ___gained__. When atoms __share_____, ___lose___, or __gain___ electrons, they are no
longer neutral and are now called __ions___. The _ions___are attracted to one another due to the
__electromagnetic___ force and a bond forms to make a __molecule_______ . Keep in mind that bonding is the
result of a __chemical____reaction – NOT a physical mixing of the atoms!
OVERVIEW: How do you make water?
A Look at the Making of a Molecule
Recipe for H20 (Yield: 2 molecules)
Step 1. Gather your base ingredients (elements/atoms) by looking at the MOLECULAR FORMULA.
Hydrogen = H
Oxygen = O
Step 2. Find the number of valence electrons and valence # of each of your ingredients (elements/atoms).
Column # on Periodic
Table
Element/Atom
# of Valence e-
Valence #
Hydrogen (H)
1
1
-1
Oxygen (O)
6
6
+2
Step 3. Predict using ELECTRON DOT DIAGRAMS (Lewis Structures).
Step 4. Analyze what each ingredient (element/atom) needs to be "happy."
REMEMBER: electrons are lost, gained or shared in bonding!
Hydrogen needs one electron or needs to lose one electron.
Oxygen needs to gain two electrons.
Step 5. Gather all necessary ingredients (elements/atoms)!
Since O needs two electrons, it needs two H's (each H has 1 electron to donate/share)
Step 6. Bond your ingredients (elements/atoms) using the ELECTRON DOT DIAGRAMS; fill in the missing
spaces to create "happiness" for all ingredients.
Step 7. Turn your bonded Electron dot diagrams into STRUCTURAL FORMULAS.
Step 8. Analyze the TYPE OF BOND made.
Ionic – Lose and Gain
Covalent – Share
Metallic – Lose electrons and float around positive centers
Water is made up of COVALENT bonds…polar covalent in fact! Oxygen has more of an affinity for the electrons
than hydrogen does.
Step 9. Write out the CHEMICAL EQUATION. Be aware of DIATOMIC ELEMENTS! (H2 I2 Br2O2 N2 Cl2
F2)
H2 + O2  H2O
Step 10. Use COEFFICIENTS to balance your equation.
2H2 + 1O2  2H2O
Step 11. Wait for the "BOOM" and then enjoy your tasty treat. Yield: 2 molecules of H20
PART I: How do scientists predict, illustrate, and show the chemical reaction that
occurs when atoms bond?
 Scientists may use _Bohr___ MODELS or __Electron_____ DOT DIAGRAMS (a.k.a. LEWIS
STRUCTURES) to predict bonding between atoms.
 Scientist show how atoms bond by writing _chemical __equations__ and _structural__ _formulas__.
 For chemical equations:




Molecular formulas consisting of the correct combination and number of atoms are used to represent the
molecules and/or atoms that are being bonded. (e.g. H2O is the molecular formula for water!)
An "
" is used to show what substance(s) is/are being "yielded" or chemically produced.
Atoms on the LEFT side of the arrow are referred to as REACTANTS and the atoms on the RIGHT side
of the arrow are referred to as PRODUCTS.
And, most importantly, the equation is BALANCED…just like in algebraic math! To do this, a number is
placed before the molecular formulas to balance the amount of atoms on each side of the equation --- this
number is called a COEFFICIENT. FYI…the number below and to the right of each chemical symbol is
called a SUBSCRIPT.
2H2O
Coefficient
Subscript
Chemical equation examples:
H20 (water)
1) 2H2 + 02  2H20 (DIATOMIC!!!!!)
CH4 (methane)
2) C + 4H  CH4
 For structural formulas:





An electron dot diagram or Lewis structure is created for atoms involved in the chemical bonding process.
A chemical symbol is used to represent the atoms that are being bonded.
The appropriate number of dots is drawn on the four sides of the chemical symbol to represent the
number of valence electrons and "empty spots" in the valence shell of the bonding atoms.
Structural formulas are used to represent what the atoms look like when they are "brought together" in the
chemical bond. To show this, the electron dot diagrams for each atom are drawn and puzzle-pieced
together by filling their "empty spots" with each other's valence electrons.
In the final structural formula, ALL dots are removed from the electron dot diagram and "bonded"
electrons are replaced with lines.
Here are the structural formulas of some common compounds and molecules:
Molecule Name
Molecular
Formula
Carbon dioxide
CO2
Ammonia
Vinegar
Sucrose
Structrual Formula
O—C—O
H–N–H
NH3
H
CH3COOH
C12H22O11
(table sugar)
Electron Dot Diagram and Structural Formula Examples:
Molecular Electron Dot Diagram for First Atom
Formula
H20
(water)
CH4
(methane)
Electron Dot Diagram for Second Atom
Structural Formula

Because the Periodic Table is set up in a periodic, predictable way, we can predict what the Electron Dot
diagrams (a.k.a. Lewis Structures) look like for each of the 8 major columns of the Periodic Table.
Column
Number of
Valence
Electrons
Valence Number
Example
Element
1
2
3
4
5
6
7
8
1
2
3
4
5
6
7
8
-1
-2
-3
+ or – 4
+3
+2
+1
0
Lithium
Beryllium Boron
Carbon
Nitrogen
Oxygen
Fluorine
Neon
Metal
Metal
Nonmetal
Nonmetal
Nonmetal
Inert or
Noble
Gas
Family
Metalliod Nonmetal
Lewis Structure
(Electron Dot
Diagram)
IMPORTANT:
 Imagine a box around the element symbol.
X
 Place the FIRST DOT on the right side. next to the first dot.
X
 Place the SECOND DOT next to the first dot.
X
 Place the remaining dots in a counterclockwise fashion…putting a maximum of two dots on each side of the
imaginary box around the element
X
X
X
X
X
PART II: How do atoms "get together" (i.e. bond)?
THE 7 SIMPLE RULES OF BONDING:
RULE #1 – All atoms want to be "happy." "HAPPY" means that their __valence___ __shell_ is
filled to the _maximum__ capacity ( _2_ electrons for the first level and _8_ electrons for all other levels).
ONLY the _inert____ or __noble____ gases are "happy" because they already have the __maximum__
amount of electrons in their __valence______ shell.
HAPPY
NOT HAPPY
RULE #2 – To be "happy," atoms will bond with one another. They will either _lose_____,
__gain________, or ____share________ their __valence___e-!
RULE #3 Atoms will bond with each other ONLY if they can both be "__happy__" (i.e. have
__full/complete______ valence shells) when they "get together" or bond __chemically_______!
HAPPY
NOT HAPPY
RULE #4 -
Atoms will do what is "easiest" --- that is, they will bond in a way that requires
them to use the LEAST amount of energy.
MAKING BONDS REQUIRES ENERGY! Atoms with a
valence that is LESS than _four_______ will __lose____ their electrons. Atoms with a valence that is
MORE than _four______ will __gain_____ electrons from another atom. Remember: it is BEST to
"GAIN _MORE____ and LOSE___LESS__!" eg. Na – Valence e- = _1___  _____Lose 1e-________
RULE # 5 – Elements that have exactly _4___ electrons in their __valence____ shell will EITHER
_lose__ OR __gain___ electrons.
These elements are located in column __4____! These elements are called
(ha-choo…extra credit…ah-hem) __amphoteric____________. This means that they can "go both ways" --- i.e.
__lose__ or __gain___ electrons depending upon what the OTHER atom they are bonding with wants to do!
RULE #6 – By drawing the _Bohr_ model or SIMPLY looking at the __valence_______ #'s on the
periodic chart, you can figure out the number of __valence__ electrons that an atom has and, thus, what it
needs to do to be "_happy___."
Remember Mendeleev and his periodic pattern of VALENCE NUMBERS? The
top of the major columns can be labeled to reflect the number of electrons in the valence shell or the number of
electrons the atoms will _lose___ or __gain____ to become happy! Label the diagram below!
The Periodic Table of the Elements
Less than four = __LOSE_____
More than four = __GAIN___
(# of valence e-)
_1_ _2_
_3_ _4_ _5_ _6_ _7_ _8_
(valence #)
_-1 _-2
_-3_ +/-4 +3 _+2_ +1 _0_
__Lose__ or __Gain__
RULE #7 – The families of the periodic chart have a tendency to be "losers" or "gainers". Most
__metals___, because most of them have less than four electrons want to be __losers____. Most
__non-metals__, because they have more than four valence electrons want to be __gainers________. Noble or
inert gases do __NOT_____ want to _lose_____ or _gain______ ANY electrons…they are already happy
(i.e. _stable_____!).
THE TYPES OF BONDS:
BOND TYPE
and NICKNAME
DESCRIPTION
BONDING FAMILIES EXAMPLE
Metals and non-metals
Sodium and
Chlorine to
make NaCl
(table salt).
Sodium loses one
e- and chlorine
gains one e-
Non-metals w/ nonmetals
Hydrogen w/
oxygen to make
Water.
Hydrogen wants
to gain one and
water wants to
gain two.
Aluminum with
Aluminum.
One atom _loses___ electrons and
IONIC
give a little, take a little
COVALENT
sharin' to make a pairin'
the other _gains__electrons.
Atoms _share_________ their
electrons.
Metals w/ metals
The electrons of the atoms
METALLIC
lost at sea
"_float__" in a "sea" around the
positive nuclei of the atoms.
See here for example molecular structures: http://www.chemcool.com/regents/chemicalbonding/aim5.htm
PART III. PUTTING IT ALL TOGETHER…Chemical equations, Structural Formulas, and Bonding Rules
Use your new bonding knowledge to figure out what types of bonds the following atom pairs would most likely
make! Fill in the family names, the # of electrons in their valence shell, their valence number (i.e. how many e- they want
to lose, gain, or share to be "happy"), the resulting bond name, and structural formula. Then write the BALANCED
chemical equation for the chemical reaction between the two atoms. DO NOT FORGET TO USE YOUR
PERIODIC CHART!
EXAMPLE 1.
ATOM
Family
NAME
Na
Metal
(Sodium)
Cl
Non-Metal
(Chlorine)
# of
valence e1
7
Valence #
Electron Dot
Diagram
RESULTING
BOND
STRUCTURAL
FORMULA
Ionic
Na-Cl
-1
+1
Chemical Equation: ______Na + Cl  NaCl________________________________________
EXAMPLE 2.
ATOM
Family
NAME
Al
Metal
(Aluminum)
Al
Metal
(Aluminum)
# of
valence e3
Valence #
3
-3
Electron Dot
Diagram
-3
RESULTING
BOND
Metallic
STRUCTURAL
FORMULA
Al-Al
Chemical Equation: ______Al + Al  Al2_______________________________________
EXAMPLE 3.
ATOM
Family
NAME
C (Carbon)
Non-metal
# of
valence e4
Valence #
Electron Dot
Diagram
+ or – 4
RESULTING
BOND
Covalent
STRUCTURAL
FORMULA
O=C=O
O (Oxygen)
Non- metal
6
+2
Chemical Equation: _______C + 20  CO2______________________________________
EXAMPLE 4.
ATOM
Family
NAME
K
Metal
(Potassium)
Br
Non-metal
(Bromine)
# of
valence e1
Valence #
-1
Electron Dot
Diagram
RESULTING
BOND
Ionic
STRUCTURAL
FORMULA
K-Br
7
+1
Chemical Equation: _______K + Br  KBr______________________________________
PART I. CHEMICAL EQUATIONS AND STRUCTURAL FORMULAS
A. Fill in the missing information in the following chemical equations. You may need to fill in a symbol and/or
a coefficient to make each equation correctly written and balanced.
1. When heated, aluminum reacts with solid copper oxide to produce copper metal and
aluminum oxide.
Products
Reactants
2Al + __3__CuO ____________
Al2O3 + _3___Cu
2. Potassium Oxide is not a stable compound and, in the presence of water, it changes
into potassium hydroxide.
Products
Reactants
K2O + H2O
__2___KOH
Here are some more practice problems…
Products
3.
Reactants
2NaCl + BeF2
4.
_2_NaF + BeCl2

_1_AgNO3 + _1_LiOH
5.
CH4 + _2_O2
6.
_3_Mg + _1_Mn2O3
_1_AgOH + _1_LiNO3
CO2 + 2H2O

_3_MgO + _2_Mn
B. Draw the electron dot diagrams (a.k.a. Lewis Structures) for the following atoms.
1.
F
2.
Ne
3.
B
4.
Mg
C. In the boxes draw the structural formulas for the following molecules by rewriting the electron dot diagrams
given.
1.
H Cl
2.
Mg O
3.
F
Be
F
PART II. BONDING RULES
Match the term with the definition.
DEFINITIONS
TERMS
__a_ 1. The element family that usually LOSES
electrons.
a) Metals
__f_ 2. The bond that occurs between non-metals.
b) non-metals
_d__ 3. The bond that occurs when one atom loses
electrons and the other gains electrons.
c) inert gases
__b_ 4. The element family that usually GAINS
electrons.
d) ionic bond
__c_ 5. The element family that usually does NOT
bond easily with other elements.
e) metallic bond
__g_ 6. The group of elements that can either lose or
gain electrons.
f) covalent bond
__e_ 7. The bond that occurs between metals.
g) amphoteric
__e_ 8. The bond in which electrons "float" around
the positive nuclei of the bonding atoms.
_f__ 9. The bond in which atoms share their valence
electrons.
__d_ 10. The bond that occurs between non-metals
and metals.