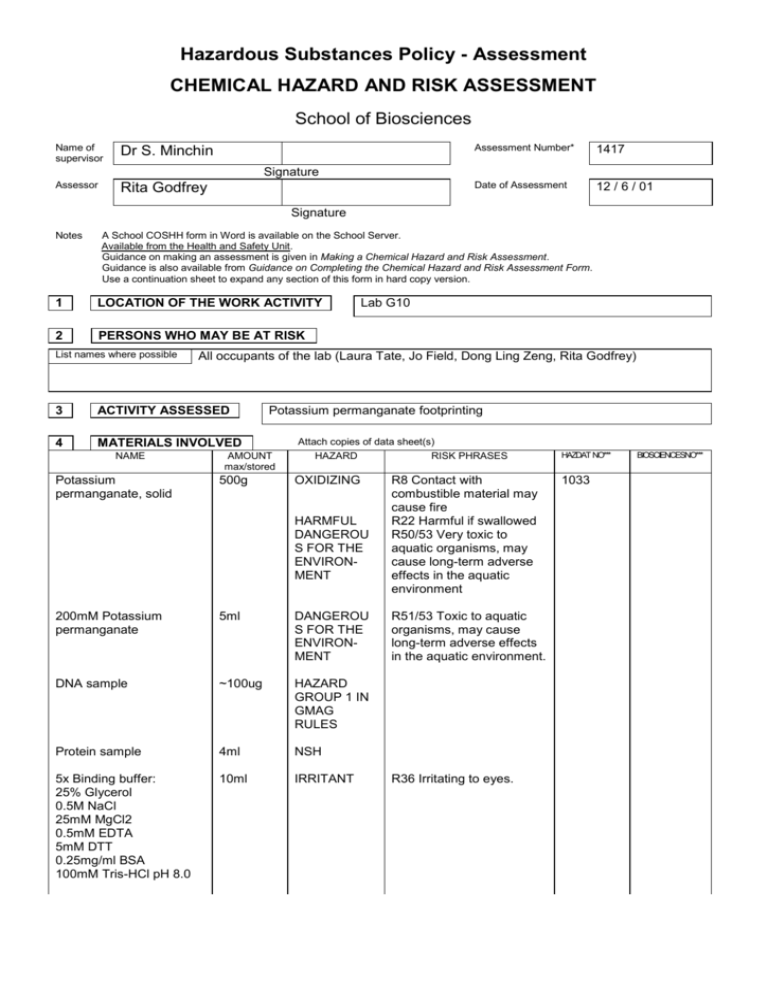 Potassium permanganate, solid
200mM Potassium permanganate
Hazardous Substances Policy - Assessment
CHEMICAL HAZARD AND RISK ASSESSMENT
School of Biosciences
Name of
supervisor
Dr S. Minchin
Assessor
Rita Godfrey
Assessment Number*
1417
Date of Assessment
12 / 6 / 01
Signature
Signature
Notes
A School COSHH form in Word is available on the School Server.
Available from the Health and Safety Unit.
Guidance on making an assessment is given in Making a Chemical Hazard and Risk Assessment.
Guidance is also available from Guidance on Completing the Chemical Hazard and Risk Assessment Form.
Use a continuation sheet to expand any section of this form in hard copy version.
1
LOCATION OF THE WORK ACTIVITY
2
PERSONS WHO MAY BE AT RISK
List names where possible
All occupants of the lab (Laura Tate, Jo Field, Dong Ling Zeng, Rita Godfrey)
3
ACTIVITY ASSESSED
4
MATERIALS INVOLVED
NAME
Potassium
permanganate, solid
Lab G10
Potassium permanganate footprinting
AMOUNT
max/stored
500g
Attach copies of data sheet(s)
HAZARD
OXIDIZING
HARMFUL
DANGEROU
S FOR THE
ENVIRONMENT
200mM Potassium
permanganate
5ml
DANGEROU
S FOR THE
ENVIRONMENT
DNA sample
~100ug
HAZARD
GROUP 1 IN
GMAG
RULES
Protein sample
4ml
NSH
5x Binding buffer:
25% Glycerol
0.5M NaCl
25mM MgCl2
0.5mM EDTA
5mM DTT
0.25mg/ml BSA
100mM Tris-HCl pH 8.0
10ml
IRRITANT
RISK PHRASES
R8 Contact with
combustible material may
cause fire
R22 Harmful if swallowed
R50/53 Very toxic to
aquatic organisms, may
cause long-term adverse
effects in the aquatic
environment
R51/53 Toxic to aquatic
organisms, may cause
long-term adverse effects
in the aquatic environment.
R36 Irritating to eyes.
HAZDAT NO***
1033
BIOSCIENCESNO***
Permanganate Stop:
3M Ammonium acetate
0.1M EDTA
1.5M 2-mercaptoethanol
100ml
Phenol/Chloroform/Isoamyl alcohol
25:24:1
100ml
HARMFUL
IRRITANT
TOXIC
CORROSIVE
HARMFUL
Category 3
carcinogen
R21 Harmful in contact
with skin
R36/37/38 Irritating to
eyes, respiratory system
and skin
R24/25 Toxic on contact
with skin and if swallowed.
R34 Causes burns
R40 Possible risk of
irreversible effects.
R48/20/22 Harmful: danger
of serious damage to
health by prolonged
exposure through
inhalation and if swallowed
100% Ethanol
2.5 litres
HIGHLY
FLAMMABLE
R11 Highly flammable
80% Ethanol
50ml
HIGHLY
FLAMMABLE
R11 Highly flammable
Glycogen 20mg/ml
1ml
NSH
Sterile distilled water
50ml
NSH
TE buffer
100ml
NSH
5
571
176 and
44
INTENDED USE**
Give brief details and attach protocol/instructions
Potassium permanganate footprinting, see attached sheet.
This assessment covers only the DNA modification by permanganate, up to step 12 on the method sheet, and it
does not cover the labelling of the primer (assessment number 1401) The next stage, PCR primer
extension is covered in assessment number1397
6
RISKS to HEALTH and SAFETY from INTENDED USE
From personal exposure or hazardous reactions. Refer to OELs, flash points, etc., as appropriate. Are pregnant women, breast-feeding
mothers especially at risk?
There is a risk of contact with the solid potassium permanganate as well as the solution.
There is a fire risk from the ethanol
There is a risk of exposure to phenol/chloroform vapours and also skin contact with it.
There is a risk of skin contact and inhalation of the KmnO4 Stop solution
7
CONCLUSIONS ABOUT RISKS
Is level of risk acceptable? Can risk be prevented or reduced by change of substance/procedure? Are control measures necessary?
Control measures are necessary as the risks are significant, although the risk from the 200mM KMnO4 solution is
very slight because of the small volumes used.
8
CONTROL MEASURES
Additional to Good Chemical Practice
Wear protective clothing and gloves when weighing out KMn04 .
Wear protective clothing, gloves and goggles or a face mask when working with phenol/chloroform. Replace caps
and bottle tops as soon as possible and avoid inhaling phenol/chloroform vapours. See
assessment number 1360 for more details on working with phenol/chloroform. Have PEG 300 at hand in case of
accidents. Transfer of waste phenol/chloroform to the halogenated waste solvent bottle should be done in the
fume hood
Wear gloves when handling the KMnO4 Stop solution
Do not allow solutions or spillages of KMnO4 to dry out
9
INSTRUCTION/TRAINING
Specify course(s) and/or special arrangements.
10
MONITORING
Performance of control measures,
Check integrity of gloves before starting. Check fume hood is working.
Personal exposure
Health Surveillance
11
WASTE DISPOSAL PROCEDURE
See School Server for Approved Procedure Document on specific Chemical Waste Disposal.
Waste ethanol containing solutions should be placed in the non-halogenated waste solvent bottle, which is taken
to Stores when full. The waste phenol/chloroform should be transferred to the halogenated waste solvent bottle.
This should be done in the fume hood. Waste 200mM KMnO4 can be washed down the sink
after diluting it greatly with water first. Only small amounts of this can be disposed of this way. Large
amounts would have to be taken down to Stores for specialist disposal. Waste Stop solution can also be poured
down the sink with running water.
12
REVIEW
Enter the date or circumstances for review of assessment (maximum review interval 5 years)
June 2006
13
EMERGENCY ACTION
TO CONTROL HAZARDS To stabilize situation eg spread absorbant on liquid spill; eliminate sources of ignition, etc.
Switch off all sources of ignition and contain spillage with paper towels if it is small or use the spill kit if it is large.
Spillage of solid KMnO4 should be scooped up into a leakproof container, labelled and taken to Stores for
specialist disposal. Do not allow spillages of KMnO4 solution to dry out. Mop up straight away and wash paper
towels with plenty of water so that the KMnO4 does not dry out on the towels instead.
TO PROTECT PERSONNEL Evacuation, protection for personnel involved in clean-up, Special First Aid
Protective clothing, gloves and goggles should be worn. For ethanol, phenol/chloroform and KMnO4 Stop solution
the room should be ventilated until all vapours have gone. For phenol/chloroform the room should be evacuated
in the event of a spillage.
TO RENDER SITE OF EMERGENCY SAFE
Clean-up/decontamination
The site of a spillage of KMnO4 solid should be washed with plenty of water All other sites should also be
washed with water .
CONTACT
Dr S. Minchin
PHONE
45438
10.10.00
*
**
***
Prefix T is used for Teaching Assessment Number.
Please include amount of chemicals used and how.
Hazdat No is the UNICOSHH datasheet report number.
Biosciences No is the Biosciences data sheet number.
UNICOSHH IS A CHEMICAL DATABASE ON THE HEALTH AND SAFETY UNIT SERVER.
BIOSCIENCES DATA SHEETS ARE AVAILABLE IN THE SCHOOL SAFETY OFFICE.