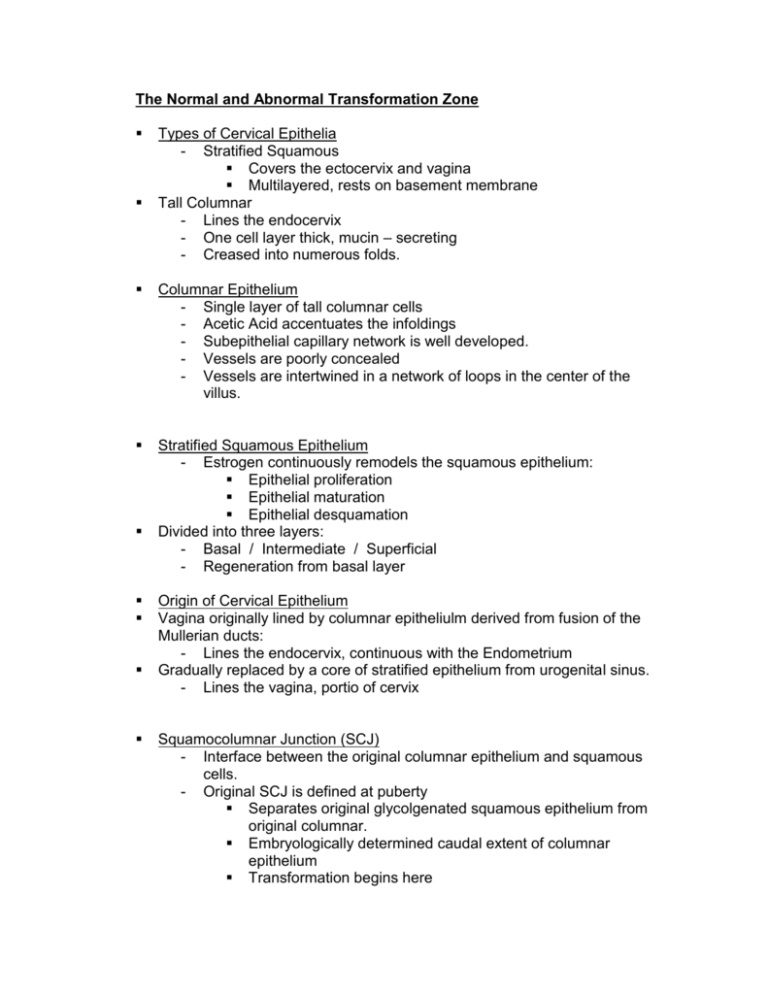 The Normal and Abnormal Transformation Zone


Types of Cervical Epithelia
- Stratified Squamous
 Covers the ectocervix and vagina
 Multilayered, rests on basement membrane
Tall Columnar
- Lines the endocervix
- One cell layer thick, mucin – secreting
- Creased into numerous folds.

Columnar Epithelium
- Single layer of tall columnar cells
- Acetic Acid accentuates the infoldings
- Subepithelial capillary network is well developed.
- Vessels are poorly concealed
- Vessels are intertwined in a network of loops in the center of the
villus.

Stratified Squamous Epithelium
- Estrogen continuously remodels the squamous epithelium:
 Epithelial proliferation
 Epithelial maturation
 Epithelial desquamation
Divided into three layers:
- Basal / Intermediate / Superficial
- Regeneration from basal layer





Origin of Cervical Epithelium
Vagina originally lined by columnar epitheliulm derived from fusion of the
Mullerian ducts:
- Lines the endocervix, continuous with the Endometrium
Gradually replaced by a core of stratified epithelium from urogenital sinus.
- Lines the vagina, portio of cervix
Squamocolumnar Junction (SCJ)
- Interface between the original columnar epithelium and squamous
cells.
- Original SCJ is defined at puberty
 Separates original glycolgenated squamous epithelium from
original columnar.
 Embryologically determined caudal extent of columnar
epithelium
 Transformation begins here

How Cervical Transformation Occurs
- Columnar epithelium will be replaced by squamous epithelium
- Leading edge of the transformation zone is the "new" or
colposcopically visible SCJ.
- Continuous remodeling occurs.
- TZ looks different depending on the degree of remodeling.

Squamous Transformation
- Undifferentiated or "reserve" cells proliferate beneath the columnar
cells.
- Reserve cells stratify and layer.
- Columnar cells are lifted off.
- Adjacent clefts of evolving epithelium fuse.
- Reserve cells differentiate into mature squamous cells.
- Mature squamous cells eventually are formed.

Squamous Metaplasia
- Tips of columnar villi are traumatized by the acidity of the vagina.
Immature cells gradually mature and the cells begin to produce glycogen.
Random distribution on the cervix:
- Patchy, uneven areas of metaplasia
- Immature tips have acetowhite appearance



What is the Transformation Zone?
- Physical zone or area of the cervix between the original SCJ and
the "new" SCJ.
- The TZ gets larger as remodeling occurs and the woman ages.
- The "new" SCJ apears to "move" closer to the external os and then
inside the endocervical canal.
- Completed at menopause.

Transformation Zone
- Specific landmarks are demonstrated.
- Maturation of the squamous epithelium is gradual.
- As maturity progresses, it appears more like the original squamous
epithelium

Components of the TZ
- Nabothian cysts or follicles.
- Islands of columnar epithelium.
- Gland openings with mucin secretion.
- Active squamous metaplasia.
-
Nabothian Cysts:
 Formed when the opening of the
endocervical infoldings become blocked by
metaplasia.
 Accumulated mucus from cysts.
 Vessels accentuated over the cyst.
 No treatment necessary.
-
Islands of columnar epithelium
 Result from uneven process of squamous metaplasia
 Lined by SCJ
 Obliteration may produce Nabolthian cyst.
Gland openings with mucin secretion:
 Not true glands.
 Infoldings of columnar epithelium.
-




Mature squamous epithelium
Final result of squamous metaplasia
Original SCJ and squamous epithelium interface becomes a squamous
junction
Squamous Metaplasia
- Ongoing process of transformation.
- Located between mature squamous epithelium and unaltered
columnar epithelium
- Mature sqamous epithelium is cephalad to the new SCJ

Importance of the TZ
- Must recognize the "new" SCJ.
- Must understand relationship of epithelium and blood vessels.
- Must understand normal TZ if abnormal findings are to be
described.
- Oncogenic changes occur at SCJ.


Formation of the Abnormal TZ
The Normal TZ is located between the OSCJ and the colposcopicallyvisible, new SCJ.
Dynamic Area
Bordered by squamous and columnar epithelium:
- mature epithelium
- immature metaplasia
Carcinogenic factors are incorporated into vulnerable immature
metaplasia.
Occurs in area of unstable metaplasia epithelium: a deviation of normal
maturation.





Abnormal TZ undergoes periods:

Vasculature of normal columnar epithelium modified during metaplasia.
- produces abnormal TZ blood vessel characteristics




Alteration of Normal TZ
Initiated in immature squamous metaplasia.
Systemic and progressive differentiation of cells are modified.
Characteristics of Abnormal Epithelium:
1. Decreasing cell maturation
2. Increasing cellular atypia
or neoplastic process

Abnormal Transformation Zone
- No distinct colposcopic finding allows independent differentiation of
normal TZ from CIN or invasive disease.
- Avoid single colposcopic sign to formulate colposcopic impression.
- Full range of findings necessary to differentiate normal from
abnormal TZ.
- Benign findings can mimic abnormal TZ.

Benign Mimics of Abnomal TZ

Morphological Features of ATZ
- Epithelial Alterations:
 Leukoplakia
 Acetowhite epithelium
-
Vascular Alterations:
 Punctation





 Mosaicism
 Atypical vessels
Leukoplakia
"White patch" visible without addition of acetic acid. (colposcopic or naked
eye)
Usuallly a dense white area without vessels.
May be response to trauma, inflammation or "unknown"
Must rule out invasion
Biopsy!

Acetowhite Epithelium
- Only visible after 3 – 5% acetic acid
- Variable shades of white, grades of density
- May be squamous metaplasia, CIN, or invasion
- May grade to differentiate normal and abnormal acetowhite areas.

Punctation: Vessels
- Arise from original columnar epithelial angio-architecture.
- Villous structures typically have one afferent and one efferent loop
capillary.
- During metaplasia, the clefts between villi are filled with epithelial
buds.
- Buds grow and expand.
- Compress surrounding vessels by proliferation of epithelium.
- Epithelium expands laterally.
- Compression forces impede venous return. Causes dilatation of
loop capillaries.
- Further epithelial expansion may cause complete occlusion of
central capillaries with increased intracapillary distance.
- Expanding neoplasia is equal to compression plus occlusion.

Vessels: Mosaicism
- Compression forces of dysplasia produce:
 Obliteration / dilatation vessels

Severity: increases caliber / intercapillary distance
- Vessel Patterns:
 Rows of capillaries on end
 Terminal vessels aligned horizontal with "ring".

Atypical Vessels
- Hallmark of invasion
 Green filter & high magnification
 May be present in other conditions: normal, inflammation,
radiation
-
Bizarre, surface vessels of varied shapes and sizes
Abruptly appear and disappear.