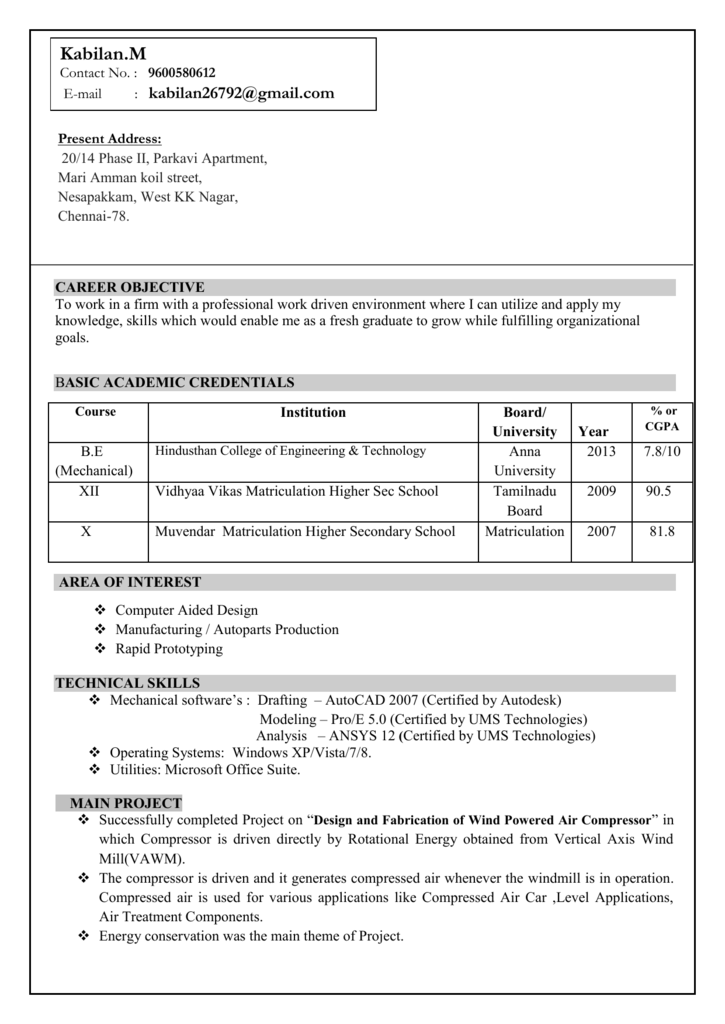 Kabilan.M
Contact No. : 9600580612
E-mail
: [email protected]
Present Address:
20/14 Phase II, Parkavi Apartment,
Mari Amman koil street,
Nesapakkam, West KK Nagar,
Chennai-78.
CAREER OBJECTIVE
To work in a firm with a professional work driven environment where I can utilize and apply my
knowledge, skills which would enable me as a fresh graduate to grow while fulfilling organizational
goals.
BASIC ACADEMIC CREDENTIALS
Course
B.E
(Mechanical)
XII
X
Institution
Hindusthan College of Engineering & Technology
Vidhyaa Vikas Matriculation Higher Sec School
Muvendar Matriculation Higher Secondary School
Board/
University Year
Anna
2013
University
Tamilnadu
2009
Board
Matriculation
2007
% or
CGPA
7.8/10
90.5
81.8
AREA OF INTEREST
 Computer Aided Design
 Manufacturing / Autoparts Production
 Rapid Prototyping
TECHNICAL SKILLS
 Mechanical software's : Drafting – AutoCAD 2007 (Certified by Autodesk)
Modeling – Pro/E 5.0 (Certified by UMS Technologies)
Analysis – ANSYS 12 (Certified by UMS Technologies)
 Operating Systems: Windows XP/Vista/7/8.
 Utilities: Microsoft Office Suite.
MAIN PROJECT
 Successfully completed Project on "Design and Fabrication of Wind Powered Air Compressor" in
which Compressor is driven directly by Rotational Energy obtained from Vertical Axis Wind
Mill(VAWM).
 The compressor is driven and it generates compressed air whenever the windmill is in operation.
Compressed air is used for various applications like Compressed Air Car ,Level Applications,
Air Treatment Components.
 Energy conservation was the main theme of Project.
Visit www.MyCollegeBag.in for More Resumes.
MINI PROJECT
 Successfully did a Mini Project on "Exhaust Gas Recycling Generator" which is a small device
which generates electric power from the kinetic energy of the exhaust gases .
 The device which can produce the electric power by using the waste exhaust gases and act as an
recharging device for an two wheeler battery.
 The energy wasted in the exhaust pipe is consumed by using EGR (exhaust gas recycling
generator)
CO/EXTRA –CURRICULAR ACTIVITIES
 Actively Participated in the "Rapid Prototyping Technology" workshop conducted by PSG
College of Technology.
 Participated in zonal level Badminton Tournament.
 Actively participated in many Technical Symposiums.
 Actively participated in various sports activities for inter school.
 Active Member of the Indian Society for Technical Education.
INTERPERSONAL SKILL





Ability to rapidly build relationship and set up trust.
Confident and Determined
Ability to cope up with different situations.
Quick Learning on any circumstances.
Time Management Skills.
PERSONAL DETAILS
 Father's Name
 Permanent Address
:- Manavalan
:- 2-126 Sithukkadu,
Kalathur(po),
Pattukkottai, Thanjavur(DT)
Pin code-614804






::::::-
Date of Birth
Sex
Language Known
Marital Status
Nationality/Religion
Interest & Hobbies
26thJuly 1992
Male
English & Tamil
Single
Indian / Hindu
Internet browsing ,Badminton and Reading Magazines
DECLARATION
I hereby declare that all the details furnished above are true and correct to the best of my knowledge.
Place:
Date:
Kabilan
(Signature)
Visit www.MyCollegeBag.in for More Resumes.