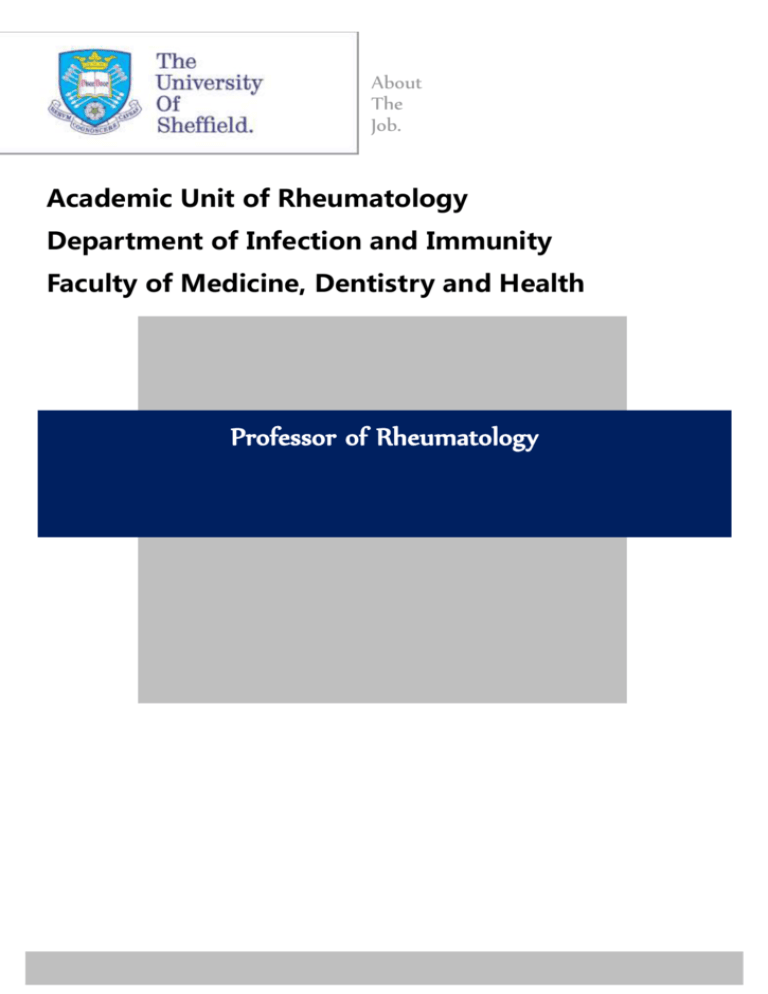 About
The
Job.
Academic Unit of Rheumatology
Department of Infection and Immunity
Faculty of Medicine, Dentistry and Health
Professor of Rheumatology
About
The
Job.
Pursue the extraordinary
Overview
About the Department
The Department of Infection & Immunity (http://www.sheffield.ac.uk/infectionandimmunity)
combines basic science research in molecular cell biology, with a particular focus on host
response to infection and molecular microbiology. There is strong representation from the
clinical specialties of Respiratory Medicine, Renal Medicine, Rheumatology, Dermatology
and Infectious Diseases. There are 30 academic staff, and approximately 200 individuals
work in the Department, including post-doctoral researchers, postgraduate students and
technical staff.
The Academic Unit of Rheumatology, established by Professor Sir Gordon Duff, has a
distinguished track record of research into the genetics and, more recently, epigenetics of
inflammation. Research focusing on innate immunity represents a central component of the
Department's activity and is focused in the Academic Unit of Immunology and Infectious
Diseases and in the Academic Unit of Respiratory Medicine. Research focuses on
understanding the host response to infection, in particular innate responses to respiratory
infection, invasive bacterial infection and systemic viral infections, as well as adaptive
immune responses to infection and vaccination. There is also a strong focus on molecular
microbiology and the identification of novel virulence determinants or vaccine targets.
Research addressing the mechanisms controlling inflammation, centred in the Academic
Unit of Respiratory Medicine, complements our research into infection, with a major focus
on the regulation of inflammation during chronic lung diseases such as COPD and
interstitial lung disease.
There are major interests in acute, neutrophil-dominant
inflammation and in the role of hypoxia in regulating inflammatory responses.
Extensive
experimental approaches include mammalian and non-mammalian models of infection and
inflammation, with particular expertise in zebrafish models, in collaboration with the MRC
Centre for Developmental and Biomedical Genetics. The Academic Unit of Dermatology has
a major interest in inflammatory skin disorders, eczema and psoriasis and the Academic
Unit of Nephrology focuses in two main areas, polycystic kidney disease and mechanisms of
end-stage renal failure.
There is a substantial base of Wellcome Trust, MRC and AMRC grant funding.
The
department includes two Senior Clinical Fellows (1 MRC and 1 Wellcome Trust) and an MRC
Career Development Fellow. There are also a number of Clinical and Non-Clinical Research
Fellows funded by MRC, Wellcome Trust, AMRC and Kidney Research UK. There is
extensive expertise in vertebrate and mammalian models of chronic inflammatory and
infectious diseases. There is also a strong track record of high quality clinical and
translational research. There are strategic links to the MRC Centre for Developmental and
Biomedical Genetics (PI Renshaw, Deputy Director Whyte).
Sheffield is also one of 3 centres, with the Universities of Liverpool and Newcastle, which
form the MRC Centre for Musculoskeletal Ageing (CIMA). The successful post-holder will
be a member of CIMA, of which further details are available at
http://cimatraining.group.shef.ac.uk/
Academic Unit of Rheumatology
http://www.sheffield.ac.uk/infectionandimmunity/units/rheumatology
The Academic Unit of Rheumatology has a long track record in both cytokine biology and in
the genetic and epigenetic regulation of inflammation in arthritis. Following the
retirement of Professor Sir Gordon Duff and the recent move of Professor Gerry Wilson to
University College Dublin, there is the opportunity to reconfigure the academic unit through
a number of new appointments. In the first instance, we seek to appoint a Clinical
Professor who will, in consultation with the Head of Department, lead this process.
In addition to the academic and support staff listed below, there are a number of colleagues
within the Mellanby Centre for Bone Research with related research interests
http://mellanbycentre.dept.shef.ac.uk/
Current Staffing of the Academic Unit:
Clinical Professor (vacant)
Senior Clinical Lecturer (vacant pending the professorial appointment)
Non-Clinical Reader (Dr David Buttle)
Non-Clinical Lecturer (Dr Munitta Muthana)
Academic Clinical Fellow (Dr Stuart Carter)
Technician (Ms Fiona Morrow)
Secretary (Mrs Paula Blackwell)
Job Role
This is an outstanding opportunity for a clinical academic to join a leading rheumatology
unit and make a critical contribution to the shaping of rheumatological research at The
University of Sheffield. We are seeking a clinician scientist who can lead a high quality
independent research programme and also shape the wider research area of rheumatology
in Sheffield.
In addition to the current post there will be other posts to be appointed,
including a Senior Clinical Lecturer, where the successful candidate can play a major role in
recruitment and research strategy. We are seeking an extremely high quality individual,
with an independent research programme and relevant expertise.
The University's expectations of the qualities and responsibilities of its academic staff are
captured by the concept of the Sheffield Academic. The role of the Sheffield Academic is
underpinned by a number of core values and qualities that are essential to the scholarly
pursuit and communication of knowledge in this University. Among them is the recognition
that the pursuit of research excellence and the pursuit of teaching excellence are closely
linked.
Please see www.sheffield.ac.uk/hr/sheffieldacademic/statement.html for further
information.
Job Description
Main Duties and Responsibilities
Contribute fully as researcher, teacher and leader, in fulfilment of the ideals of the
'Sheffield Academic'.
Job Plan
This post will comprise 10 programmed activities, of which 5 will be NHS PAs and 5 will be
funded from academic sources. Clinical PAs will include a maximum of 4 DCC and 1 SPA.
These will be made up of a combination of out-patient clinics and ward work. The total 1.5
SPA (including 0.5 academic time) and study leave entitlement will provide you with time for
continual professional development (CPD). Clinical work will be undertaken in the
Sheffield Teaching Hospitals NHS Foundation Trust (STH).
Clinical Practice
The clinical duties will involve joining the existing STH consultant team in rheumatology in
providing secondary and tertiary care to patients within South Yorkshire and beyond. The
department has been awarded EULAR Centre of Excellence status and will feature as one of
the Specialised Centres for the treatment of rheumatological diseases as defined by NHS
England. The detailed job plan will be drawn up in discussion with Dr Tim Tait, Clinical
Lead.
Duties of the Post
This is a replacement post and you will take the patient load from the previous post-holder.
In addition to the out-patient commitment, you will take part in the rheumatology
consultant on-call rota (currently 1:9)
Specimen Job Plan
Day
Time
Work
Category No. of
PAs
Mon
8.30 – 12.30 Academic work
1.0
12.30 –
X-ray meeting / Journal Club
DCC
0.25
13.30
General Rheumatology Clinic
DCC
1.0
13.30 –
17.30
Tues
8.30 – 12.30 Academic work
1.0
13.30 –
Academic work
1.0
8.30 – 12.30 Academic work
1.0
17.30
Wed
Thur
13.00 –
General Rheumatology Clinic
DCC
1.0
17.00
(FU)
08.30 –
Clinical admin / liaison with
DCC
1.0
12.30
nurses
SPA
0.25
13.00 –
Consultant Meeting
SPA
0.75
14.00
PG Meeting/CPD/Audit/Clinical
14.00 –
Governance
17.00
Fri
09.00 –
Clinical Admin / Ward Round
DCC
0.5
11.00
Academic SPA
SPA
0.5
11.00 –
Academic work
0.5
13.00
13.00 –
15.00
Emergency Cover
Flexible
Direct Clinical Care
Total
Supporting Professional
DCC
0.25
4
1.5
Activity
Academic Activities
4.5
Programmed Activities
10
A review of duties will take place with the Clinical Director / Clinical Lead as part of the Job
Plan process.
Time will also be made available for the annual appraisal in line with the
Trust and University appraisal policies.
You will be required to cover for colleagues during periods of absence.
You will have
continuing responsibility for patients in your care and the proper functioning of the STH
Rheumatology Department.
Teaching

You will contribute to the Undergraduate and Postgraduate teaching programmes of the
Department of Infection & Immunity and Faculty of Medicine, Dentistry & Health
through ward and clinic based teaching as required and lectures and seminars by
arrangement.

You will be involved with the assessment and mentoring of students.

You will provide educational support and training to junior medical staff.

You will supervise BMedSci, MD and PhD students.
Research
You will be responsible for establishing a high-quality research programme which attracts
external research funding and delivers major scientific discoveries and published out-puts.
The area of the research programme will be determined by your research interests. You will
be expected to work with colleagues in rheumatology both within the department and
across the wider university to develop a long-term strategy for basic and translational
research in rheumatology.
Administration
You will be required to undertake some administrative work in support of the needs of the
Department of Infection and Immunity but these duties can be negotiated.
You will also be required to carry out any other duties commensurate with the grade of the
post.
Support
Excellent office and laboratory spaces are available within the Department of Infection and
Immunity on Floors K and L of the Royal Hallamshire Hospital site. Secretarial support is
also available (0.5 WTE) and NHS secretarial support will be provided from existing
resources within the Directorate for clinical work. Junior medical staff are available to
support you and these include NIHR-funded posts in rheumatology at Academic Clinical
Fellow level.
Library Facilities
The University Clinical Library is housed on 'C' Floor of the Royal Hallamshire Hospital.
The Medical Library is in the main University Library which is within half a mile of the Royal
Hallamshire Hospital and offers excellent lending reference and national lending (Boston
Spa) facilities.
As part of the Faculty of Medicine Dentistry and Health's Medical School redevelopment,
the Health Sciences Library (HSL) at RHH was reconfigured and refurbished during 2012.
More information can be found at www.shef.ac.uk/library/libnews/rhhrefurb
Rheumatology Services at the Sheffield Teaching Hospitals NHS Foundation Trust
Clinical Directorates are led by Clinical Directors who are appointed by the Chief Executive
for a three year period, subject to annual review. Managerially, the Sub-Directorate of
Rheumatology is within the Directorate of Communicable Diseases and Specialised
Medicine (Clinical Director – Dr Christine Bowman) which is in turn part of the wider Care
Group of Specialised Cancer, Specialised Medicine and Rehabilitation (General Manager –
Mr Ian Scott, Nurse Director – Mandy Yates).
There are monthly meetings of the
Sub-Directorate and consultants. The Sub-Directorate is responsible for providing all
clinical rheumatology and non-surgical musculoskeletal services including SEM.
You will join a rheumatology team presently comprising of 8 NHS consultants with a wide
range of special interests.
We have 3 specialist rheumatology registrars and 2 junior
trainees (one GP trainee and one core medical trainee).
The department is supported by a
team of dedicated nurses which includes a matron, 2 clinical nurse specialists, 3 anti TNF
nurse specialists, one lupus nurse specialist and a senior sister who manages the remainder
of the nursing team, who rotate between the in and outpatient facilities.
The rheumatology inpatient and outpatient facilities for adults (over 16 years of age) in
Sheffield are based at the Royal Hallamshire Hospital (RHH), a 775 bedded hospital, serving
a population of 750,000. The in-patient facilities at the RHH are currently shared with
haematology and oncology on Ward O1.
The majority of the outpatients are seen in the dedicated department on B floor of the RHH
which has the use of an ultrasound machine (with a second machine currently being
purchased) and a polarising microscope.
Currently, upwards of 50 separate rheumatology
clinics per week are run through the out-patient facilities at RHH.
In 2010, further develop rheumatology services were developed at the Northern General
Hospital (NGH) which facilitated the growth of the service, reduced accommodation
pressures at the RHH site and provides a more local service for patients who live or work in
the north of the city.
Out-patient clinics at NGH are run in a dedicated clinic located
adjacent to the Metabolic Bone Unit. In-patient referrals are reviewed at NGH and those
with rheumatological diseases are transferred to Rheumatology Department beds at the
RHH.
In 2012-13, the Rheumatology Department saw 2778 new out-patients and 21,638
follow-up patients. 2365 patients were treated as day cases, along with 141 elective
in-patients and 59 non-elective in-patients.
Specialised Medical Services
The Rheumatology Department has access to the specialised services that one would expect
of a teaching hospital with large orthopaedic and radiology departments with dedicated
links to rheumatology through combined clinics and regular radiology meetings. Additional
combined clinics and close working relationships have been established with dermatology,
metabolic bone diseases, neurology, obstetrics, ophthalmology, renal and respiratory
medicine.
In particular, STH is home to one of the nationally accredited pulmonary
hypertension units and close working links and joint clinics are held with the PHT unit.
The Rheumatology Department has a strong track record in providing specialised
connective tissue disease services and serves as a tertiary referral centre for patients with
complex conditions from the South Yorkshire and North Derbyshire area.
The department also provides specialist services in sports medicine, adolescent and
transition rheumatology and sero negative spondyloarthropathies.
STH provides access to full laboratory services and there is onsite access to PET scanning in
addition to the full range of radiological services together with specialist musculoskeletal
radiologists.
Day Case Rheumatology Service
With the advent of biological therapies there has been a progressive increase in the number
of day-case attendances for various treatments, including biological therapy.
There are
currently over 900 patients receiving biological therapy, which increases on average by 9 per
week.
During 2012/13 there were 2365 day case attendances.
Paediatric Rheumatology
Paediatric rheumatology services are provided at Sheffield Children's Hospital (SCH).
There are transitional arrangements for adolescents with regular clinics at SCH and RHH.
The designated adult lead is Dr Rachel Tattersall who also has a sessional commitment at
SCH.
Postgraduate Education
There is a weekly postgraduate meeting to which all consultants and specialist registrars
working in the South Yorkshire deanery are invited and to which you will be encouraged to
contribute. This centres around a teaching programme aligned to the SpR curriculum in
rheumatology.
There are bi-monthly regional meetings held with local hospitals and twice
yearly combined meetings held with the Yorkshire Deanery.
There is also a weekly x-ray
meeting and Journal Club.
Undergraduate Education
As a recognised teaching department in the hospital, students are received throughout the
year for two week slots.
Dr Lisa Dunkley leads the teaching programme and you will be
encouraged to take a full part in the teaching duties of the department.
The clinical
department also contributes to the basic science lectures for the medical school and to the
topic teaching for students entering into their clinical years.
Departmental meetings
There is a monthly departmental meeting to which all staff are invited at which matters of
importance to the department are discussed.
There is a weekly Consultant meeting.
Staffing within the STH Rheumatology Department
MEDICAL STAFF
NHS Consultants (with clinical interests)
Dr Mohammed Akil
Connective Tissue Disease
Dr Lisa Dunkley
Spondyloarthritis and Undergraduate Education
Dr Rachael Kilding
Connective Tissue Disease
Dr Rachel Tattersall
Adolescent Transition
Dr Simon Till
Sport and Exercise Medicine
Dr John Boulton
Service Improvement
Dr James Maxwell
Early Arthritis
Dr Tim Tait
Clinical Lead and Crystal Arthritis
Dr Kar-Ping Kuet
Locum Consultant
Dr Sachin Khetan
Locum Consultant
NURSING STAFF
Mrs Carol Bedford - Matron
Clinical Nurse Specialists
Ms Debbie Fellows
Mrs Pauline Mark (anti-TNF)
Mrs Jayne McDermott (CTD)
Ms Nicola Newell
Mrs Elizabeth Byrne (anti-TNF)
Mrs Emma Blanksby (anti TNF)
Person Specification
Applicants should provide evidence in their applications that they meet the following
criteria. We will use a range of selection methods to measure candidates' abilities in these
areas including reviewing your on-line application, seeking references, inviting shortlisted
candidates to interview and other forms of assessment action relevant to the post.
Criteria
Essential Desirable
Qualifications and experience
1.
PhD or MD in a relevant area of Rheumatology research.
X
2.
Full registration with the General Medical Council.
X
3.
Accreditation in Rheumatology.
X
4.
Specialist experience in Rheumatology.
X
5.
Significant postdoctoral and research leadership experience in
X
Rheumatology research.
6.
Current grants and proven ability to attract substantial research
X
grants.
7.
Proven track record of producing high quality publications.
X
8.
Experience of teaching and lecturing.
X
Management skills
9.
Experience of managing research projects.
X
10.
Ability to lead a research team.
X
11.
Experience of formal/informal supervision of students, technical
X
and research staff.
Communication skills
12.
Effective communication skills, both written and verbal, report
X
writing skills and experience of delivering presentations.
13.
Responsible for maintaining effective collaborations and liaising
X
with collaborators both nationally and abroad.
Team working
14.
Experience of building and developing a team and aligning the
X
day-to-day work and goals of the team with the organisation's
strategic vision.
15.
Experience in leading a research team.
X
16.
Ability to motivate high performance in others.
X
17.
Experience of reviewing individual and team progress and
X
performance.
Project management
18.
Excellent organisational skills and the ability to manage multiple
X
projects.
19.
Ability to take responsibility for own progress and plan
X
appropriate contingencies.
20.
Ability to assess and organise resources and plan and progress
X
work activities.
Personal effectiveness
21.
Experience of developing and maintaining a network of contacts
throughout own work area.
X
22.
Ability to work accurately in order to meet tight deadlines.
23.
Experience of adapting own skills to new circumstances.
X
X
Further Information
This post is full-time:
This role has been identified as a full-time post, but we are committed to exploring flexible
working opportunities with our staff which benefit both the individual and the University.
Therefore, we would consider flexible delivery of the role subject to meeting the business
needs of the post. See www.sheffield.ac.uk/hr/wellbeing/info/wlb.html for more
information.
Benefits
Terms and conditions of employment: Will be for Clinical Academic staff holding
Honorary Consultant status.
Salary for this grade: £75,249 per annum to £101,451 per annum, dependent upon
consultant seniority.
More details on salaries, terms and conditions and our wide range of benefits for staff are
available at www.sheffield.ac.uk/hr/reward/structures
Closing date: 27 January 2014
Informal enquiries:
For all on-line application system queries and support, contact:
e-Recruitment@sheffield.ac.uk .
For informal enquiries about this job and department, please contact:
 Professor Moira Whyte (Head of Department of Infection & Immunity) on
m.k.whyte@sheffield.ac.uk or (0114) 271 2830, or
 Dr Tim Tait (Clinical Director) on Tim.Tait@sth.nhs.uk or (0114) 271 1843.
Criminal records check:
Please note that as this post is exempt from the Rehabilitation of Offenders Act 1974, a
satisfactory Disclosure and Barring Service Check (DBS) will be required for the
appointee. If you have a spent criminal record and are invited to interview for this post,
you are required to provide details of your convictions in confidence, with the job
reference number/ title of post/recruiting department, in advance of the interview to the
Deputy Director, Human Resources, University of Sheffield, The Arts Tower, Western Bank,
Sheffield, S10 2TN (mark the envelope PERSONAL).
This information will be treated as
strictly confidential and will only be considered if you are invited to interview for the
post.
If you have been barred from working with children or vulnerable adults by the Independent
Safeguarding Authority it is a criminal offence to apply for a post involving regulated
activity with children or vulnerable adults. Regulated activity involves contact of a specified
nature. If you are unsure if you may apply for this post for this reason then please contact
Catherine Merrywest (C.Merrywest@sheffield.ac.uk) in Human Resources for further
information.
Health assessment:
Please note that due to the duties of this post, the final appointment will be subject to the
completion of a satisfactory health assessment from the University Staff Occupational
Health Service.
Selection-Next Step
Following the closing date, you will be informed by email whether or not you have been
shortlisted to be invited to participate in the next stage of the selection process. Please note
that due to the large number of applications that we receive, it may take up to two working
weeks following the closing date before the recruiting department will be able to contact
you.
The University of Sheffield is committed to achieving excellence through inclusion.
The University of Sheffield is proud to be a Two Ticks employer
www.sheffield.ac.uk/hr/equality/support/twoticks/
The University has achieved the Athena SWAN award for Women in
Science, Engineering and Medicine.
The Medical School has achieved the Athena SWAN silver award for
Women
in
Science,
Pursue the extraordinary
Engineering and Medicine.