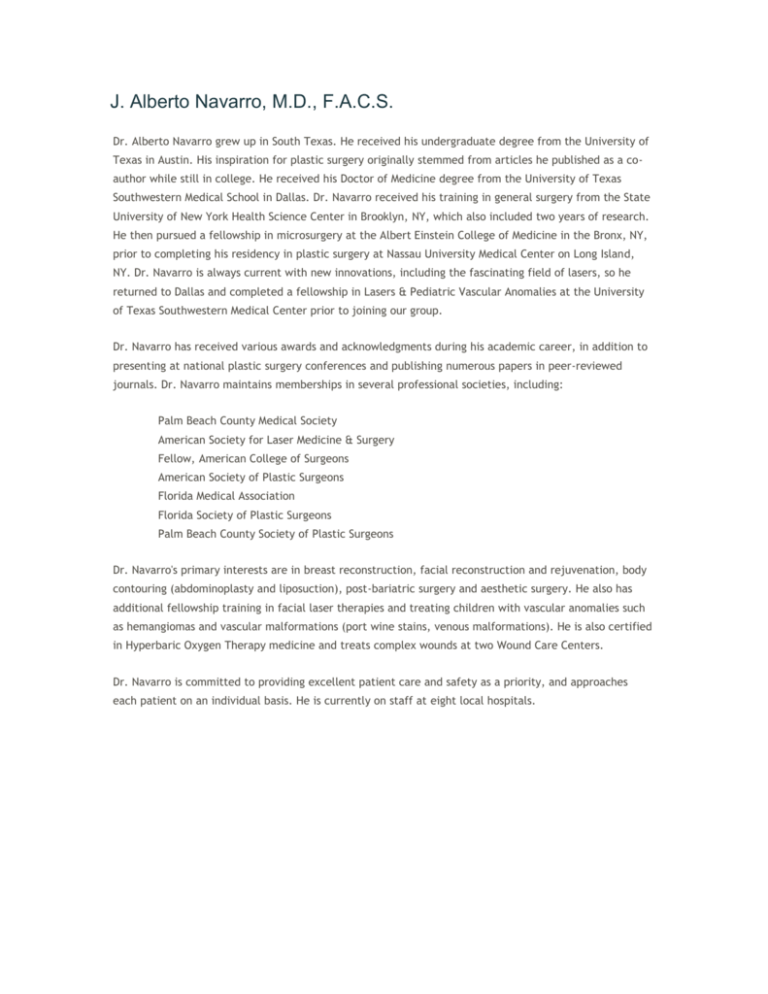 J. Alberto Navarro, M.D., F.A.C.S.
Dr. Alberto Navarro grew up in South Texas. He received his undergraduate degree from the University of
Texas in Austin. His inspiration for plastic surgery originally stemmed from articles he published as a coauthor while still in college. He received his Doctor of Medicine degree from the University of Texas
Southwestern Medical School in Dallas. Dr. Navarro received his training in general surgery from the State
University of New York Health Science Center in Brooklyn, NY, which also included two years of research.
He then pursued a fellowship in microsurgery at the Albert Einstein College of Medicine in the Bronx, NY,
prior to completing his residency in plastic surgery at Nassau University Medical Center on Long Island,
NY. Dr. Navarro is always current with new innovations, including the fascinating field of lasers, so he
returned to Dallas and completed a fellowship in Lasers & Pediatric Vascular Anomalies at the University
of Texas Southwestern Medical Center prior to joining our group.
Dr. Navarro has received various awards and acknowledgments during his academic career, in addition to
presenting at national plastic surgery conferences and publishing numerous papers in peer-reviewed
journals. Dr. Navarro maintains memberships in several professional societies, including:
Palm Beach County Medical Society
American Society for Laser Medicine & Surgery
Fellow, American College of Surgeons
American Society of Plastic Surgeons
Florida Medical Association
Florida Society of Plastic Surgeons
Palm Beach County Society of Plastic Surgeons
Dr. Navarro's primary interests are in breast reconstruction, facial reconstruction and rejuvenation, body
contouring (abdominoplasty and liposuction), post-bariatric surgery and aesthetic surgery. He also has
additional fellowship training in facial laser therapies and treating children with vascular anomalies such
as hemangiomas and vascular malformations (port wine stains, venous malformations). He is also certified
in Hyperbaric Oxygen Therapy medicine and treats complex wounds at two Wound Care Centers.
Dr. Navarro is committed to providing excellent patient care and safety as a priority, and approaches
each patient on an individual basis. He is currently on staff at eight local hospitals.