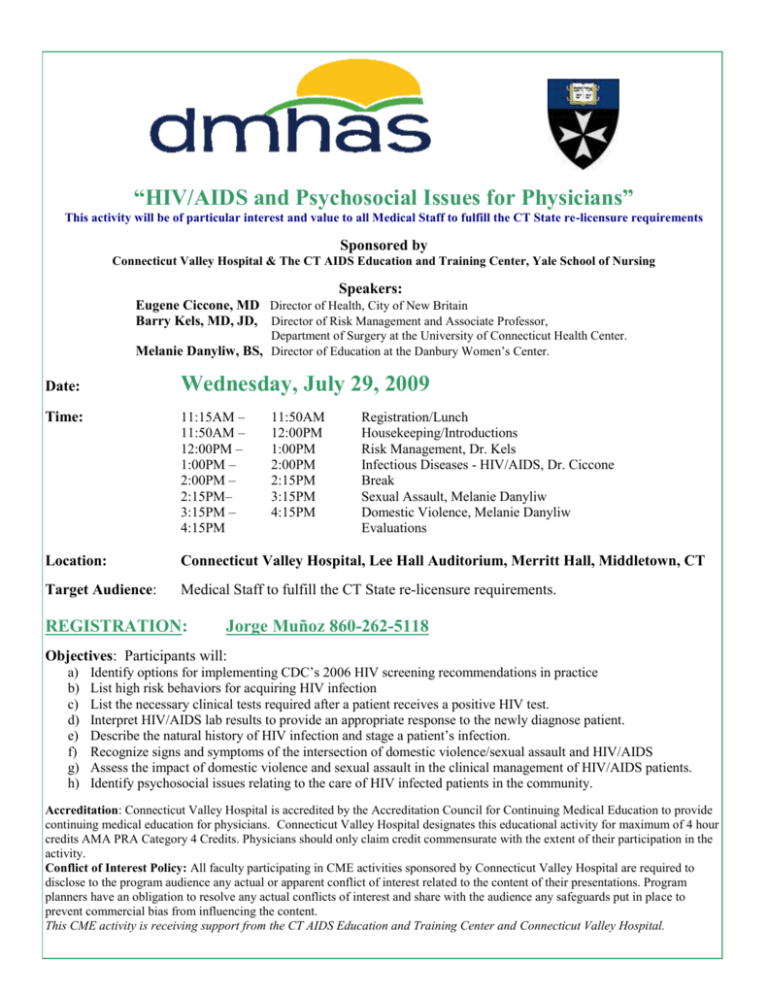 "HIV/AIDS and Psychosocial Issues for Physicians"
This activity will be of particular interest and value to all Medical Staff to fulfill the CT State re-licensure requirements
Sponsored by
Connecticut Valley Hospital & The CT AIDS Education and Training Center, Yale School of Nursing
Speakers:
Eugene Ciccone, MD Director of Health, City of New Britain
Barry Kels, MD, JD, Director of Risk Management and Associate Professor,
Department of Surgery at the University of Connecticut Health Center.
Melanie Danyliw, BS, Director of Education at the Danbury Women's Center.
Date:
Wednesday, July 29, 2009
Time:
11:15AM –
11:50AM –
12:00PM –
1:00PM –
2:00PM –
2:15PM–
3:15PM –
4:15PM
Location:
Connecticut Valley Hospital, Lee Hall Auditorium, Merritt Hall, Middletown, CT
Target Audience:
Medical Staff to fulfill the CT State re-licensure requirements.
REGISTRATION:
11:50AM
12:00PM
1:00PM
2:00PM
2:15PM
3:15PM
4:15PM
Registration/Lunch
Housekeeping/Introductions
Risk Management, Dr. Kels
Infectious Diseases - HIV/AIDS, Dr. Ciccone
Break
Sexual Assault, Melanie Danyliw
Domestic Violence, Melanie Danyliw
Evaluations
Jorge Muñoz 860-262-5118
Objectives: Participants will:
a)
b)
c)
d)
e)
f)
g)
h)
Identify options for implementing CDC's 2006 HIV screening recommendations in practice
List high risk behaviors for acquiring HIV infection
List the necessary clinical tests required after a patient receives a positive HIV test.
Interpret HIV/AIDS lab results to provide an appropriate response to the newly diagnose patient.
Describe the natural history of HIV infection and stage a patient's infection.
Recognize signs and symptoms of the intersection of domestic violence/sexual assault and HIV/AIDS
Assess the impact of domestic violence and sexual assault in the clinical management of HIV/AIDS patients.
Identify psychosocial issues relating to the care of HIV infected patients in the community.
Accreditation: Connecticut Valley Hospital is accredited by the Accreditation Council for Continuing Medical Education to provide
continuing medical education for physicians. Connecticut Valley Hospital designates this educational activity for maximum of 4 hour
credits AMA PRA Category 4 Credits. Physicians should only claim credit commensurate with the extent of their participation in the
activity.
Conflict of Interest Policy: All faculty participating in CME activities sponsored by Connecticut Valley Hospital are required to
disclose to the program audience any actual or apparent conflict of interest related to the content of their presentations. Program
planners have an obligation to resolve any actual conflicts of interest and share with the audience any safeguards put in place to
prevent commercial bias from influencing the content.
This CME activity is receiving support from the CT AIDS Education and Training Center and Connecticut Valley Hospital.