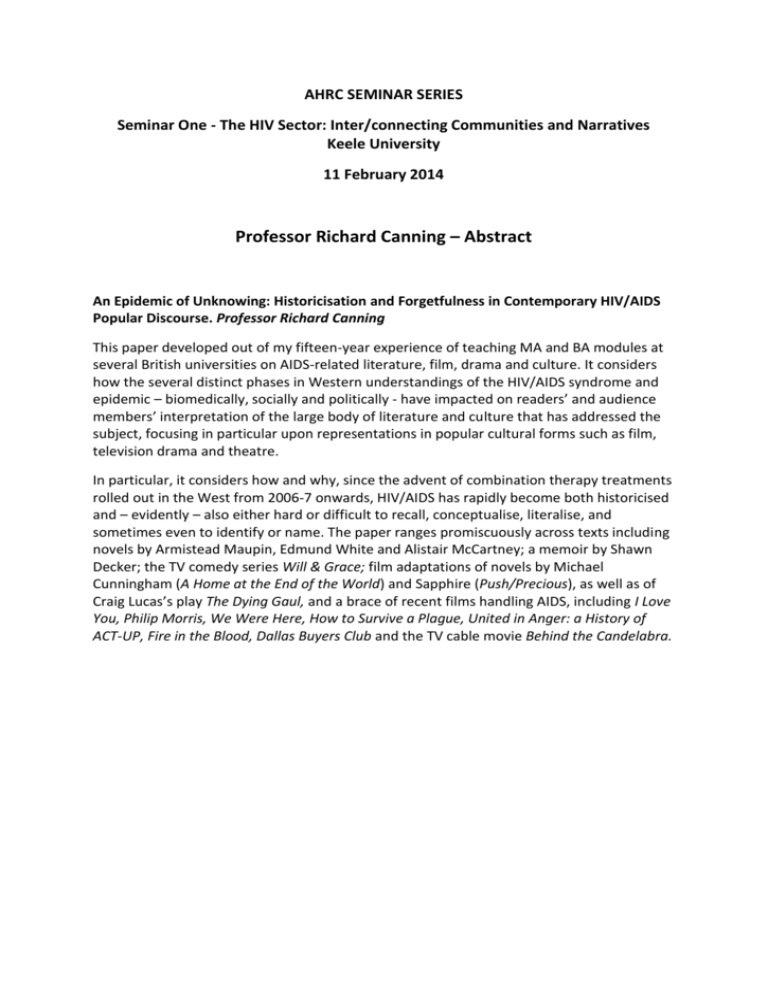 AHRC SEMINAR SERIES
Seminar One - The HIV Sector: Inter/connecting Communities and Narratives
Keele University
11 February 2014
Professor Richard Canning – Abstract
An Epidemic of Unknowing: Historicisation and Forgetfulness in Contemporary HIV/AIDS
Popular Discourse. Professor Richard Canning
This paper developed out of my fifteen-year experience of teaching MA and BA modules at
several British universities on AIDS-related literature, film, drama and culture. It considers
how the several distinct phases in Western understandings of the HIV/AIDS syndrome and
epidemic – biomedically, socially and politically - have impacted on readers' and audience
members' interpretation of the large body of literature and culture that has addressed the
subject, focusing in particular upon representations in popular cultural forms such as film,
television drama and theatre.
In particular, it considers how and why, since the advent of combination therapy treatments
rolled out in the West from 2006-7 onwards, HIV/AIDS has rapidly become both historicised
and – evidently – also either hard or difficult to recall, conceptualise, literalise, and
sometimes even to identify or name. The paper ranges promiscuously across texts including
novels by Armistead Maupin, Edmund White and Alistair McCartney; a memoir by Shawn
Decker; the TV comedy series Will & Grace; film adaptations of novels by Michael
Cunningham (A Home at the End of the World) and Sapphire (Push/Precious), as well as of
Craig Lucas's play The Dying Gaul, and a brace of recent films handling AIDS, including I Love
You, Philip Morris, We Were Here, How to Survive a Plague, United in Anger: a History of
ACT-UP, Fire in the Blood, Dallas Buyers Club and the TV cable movie Behind the Candelabra.