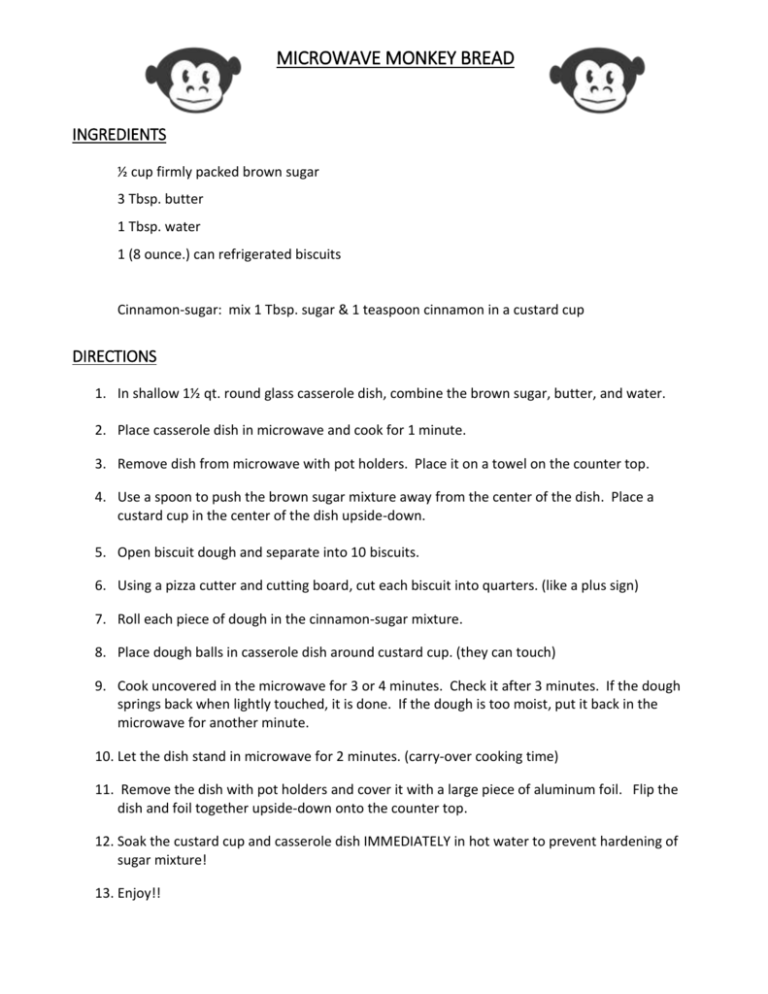 MICROWAVE MONKEY BREAD
INGREDIENTS
½ cup firmly packed brown sugar
3 Tbsp. butter
1 Tbsp. water
1 (8 ounce.) can refrigerated biscuits
Cinnamon-sugar: mix 1 Tbsp. sugar & 1 teaspoon cinnamon in a custard cup
DIRECTIONS
1. In shallow 1½ qt. round glass casserole dish, combine the brown sugar, butter, and water.
2. Place casserole dish in microwave and cook for 1 minute.
3. Remove dish from microwave with pot holders. Place it on a towel on the counter top.
4. Use a spoon to push the brown sugar mixture away from the center of the dish. Place a
custard cup in the center of the dish upside-down.
5. Open biscuit dough and separate into 10 biscuits.
6. Using a pizza cutter and cutting board, cut each biscuit into quarters. (like a plus sign)
7. Roll each piece of dough in the cinnamon-sugar mixture.
8. Place dough balls in casserole dish around custard cup. (they can touch)
9. Cook uncovered in the microwave for 3 or 4 minutes. Check it after 3 minutes. If the dough
springs back when lightly touched, it is done. If the dough is too moist, put it back in the
microwave for another minute.
10. Let the dish stand in microwave for 2 minutes. (carry-over cooking time)
11. Remove the dish with pot holders and cover it with a large piece of aluminum foil. Flip the
dish and foil together upside-down onto the counter top.
12. Soak the custard cup and casserole dish IMMEDIATELY in hot water to prevent hardening of
sugar mixture!
13. Enjoy!!