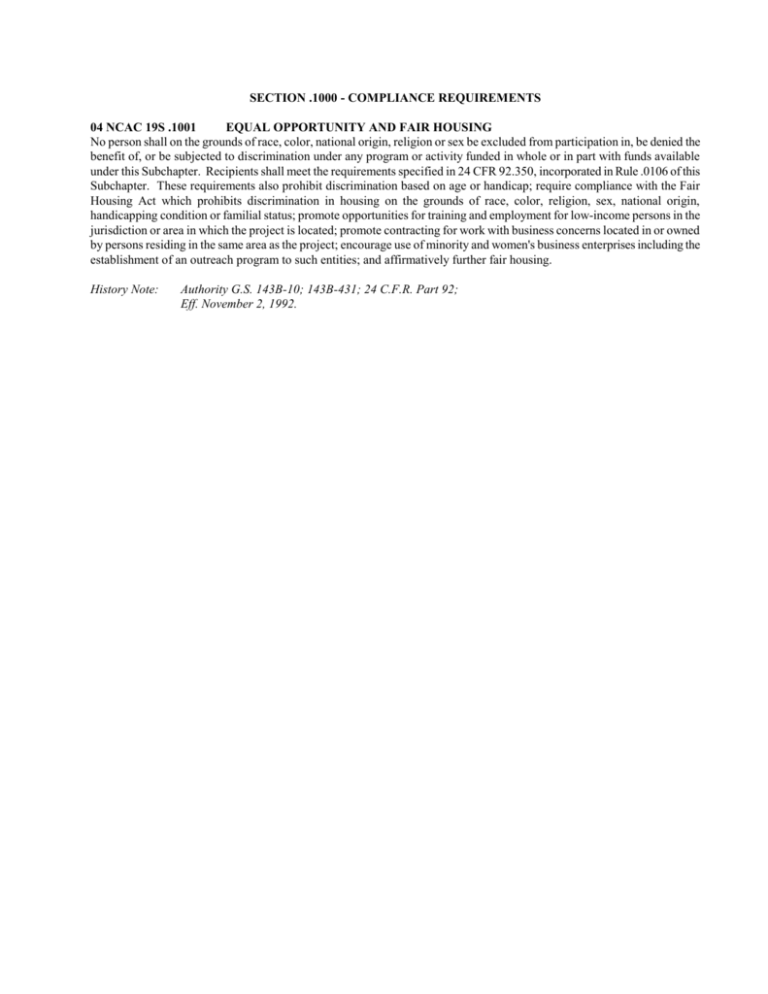 SECTION .1000 - COMPLIANCE REQUIREMENTS
04 NCAC 19S .1001
EQUAL OPPORTUNITY AND FAIR HOUSING
No person shall on the grounds of race, color, national origin, religion or sex be excluded from participation in, be denied the
benefit of, or be subjected to discrimination under any program or activity funded in whole or in part with funds available
under this Subchapter. Recipients shall meet the requirements specified in 24 CFR 92.350, incorporated in Rule .0106 of this
Subchapter. These requirements also prohibit discrimination based on age or handicap; require compliance with the Fair
Housing Act which prohibits discrimination in housing on the grounds of race, color, religion, sex, national origin,
handicapping condition or familial status; promote opportunities for training and employment for low-income persons in the
jurisdiction or area in which the project is located; promote contracting for work with business concerns located in or owned
by persons residing in the same area as the project; encourage use of minority and women's business enterprises including the
establishment of an outreach program to such entities; and affirmatively further fair housing.
History Note:
Authority G.S. 143B-10; 143B-431; 24 C.F.R. Part 92;
Eff. November 2, 1992.