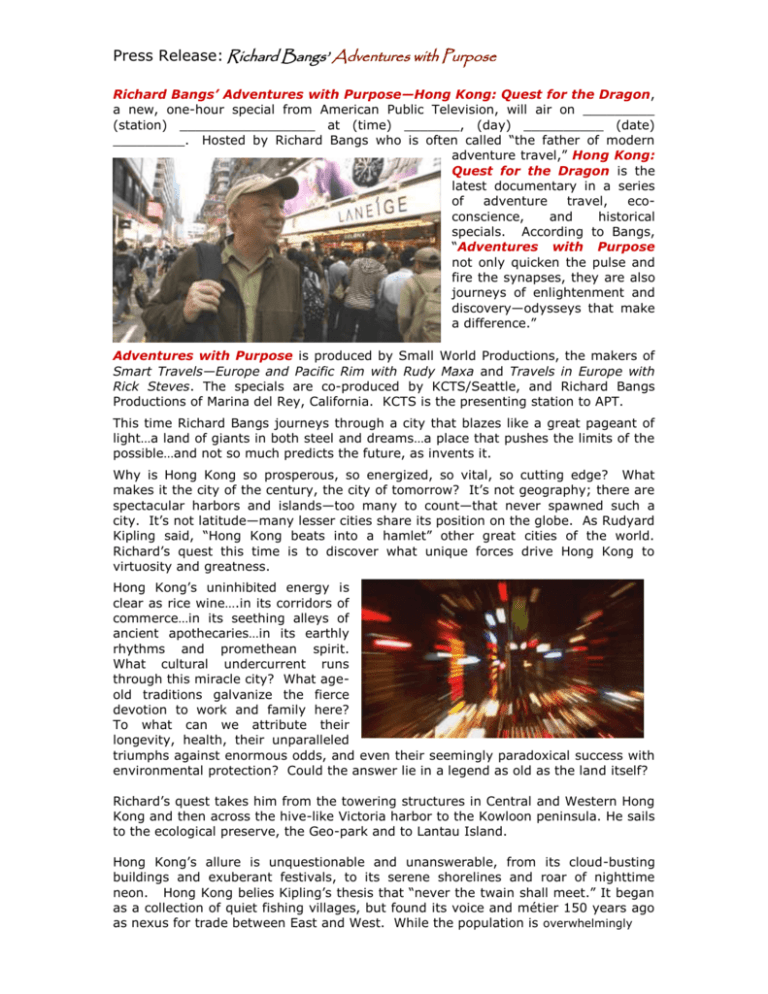 Press Release: Richard Bangs' Adventures with Purpose
Richard Bangs' Adventures with Purpose—Hong Kong: Quest for the Dragon,
a new, one-hour special from American Public Television, will air on _________
(station) _________________ at (time) _______, (day) __________ (date)
_________. Hosted by Richard Bangs who is often called "the father of modern
adventure travel," Hong Kong:
Quest for the Dragon is the
latest documentary in a series
of
adventure
travel,
ecoconscience,
and
historical
specials. According to Bangs,
"Adventures with Purpose
not only quicken the pulse and
fire the synapses, they are also
journeys of enlightenment and
discovery—odysseys that make
a difference."
Adventures with Purpose is produced by Small World Productions, the makers of
Smart Travels—Europe and Pacific Rim with Rudy Maxa and Travels in Europe with
Rick Steves. The specials are co-produced by KCTS/Seattle, and Richard Bangs
Productions of Marina del Rey, California. KCTS is the presenting station to APT.
This time Richard Bangs journeys through a city that blazes like a great pageant of
light…a land of giants in both steel and dreams…a place that pushes the limits of the
possible…and not so much predicts the future, as invents it.
Why is Hong Kong so prosperous, so energized, so vital, so cutting edge? What
makes it the city of the century, the city of tomorrow? It's not geography; there are
spectacular harbors and islands—too many to count—that never spawned such a
city. It's not latitude—many lesser cities share its position on the globe. As Rudyard
Kipling said, "Hong Kong beats into a hamlet" other great cities of the world.
Richard's quest this time is to discover what unique forces drive Hong Kong to
virtuosity and greatness.
Hong Kong's uninhibited energy is
clear as rice wine….in its corridors of
commerce…in its seething alleys of
ancient apothecaries…in its earthly
rhythms and promethean spirit.
What cultural undercurrent runs
through this miracle city? What ageold traditions galvanize the fierce
devotion to work and family here?
To what can we attribute their
longevity, health, their unparalleled
triumphs against enormous odds, and even their seemingly paradoxical success with
environmental protection? Could the answer lie in a legend as old as the land itself?
Richard's quest takes him from the towering structures in Central and Western Hong
Kong and then across the hive-like Victoria harbor to the Kowloon peninsula. He sails
to the ecological preserve, the Geo-park and to Lantau Island.
Hong Kong's allure is unquestionable and unanswerable, from its cloud-busting
buildings and exuberant festivals, to its serene shorelines and roar of nighttime
neon. Hong Kong belies Kipling's thesis that "never the twain shall meet." It began
as a collection of quiet fishing villages, but found its voice and métier 150 years ago
as nexus for trade between East and West. While the population is overwhelmingly
Richard Bangs' Adventures with Purpose
Hong Kong: Quest for the Dragon
Press Release, Page 2
Chinese, the fusion of styles and sensibilities from around the world makes this an intoxicating
cocktail of cultures.
Here—more intimately than anywhere else—civilizations have been thrown together. But two
fundamentals stay constant yet in healthy dialectic: the reverence for tradition, and the fierce
pursuit of prosperity.
Some say that to understand the heart of Hong Kong one must 'look to the Dragon.' So, Bangs
is in Hong Kong for the most dazzling festival on earth, Chinese New Year, when the vital,
flowing energies of the Dragon inhabit the jungles of the imagination; when the pyrotechnics
awaken the good beasts and usher in a new beginning.
Host and co-executive producer,
Richard Bangs is a pioneer in
travel that makes a difference,
travel with a purpose. He has
spent more than 30 years as an
explorer and communicator, and
along the way led first descents
of 35 rivers around the globe,
including the Yangtze in China
and the Zambezi in Southern
Africa. Richard has published
more
than
1000
magazine
articles, 18 books, a score of
documentaries and CD-ROMs;
and
has
lectured
at
the
Smithsonian, the National Geographic Society, the Explorers Club and many other notable
venues. He writes a semi-regular feature for the NY Times.
His latest books include
Adventures with Purpose, Quest for Kaitiakitanga, Quest for the Sublime and Quest
for the Kasbah, companion books for episodes in the television series.
Richard's books and DVDs of Adventures with Purpose—Hong Kong: Quest for the
Dragon are available from Small World Productions. Each DVD contains the complete show
and more than two-hours of value-added bonuses: Richard's adventure travel tales, neverbefore-seen footage, and behind-the-scenes glimpses. DVDs are $24.95 each plus shipping.
Richard's Adventures with Purpose books are $16.95 each plus shipping. Books include
essays by Richard on a number of destinations. A transcript of the Hong Kong show is
included with book orders free of charge. The book and DVD together are $35.95 plus
shipping. Viewers may order online at www.AdventuresWithPurpose.TV or call the order
desk at 800.866.7425.
Small World Productions, Inc. of Seattle produces Richard Bangs' Adventures with
Purpose. KCTS/Seattle and Richard Bangs Productions are co-producers. KCTS is the
presenting station.
An HDTV version of Adventures with Purpose—Hong Kong: Quest for the Dragon will
up-link on APT's HD satellite transponder. The standard definition "letterboxed" version will
air on hundreds of public TV stations nationwide. Digital audio is transmitted in stereo.
American Public Television (APT) has been a leading distributor of high-quality, top-rated
programming to America's public television stations since 1961. In 2009, APT distributed 56 of
the top 100 highest-rated public television titles. Among its 300 new program titles per year
are prominent documentaries, dramatic series, how-to programs, children's series and classic
movies, including Spain...on the road Again, Rick Steves' Europe, Newsline, Globe Trekker,
Simply Ming, America's Test Kitchen From Cook's Illustrated, Lidia's Italy, P. Allen Smith's
Garden Home, Murdoch Mysteries, Doc Martin, Rosemary and Thyme, Johnny Cash at Folsom
Prison, Liza's at the Palace…. and John Denver: The Wildlife Concert. APT also licenses
programs internationally through its APT Worldwide service. In 2006, APT launched Create™ –
the TV channel featuring the best of public television's lifestyle programming. For more
information about APT's programs and services, visit APTonline.org.
Support for the production of this documentary special is
provided in part by United Airlines and United Vacations.com.