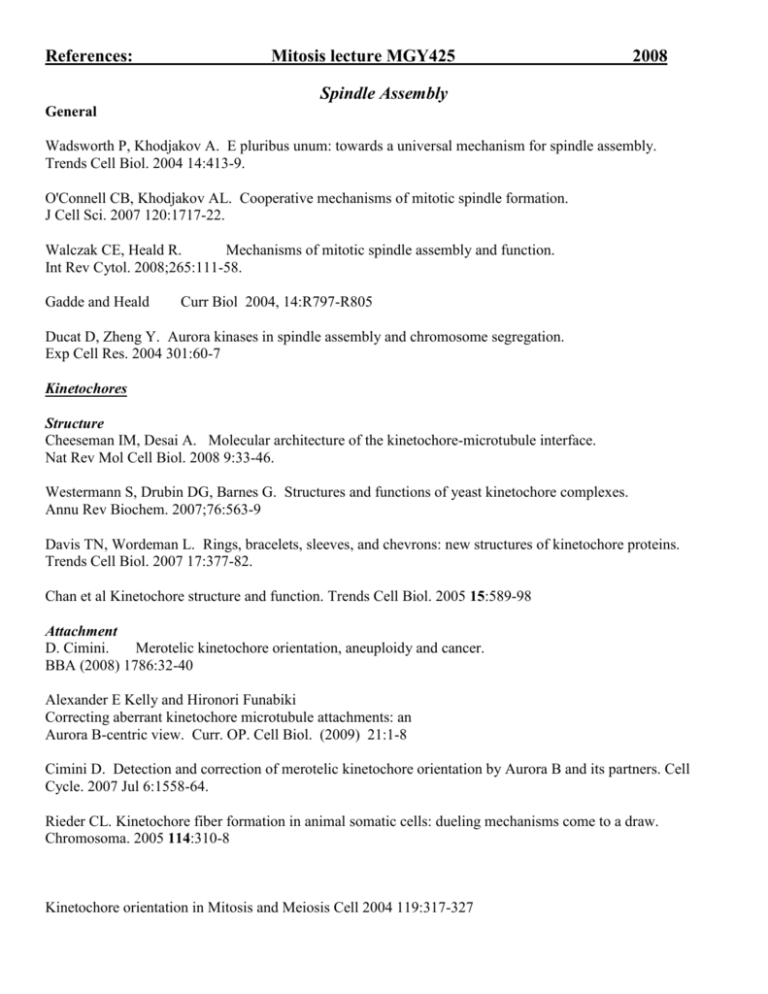 References:
Mitosis lecture MGY425
2008
Spindle Assembly
General
Wadsworth P, Khodjakov A. E pluribus unum: towards a universal mechanism for spindle assembly.
Trends Cell Biol. 2004 14:413-9.
O'Connell CB, Khodjakov AL. Cooperative mechanisms of mitotic spindle formation.
J Cell Sci. 2007 120:1717-22.
Walczak CE, Heald R.
Mechanisms of mitotic spindle assembly and function.
Int Rev Cytol. 2008;265:111-58.
Gadde and Heald
Curr Biol 2004, 14:R797-R805
Ducat D, Zheng Y. Aurora kinases in spindle assembly and chromosome segregation.
Exp Cell Res. 2004 301:60-7
Kinetochores
Structure
Cheeseman IM, Desai A. Molecular architecture of the kinetochore-microtubule interface.
Nat Rev Mol Cell Biol. 2008 9:33-46.
Westermann S, Drubin DG, Barnes G. Structures and functions of yeast kinetochore complexes.
Annu Rev Biochem. 2007;76:563-9
Davis TN, Wordeman L. Rings, bracelets, sleeves, and chevrons: new structures of kinetochore proteins.
Trends Cell Biol. 2007 17:377-82.
Chan et al Kinetochore structure and function. Trends Cell Biol. 2005 15:589-98
Attachment
D. Cimini.
Merotelic kinetochore orientation, aneuploidy and cancer.
BBA (2008) 1786:32-40
Alexander E Kelly and Hironori Funabiki
Correcting aberrant kinetochore microtubule attachments: an
Aurora B-centric view. Curr. OP. Cell Biol. (2009) 21:1-8
Cimini D. Detection and correction of merotelic kinetochore orientation by Aurora B and its partners. Cell
Cycle. 2007 Jul 6:1558-64.
Rieder CL. Kinetochore fiber formation in animal somatic cells: dueling mechanisms come to a draw.
Chromosoma. 2005 114:310-8
Kinetochore orientation in Mitosis and Meiosis Cell 2004 119:317-327
Captivating Capture: How microtubules attach to kinetochore Curr. Biol 2003 13:R449-R460
Cimini D, Degrassi F. Aneuploidy: a matter of bad connections. Trends Cell Biol. 2005 15:442-51
Kapoor et al Chromosomes can congress to the metaphase plate before bi-orientation. Science. 2006 311:388-91
Role of Ran
Clarke PR, Zhang C. Spatial and temporal coordination of mitosis by Ran GTPase.
Nat Rev Mol Cell Biol. 2008 Jun;9:464-77
Goodman and Zheng Mitotic spindle morphogenesis:Ran on the MT cytoskeleton and beyond 2006
Biochemical Society Transactions vol 34 part 5 page 716
Bastiens et al Gradients in the self-organization of the mitotic spindle. Trends in Cell Biol. 2006 61:125-134
Kalab P, et al.Analysis of a RanGTP-regulated gradient in mitotic somatic cells. Nature. 2006 440:697-70
Spindle positioning
Cowan CR, Hyman AA. Asymmetric cell division in C. elegans: cortical polarity and spindle positioning.
Annu Rev Cell Dev Biol. 2004;20:427-53
Gönczy P, Rose LS. Asymmetric cell division and axis formation in the embryo. WormBook. 2005 Oct 15;:120.
Lechler T, Fuchs E. Asymmetric cell divisions promote stratification and differentiation of mammalian skin
.Nature. 2005 437:275-80.
Spindle Checkpoint
K. M. May and K. G.Hardwick The spindle checkpoint J. Cell Science 2006 119, 4139-4142
Musacchio A, Salmon ED. The spindle-assembly checkpoint in space and time.
Nat Rev Mol Cell Biol. 2007 8:379-93
Malmanche N, Maia A, Sunkel CE. The spindle assembly checkpoint: preventing chromosome mis-segregation
during mitosis and meiosis. FEBS Lett. 2006 580:2888-95
Pinsky BA, Biggins S The spindle checkpoint: tension versus attachment. Trends Cell Biol. 2005 15:486-9
Taylor et al
Chromosome Research 2004 12:599-616
Kops et al On the road to cancer: aneuploidy and the mitotic checkpoint. Nat Rev Cancer. 2005 5:773-85
Spindle matrix
Johansen KM, Johansen J. Cell and molecular biology of the spindle matrix. Int Rev Cytol. 2007;263:155-206.
Zheng Y, Tsai MY. The mitotic spindle matrix: a fibro-membranous lamin connection. Cell Cycle. 2006
5:2345-7
Microtubule FLUX
Kwok BH, Kapoor TM. Microtubule flux: drivers wanted. Curr Opin Cell Biol. 2007 19:36-42
Sharp DJ, Mennella V, Buster DW. KLP10A and KLP59C: the dynamic duo of microtubule depolymerization.
Cell Cycle. 2005 4:1482-5.
Zhang D, Rogers GC, Buster DW, Sharp DJ. Three microtubule severing enzymes contribute to the "Pacmanflux" machinery that moves chromosomes.
J Cell Biol. 2007 177:231-42.
Cytokinesis
General
See Trends in Cell Biology series during 2005
Eggert et al 2006 Ann Rev Biochem 75: 543-566
Glotzer
Annu. Rev. Cell Dev. Biol. 2001. 17:351–86
Balasubramanian et al Curr Biol
2004, 14:R806-818
Cleavage furrow
Burgess, Site selection for the cleavage furrow at cytokinesis 2005 Trends in Cell Biol. 15:156-162
Matsumura, Regulation of myosin II during cytokinesis in higher eukaryotes Trends in Cell Biol 15:371-377
Wu et al J Cell Biol. 174:391-402 2006
Rho
Bement et al 2006 Bioessays 28:983-993 RhoGTPase activity zones and transient contractile arrays
Narumiya 2006 Curr. Op. Cell Biol. 18:199-205 RhoGTPases in animal cell mitosis
Microtubules
D'Avino 2005 J. Cell Science 118:1549-1558 Cleavage furrow formation and ingression during animal
cytokinesis: a microtubule legacy
Bringmann Nature. 2005 436:731-4. A cytokinesis furrow is positioned by two consecutive signals.
Motegi et al Two phases of astral microtubule activity during cytokinesis in C. elegans embryos. Dev Cell. 2006
10:509-20.
Septins
Spiliotis 2006 J. Cell Science 119:4-10 Here come the septin: novel polymers that coordinate intracellular
function and organization
Force generation
Robinson and Spudich
Curr Op Cell Biol 2004, 16:182-188
Wang, Mechanism of cortical ingression during early cytokinesis: thinking beyond the contractile ring
hypothesis Trends in Cell Biol. 2005 15:581-589
Membrane trafficking
Strickland and Burgess
Trends in Cell Biology
2004
14:115
Albertson, Membrane traffic: a driving force in cytokinesis 2005 Trends in Cell Biol. 15:92-101
Janetopoulos 2006 J. Cell Biol 174:485-90 Phosphoinositide signaling plays a key role in cytokinesis.