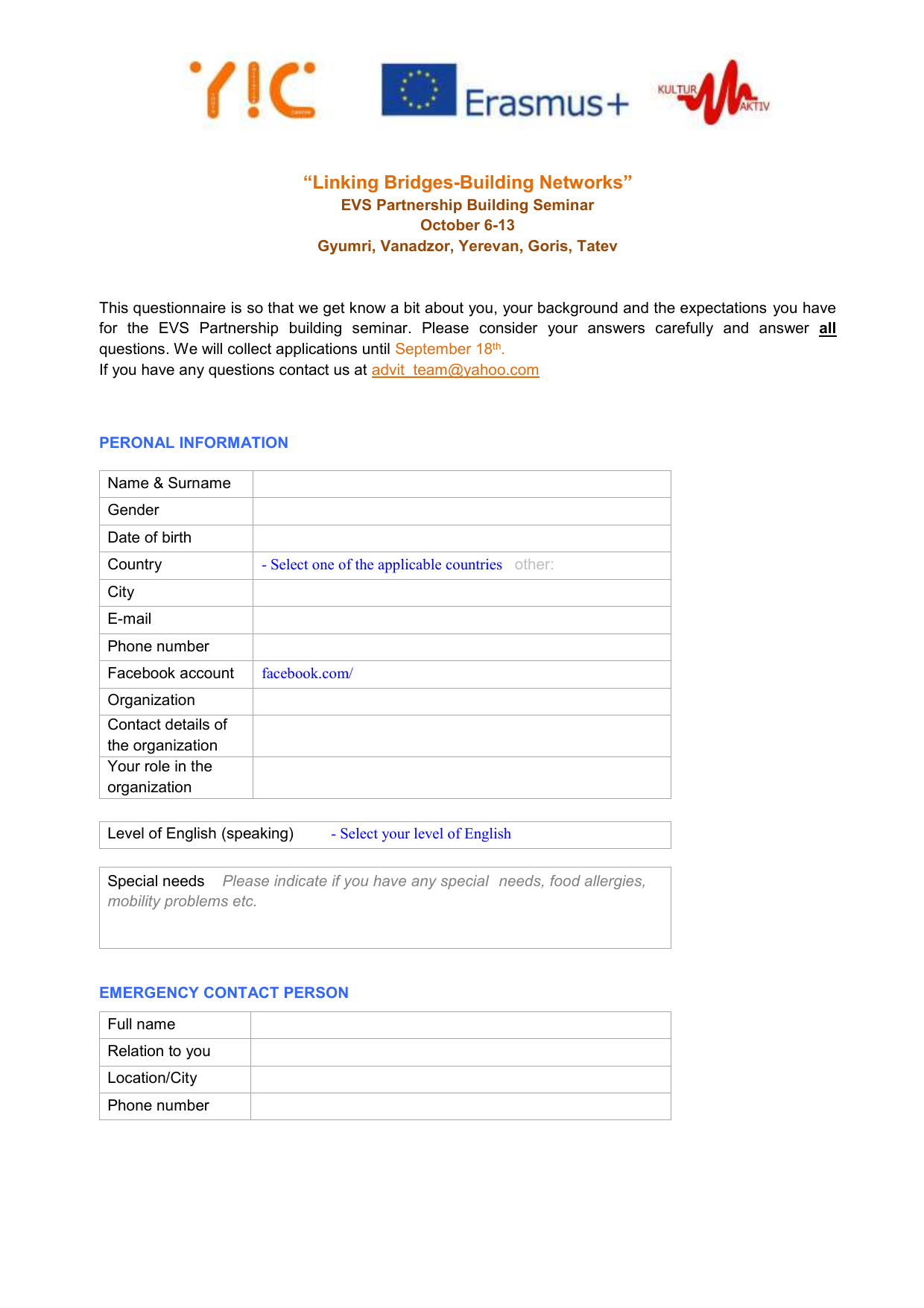 "Linking Bridges-Building Networks"
EVS Partnership Building Seminar
October 6-13
Gyumri, Vanadzor, Yerevan, Goris, Tatev
This questionnaire is so that we get know a bit about you, your background and the expectations you have
for the EVS Partnership building seminar. Please consider your answers carefully and answer all
questions. We will collect applications until September 18th.
If you have any questions contact us at [email protected]
PERONAL INFORMATION
Name & Surname
Gender
Date of birth
Country
- Select one of the applicable countries other:
City
E-mail
Phone number
Facebook account
facebook.com/
Organization
Contact details of
the organization
Your role in the
organization
Level of English (speaking)
- Select your level of English
Special needs Please indicate if you have any special needs, food allergies,
mobility problems etc.
EMERGENCY CONTACT PERSON
Full name
Relation to you
Location/City
Phone number
ABOUT YOU
How would you describe yourself? What are your passions / hobbies? What do you love in your life?
How do you think you can contribute to the PBS?
EXPERIENCE / WORKING WITH EUROPEAN VOLUNTARY PROJECTS
What European voluntary projects are you familiar with? In which capacity were you involved in them?
What experience do you have as a youth worker in relation to EVS?
What is your role in EVS projects carried out by your organization?
YOU AND THIS PBS
What do you want to learn or which skill(s) do you want to develop in this PBS? (Be specific)
Apart from your personal learning, what else motivates you to take part in this PBS?
In what way do you intend to sue the experience gained in this PBS in your future professional work in
relation to your organization?
How did you find out about this Partnership Building Seminar?
*
I understand that by submitting this application, I confirm that the answers I filled in are true and
complete. I understand that if I am selected as a participant, I will fully follow the conditions and rules
established by the organizers.
* I have read and understood the rules for travel reimbursement in the Call for Participants or "Linking
Bridges-Building Networks-Infopack"
When completed, save and send this file to [email protected] latest September 18th 2015.