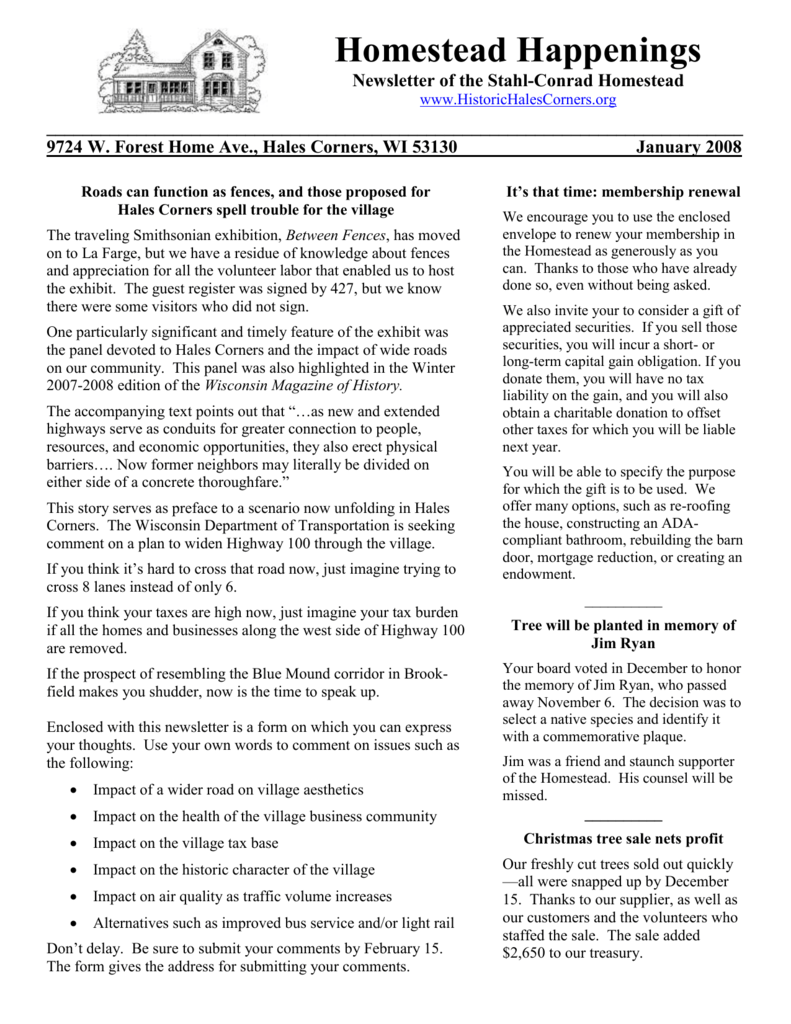 Homestead Happenings
Newsletter of the Stahl-Conrad Homestead
www.HistoricHalesCorners.org
_____________________________________________________________________________
9724 W. Forest Home Ave., Hales Corners, WI 53130
January 2008
Roads can function as fences, and those proposed for
Hales Corners spell trouble for the village
The traveling Smithsonian exhibition, Between Fences, has moved
on to La Farge, but we have a residue of knowledge about fences
and appreciation for all the volunteer labor that enabled us to host
the exhibit. The guest register was signed by 427, but we know
there were some visitors who did not sign.
One particularly significant and timely feature of the exhibit was
the panel devoted to Hales Corners and the impact of wide roads
on our community. This panel was also highlighted in the Winter
2007-2008 edition of the Wisconsin Magazine of History.
The accompanying text points out that "…as new and extended
highways serve as conduits for greater connection to people,
resources, and economic opportunities, they also erect physical
barriers…. Now former neighbors may literally be divided on
either side of a concrete thoroughfare."
This story serves as preface to a scenario now unfolding in Hales
Corners. The Wisconsin Department of Transportation is seeking
comment on a plan to widen Highway 100 through the village.
If you think it's hard to cross that road now, just imagine trying to
cross 8 lanes instead of only 6.
If you think your taxes are high now, just imagine your tax burden
if all the homes and businesses along the west side of Highway 100
are removed.
If the prospect of resembling the Blue Mound corridor in Brookfield makes you shudder, now is the time to speak up.
Enclosed with this newsletter is a form on which you can express
your thoughts. Use your own words to comment on issues such as
the following:

Impact of a wider road on village aesthetics

Impact on the health of the village business community

Impact on the village tax base

Impact on the historic character of the village

Impact on air quality as traffic volume increases

Alternatives such as improved bus service and/or light rail
Don't delay. Be sure to submit your comments by February 15.
The form gives the address for submitting your comments.
It's that time: membership renewal
We encourage you to use the enclosed
envelope to renew your membership in
the Homestead as generously as you
can. Thanks to those who have already
done so, even without being asked.
We also invite your to consider a gift of
appreciated securities. If you sell those
securities, you will incur a short- or
long-term capital gain obligation. If you
donate them, you will have no tax
liability on the gain, and you will also
obtain a charitable donation to offset
other taxes for which you will be liable
next year.
You will be able to specify the purpose
for which the gift is to be used. We
offer many options, such as re-roofing
the house, constructing an ADAcompliant bathroom, rebuilding the barn
door, mortgage reduction, or creating an
endowment.
__________
Tree will be planted in memory of
Jim Ryan
Your board voted in December to honor
the memory of Jim Ryan, who passed
away November 6. The decision was to
select a native species and identify it
with a commemorative plaque.
Jim was a friend and staunch supporter
of the Homestead. His counsel will be
missed.
__________
Christmas tree sale nets profit
Our freshly cut trees sold out quickly
—all were snapped up by December
15. Thanks to our supplier, as well as
our customers and the volunteers who
staffed the sale. The sale added
$2,650 to our treasury.
Gifts of goods and services
Dora and Orville Jahnke and Judy Strampke—creation of scarecrow for the Homestead's vegetable garden
Jim Bruening—plowing the Homestead's driveway and ramp
Joel Hughes—snow removal and heavy lifting
Fred Walecki—gift of 21-inch reconditioned lawn mower
Michael Jedrzejewski, Ron Noeske, Tom Ueberroth, Chris Lese,
Jim Bruening, Dave Zepecki, Kurt Noeske, and Kyle Noeske—
staffing the Christmas tree sale
Hales Corners Chamber of Commerce—financial support for the
Between Fences opening reception
Steve Cannistra—plates, mugs, and food for the opening reception
Clay Moore—discounted refreshments for the opening reception
Sherman Stock—design of invitation to opening reception
Starbucks—coffee and pumpkin cake for opening reception
Richard Barloga—creation of Milwaukee Area Land Conservancy
photographic display for the Between Fences project
George Berger, Tom Brown, Anita Hantzsch, Dottie King, and
Mary Ann Kniep—Between Fences docents who volunteered
for four or more time slots
Betty Braun—creation of flower arrangements for the Between
Fences project
Eva Fronk—organizing the display of artwork from Hales Corners
Lutheran School and transportation for students to view
Between Fences
Hales Corners Historical Society—creation of photographic
display of fences for the Between Fences project
Fran Jablonski—storage of crates for the Between Fences project
__________
2008 farmers market is coming soon
Are you dreaming now of vine-ripened tomatoes and locally grown
sweet corn? In only five months Harvest at the Homestead will
reopen at the Homestead. Here's the schedule: July 5 and 19;
August 9 and 30; September 13 and 27; October 11 and 25.
Robert Stockinger will continue to coordinate the market, but he is
seeking a volunteer to co-manage the market. Shared duties will
include placement and removal of flags and signs announcing the
market and on-site availability to answer questions on market day.
Call Robert at 414-708-0584 to discuss this opportunity.
__________
The mission of the Stahl-Conrad Homestead is to create a museum focused on
transitions in the land in Hales Corners and its environs from presettlement into
the future and to preserve the Stahl-Conrad Homestead as a remnant of a bygone
lifestyle.
The Homestead's vision: The land is restored and the buildings are renovated to
accommodate changing exhibits and public events.
The Homestead is a nonprofit 501 (c) (3) organization. Your donations and inkind gifts are tax deductible as allowed by law.
Officers and directors are: president, Chris Lese; vice president, Ruth Johnston;
secretary, Sybil Grandeck; treasurer, Michael Jedrzejewski; directors: Bette
Arey, Jason Bartel, Jim Bruening, Kathy Kilps, Ron Noeske, and Dave Zepecki.
New Members
As of January 10
Jean Hancock
Jerry and Marjorie Pagel
Diane Petrie
__________
Photography of Lyle Oberwise to be
featured February13
Bob Teske, executive director of the
Milwaukee County Historical Society,
will discuss the society's recently
acquired collection of Oberwise
photographs at the February meeting
of the Hales Corners Historical Society. Remaining copies of Milwaukee at
Mid-Century: The photographs of Lyle
Oberwise will be available for
purchase. The program is scheduled
in the Hunt Room of the Hales
Corners Library, 5885 S. 116th St.
__________
HCHS annual meeting will examine
county parks
Laurie Albano, author of A Century of
Milwaukee County Parks, will present
the April 2 annual meeting program of
the Hales Corners Historical Society at
7:00 p.m. in the Hunt Room of the
Hales Corners Library. Copies of her
book will be available for purchase. A
6:00 p.m. potluck supper will precede
the event.
__________
Homestead collaborates with
Milwaukee Area Land Conservancy
The Homestead is happy to welcome
the Milwaukee Area Land Conservancy (MALC) to its new office space
in the upper level of the house. Since
the steep stairway prevents our using
this area for exhibits, having a preservation-oriented organization in the
space provides a good alternative use.
MALC's mission is to preserve and
protect land and water resources with
significant conservation or open-space
value for the benefit of the public and
for the wildlife that depend upon them
in order to maintain quality of life,
biodiversity, and natural scenic beauty
for future generations.