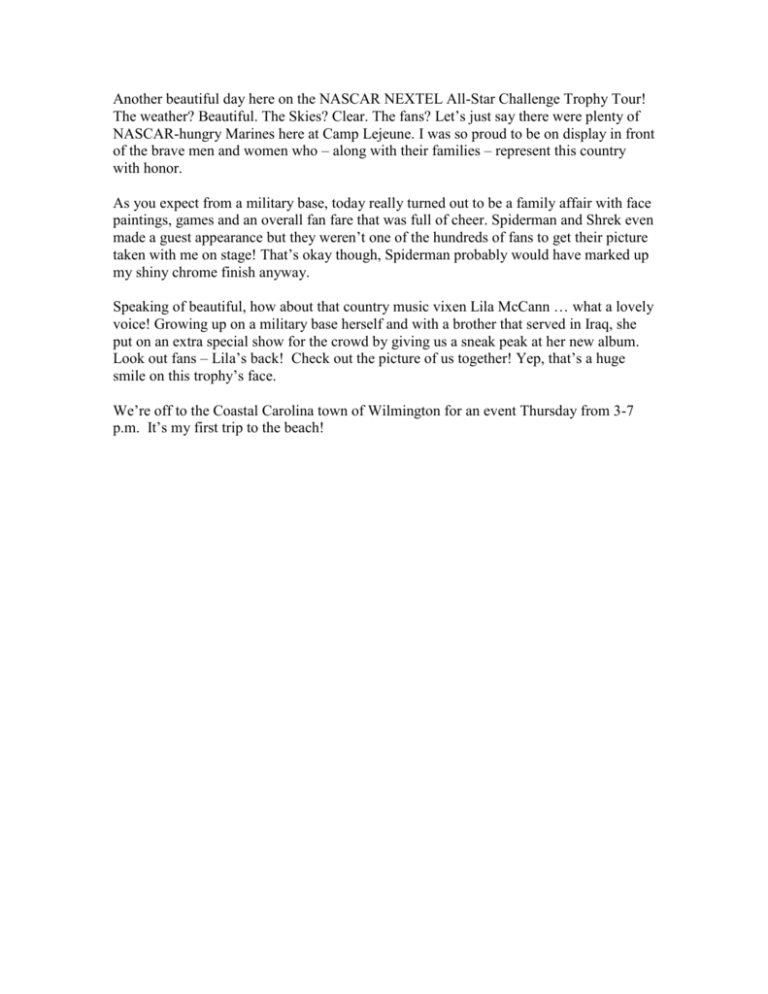 Another beautiful day here on the NASCAR NEXTEL All-Star Challenge Trophy Tour!
The weather? Beautiful. The Skies? Clear. The fans? Let's just say there were plenty of
NASCAR-hungry Marines here at Camp Lejeune. I was so proud to be on display in front
of the brave men and women who – along with their families – represent this country
with honor.
As you expect from a military base, today really turned out to be a family affair with face
paintings, games and an overall fan fare that was full of cheer. Spiderman and Shrek even
made a guest appearance but they weren't one of the hundreds of fans to get their picture
taken with me on stage! That's okay though, Spiderman probably would have marked up
my shiny chrome finish anyway.
Speaking of beautiful, how about that country music vixen Lila McCann … what a lovely
voice! Growing up on a military base herself and with a brother that served in Iraq, she
put on an extra special show for the crowd by giving us a sneak peak at her new album.
Look out fans – Lila's back! Check out the picture of us together! Yep, that's a huge
smile on this trophy's face.
We're off to the Coastal Carolina town of Wilmington for an event Thursday from 3-7
p.m. It's my first trip to the beach!