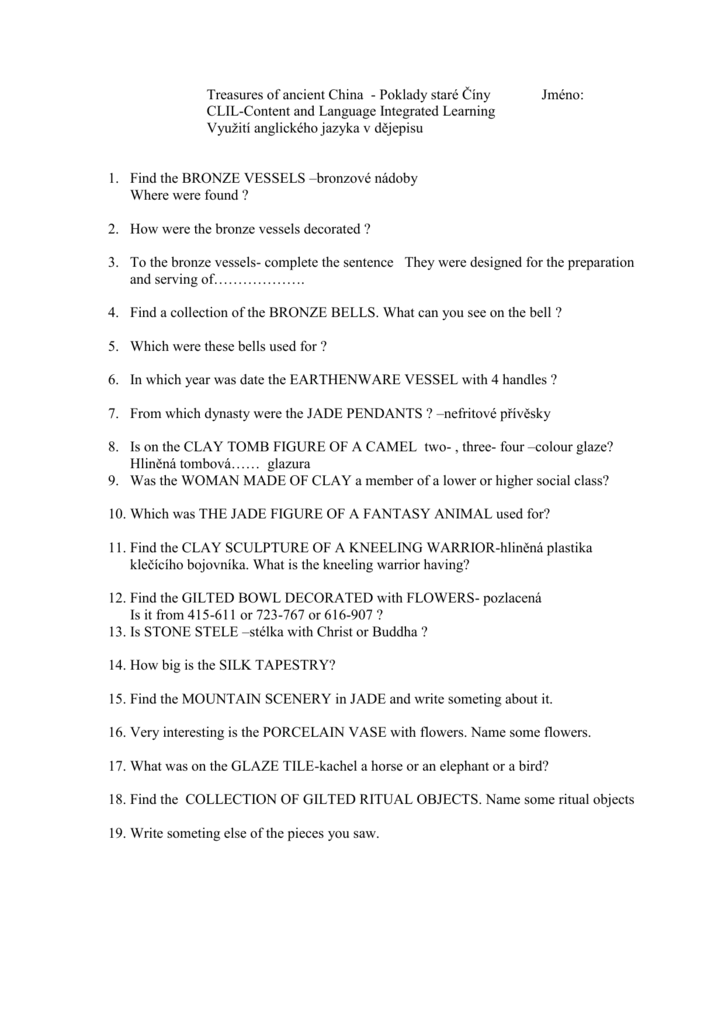 Treasures of ancient China - Poklady staré Číny
CLIL-Content and Language Integrated Learning
Využití anglického jazyka v dějepisu
Jméno:
1. Find the BRONZE VESSELS –bronzové nádoby
Where were found ?
2. How were the bronze vessels decorated ?
3. To the bronze vessels- complete the sentence They were designed for the preparation
and serving of……………….
4. Find a collection of the BRONZE BELLS. What can you see on the bell ?
5. Which were these bells used for ?
6. In which year was date the EARTHENWARE VESSEL with 4 handles ?
7. From which dynasty were the JADE PENDANTS ? –nefritové přívěsky
8. Is on the CLAY TOMB FIGURE OF A CAMEL two- , three- four –colour glaze?
Hliněná tombová…… glazura
9. Was the WOMAN MADE OF CLAY a member of a lower or higher social class?
10. Which was THE JADE FIGURE OF A FANTASY ANIMAL used for?
11. Find the CLAY SCULPTURE OF A KNEELING WARRIOR-hliněná plastika
klečícího bojovníka. What is the kneeling warrior having?
12. Find the GILTED BOWL DECORATED with FLOWERS- pozlacená
Is it from 415-611 or 723-767 or 616-907 ?
13. Is STONE STELE –stélka with Christ or Buddha ?
14. How big is the SILK TAPESTRY?
15. Find the MOUNTAIN SCENERY in JADE and write someting about it.
16. Very interesting is the PORCELAIN VASE with flowers. Name some flowers.
17. What was on the GLAZE TILE-kachel a horse or an elephant or a bird?
18. Find the COLLECTION OF GILTED RITUAL OBJECTS. Name some ritual objects
19. Write someting else of the pieces you saw.