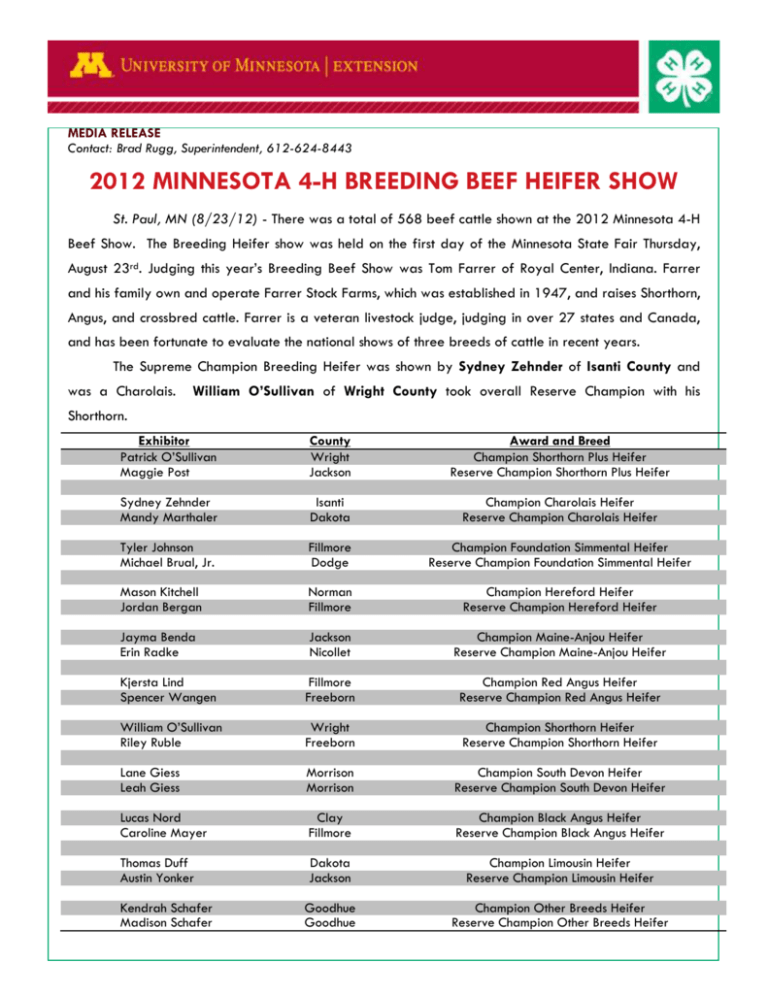 MEDIA RELEASE
Contact: Brad Rugg, Superintendent, 612-624-8443
2012 MINNESOTA 4-H BREEDING BEEF HEIFER SHOW
St. Paul, MN (8/23/12) - There was a total of 568 beef cattle shown at the 2012 Minnesota 4-H
Beef Show. The Breeding Heifer show was held on the first day of the Minnesota State Fair Thursday,
August 23rd. Judging this year's Breeding Beef Show was Tom Farrer of Royal Center, Indiana. Farrer
and his family own and operate Farrer Stock Farms, which was established in 1947, and raises Shorthorn,
Angus, and crossbred cattle. Farrer is a veteran livestock judge, judging in over 27 states and Canada,
and has been fortunate to evaluate the national shows of three breeds of cattle in recent years.
The Supreme Champion Breeding Heifer was shown by Sydney Zehnder of Isanti County and
was a Charolais.
William O'Sullivan of Wright County took overall Reserve Champion with his
Shorthorn.
Exhibitor
Patrick O'Sullivan
Maggie Post
County
Wright
Jackson
Award and Breed
Champion Shorthorn Plus Heifer
Reserve Champion Shorthorn Plus Heifer
Sydney Zehnder
Mandy Marthaler
Isanti
Dakota
Champion Charolais Heifer
Reserve Champion Charolais Heifer
Tyler Johnson
Michael Brual, Jr.
Fillmore
Dodge
Champion Foundation Simmental Heifer
Reserve Champion Foundation Simmental Heifer
Mason Kitchell
Jordan Bergan
Norman
Fillmore
Champion Hereford Heifer
Reserve Champion Hereford Heifer
Jayma Benda
Erin Radke
Jackson
Nicollet
Champion Maine-Anjou Heifer
Reserve Champion Maine-Anjou Heifer
Kjersta Lind
Spencer Wangen
Fillmore
Freeborn
Champion Red Angus Heifer
Reserve Champion Red Angus Heifer
William O'Sullivan
Riley Ruble
Wright
Freeborn
Champion Shorthorn Heifer
Reserve Champion Shorthorn Heifer
Lane Giess
Leah Giess
Morrison
Morrison
Champion South Devon Heifer
Reserve Champion South Devon Heifer
Lucas Nord
Caroline Mayer
Clay
Fillmore
Champion Black Angus Heifer
Reserve Champion Black Angus Heifer
Thomas Duff
Austin Yonker
Dakota
Jackson
Champion Limousin Heifer
Reserve Champion Limousin Heifer
Goodhue
Goodhue
Champion Other Breeds Heifer
Reserve Champion Other Breeds Heifer
Kendrah Schafer
Madison Schafer
Fred Mansfield
Abe Hauge
Swift
Winona
Champion Simmental Heifer
Reserve Champion Simmental Heifer
Blake Heideman
Dylan Mente
Freeborn
Rock
Champion Chianina Heifer
Reserve Champion Chianina Heifer
Andrea Thate
Elizabeth Donnelly
Martin
Dakota
Champion Commercial Heifer
Reserve Champion Commercial Heifer
Ryan Kurth
Benton
Champion Saler Heifer
© 2011 Regents of the University of Minnesota. All rights reserved. University of Minnesota Extension is an equal opportunity educator and employer. In
accordance with the Americans with Disabilities Act, this material is available in alternative formats upon request. Direct requests to the Extension Store at
800-876-8636. Printed on recycled and recyclable paper with at least 10 percent postconsumer waste material.