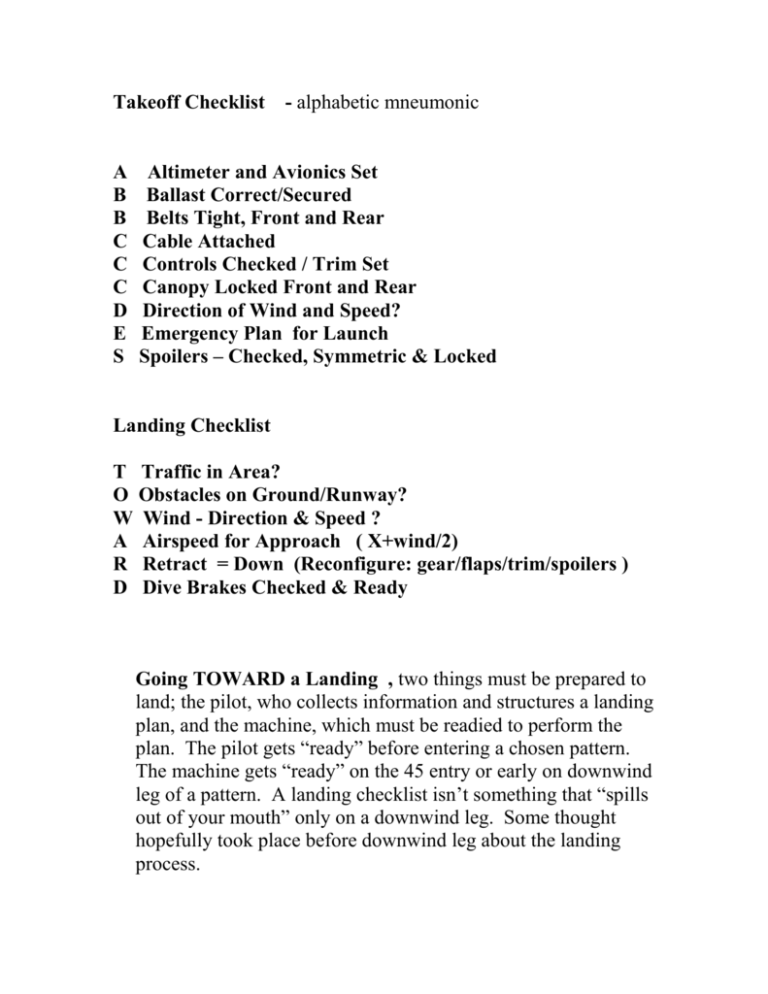 Takeoff Checklist
A
B
B
C
C
C
D
E
S
- alphabetic mneumonic
Altimeter and Avionics Set
Ballast Correct/Secured
Belts Tight, Front and Rear
Cable Attached
Controls Checked / Trim Set
Canopy Locked Front and Rear
Direction of Wind and Speed?
Emergency Plan for Launch
Spoilers – Checked, Symmetric & Locked
Landing Checklist
T Traffic in Area?
O Obstacles on Ground/Runway?
W Wind - Direction & Speed ?
A Airspeed for Approach ( X+wind/2)
R Retract = Down (Reconfigure: gear/flaps/trim/spoilers )
D Dive Brakes Checked & Ready
Going TOWARD a Landing , two things must be prepared to
land; the pilot, who collects information and structures a landing
plan, and the machine, which must be readied to perform the
plan. The pilot gets "ready" before entering a chosen pattern.
The machine gets "ready" on the 45 entry or early on downwind
leg of a pattern. A landing checklist isn't something that "spills
out of your mouth" only on a downwind leg. Some thought
hopefully took place before downwind leg about the landing
process.