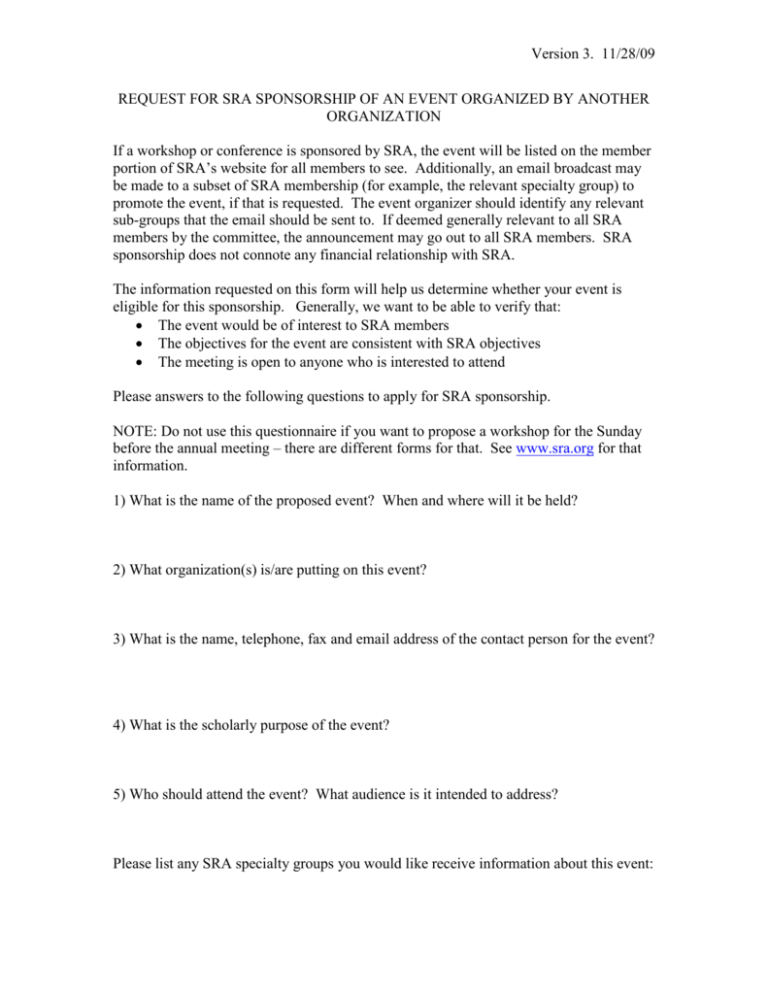 Version 3. 11/28/09
REQUEST FOR SRA SPONSORSHIP OF AN EVENT ORGANIZED BY ANOTHER
ORGANIZATION
If a workshop or conference is sponsored by SRA, the event will be listed on the member
portion of SRA's website for all members to see. Additionally, an email broadcast may
be made to a subset of SRA membership (for example, the relevant specialty group) to
promote the event, if that is requested. The event organizer should identify any relevant
sub-groups that the email should be sent to. If deemed generally relevant to all SRA
members by the committee, the announcement may go out to all SRA members. SRA
sponsorship does not connote any financial relationship with SRA.
The information requested on this form will help us determine whether your event is
eligible for this sponsorship. Generally, we want to be able to verify that:
 The event would be of interest to SRA members
 The objectives for the event are consistent with SRA objectives
 The meeting is open to anyone who is interested to attend
Please answers to the following questions to apply for SRA sponsorship.
NOTE: Do not use this questionnaire if you want to propose a workshop for the Sunday
before the annual meeting – there are different forms for that. See www.sra.org for that
information.
1) What is the name of the proposed event? When and where will it be held?
2) What organization(s) is/are putting on this event?
3) What is the name, telephone, fax and email address of the contact person for the event?
4) What is the scholarly purpose of the event?
5) Who should attend the event? What audience is it intended to address?
Please list any SRA specialty groups you would like receive information about this event:
Version 3. 11/28/09
6) Is participation in the event open to the public? If not, explain.
7) How will the event be funded?
8) Is the event intended to make a profit? If there are profits, where will they go?
9) If the event is recognized by SRA, will you be able to share attendee names and email
addresses and offer exhibit space to SRA?
10) Please provide a URL for this event.
In addition, please provide any additional information about this event, including an
abstract, a description, information about registration procedures, an agenda, list of
speakers, or any other information that is available.