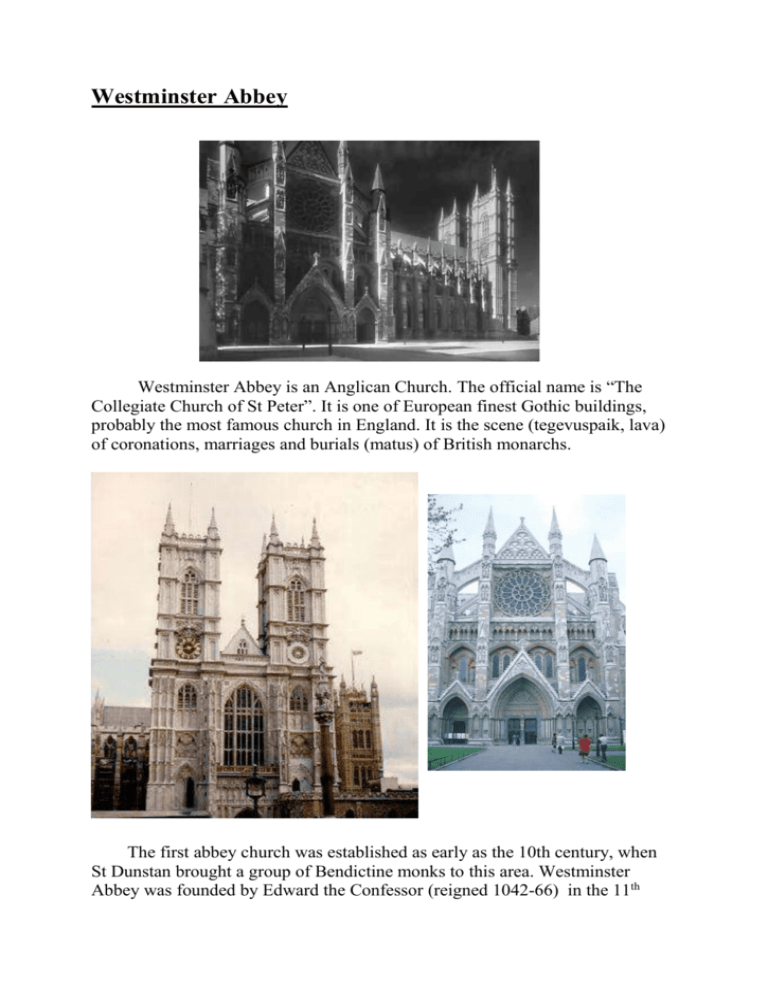 Westminster Abbey
Westminster Abbey is an Anglican Church. The official name is "The
Collegiate Church of St Peter". It is one of European finest Gothic buildings,
probably the most famous church in England. It is the scene (tegevuspaik, lava)
of coronations, marriages and burials (matus) of British monarchs.
The first abbey church was established as early as the 10th century, when
St Dunstan brought a group of Bendictine monks to this area. Westminster
Abbey was founded by Edward the Confessor (reigned 1042-66) in the 11th
century. It was built, when the King wanted to enlarge the Benedictine
monastery on Thorney Island. The work was consecrated on December 28,
1065, but Edward himself lived only another eight days. Harold Godwinson
followed him as king, and he may have begun the tradition of royal coronations
in the Abbey. Certainly Harold's successor, William the Conqueror, was
crowned here, on December 25, 1066. Since William the Conqueror, with the
exceptions of Kings Edward V (1483) and Edward VIII (1936), all coronations
have taken place there. In 1245 Henry III (1216-1272) instructed French trained
architects to begin to reconstruct Westminster Abbey in the Gothic style. The
original church was taken down and during time it was rebuild into what now is
known as Westminster Abbey.
It contains one of the most impressive collections of tombs (matmispaik)
and monuments in the world. Most British monarchs from Henry III to George
II are buried here. Among the monuments in the nave are those of Winston
Churchill and the Tomb of the Unknown Warrior, from WW1. Burial at
Westminster Abbey is one of the rarest and greatest honours in Britain. The last
sovereign to be buried in the abbey was George II (died 1760); since then they
have been buried at Windsor. Most recently the funeral of Princess Diana was
held at the Abbey in September 1997, although she was buried at Althrop, her
family home in Northamptonshire.
The The tomb of Mary, Queen of Scots
The Abbey also houses monuments to many of Britain's most illustrious
public figures. 'Poet's Corner', in the South Transept, contains memorials to
famous literary figures. Famous is Poets' Corner. Some of the most famous
buried here are Charles Dickens and Thomas Hardy.
The last monarch to occupy the Coronation Chair was Queen Elizabeth II, who
was crowned here in 1953.
Westminster Abbey is a living church, not a museum. Worship is offered in
the Abbey every day of the year. Each hour visitors are invited to pause for one
minute to pray or meditate.