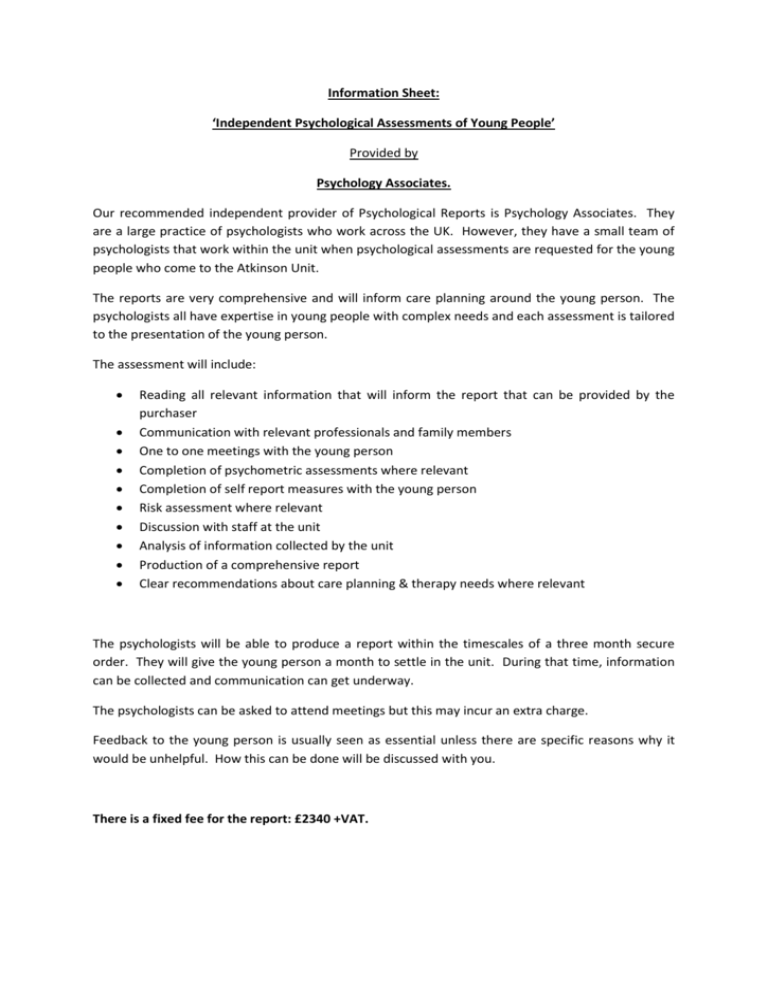 Information Sheet:
'Independent Psychological Assessments of Young People'
Provided by
Psychology Associates.
Our recommended independent provider of Psychological Reports is Psychology Associates. They
are a large practice of psychologists who work across the UK. However, they have a small team of
psychologists that work within the unit when psychological assessments are requested for the young
people who come to the Atkinson Unit.
The reports are very comprehensive and will inform care planning around the young person. The
psychologists all have expertise in young people with complex needs and each assessment is tailored
to the presentation of the young person.
The assessment will include:










Reading all relevant information that will inform the report that can be provided by the
purchaser
Communication with relevant professionals and family members
One to one meetings with the young person
Completion of psychometric assessments where relevant
Completion of self report measures with the young person
Risk assessment where relevant
Discussion with staff at the unit
Analysis of information collected by the unit
Production of a comprehensive report
Clear recommendations about care planning & therapy needs where relevant
The psychologists will be able to produce a report within the timescales of a three month secure
order. They will give the young person a month to settle in the unit. During that time, information
can be collected and communication can get underway.
The psychologists can be asked to attend meetings but this may incur an extra charge.
Feedback to the young person is usually seen as essential unless there are specific reasons why it
would be unhelpful. How this can be done will be discussed with you.
There is a fixed fee for the report: £2340 +VAT.