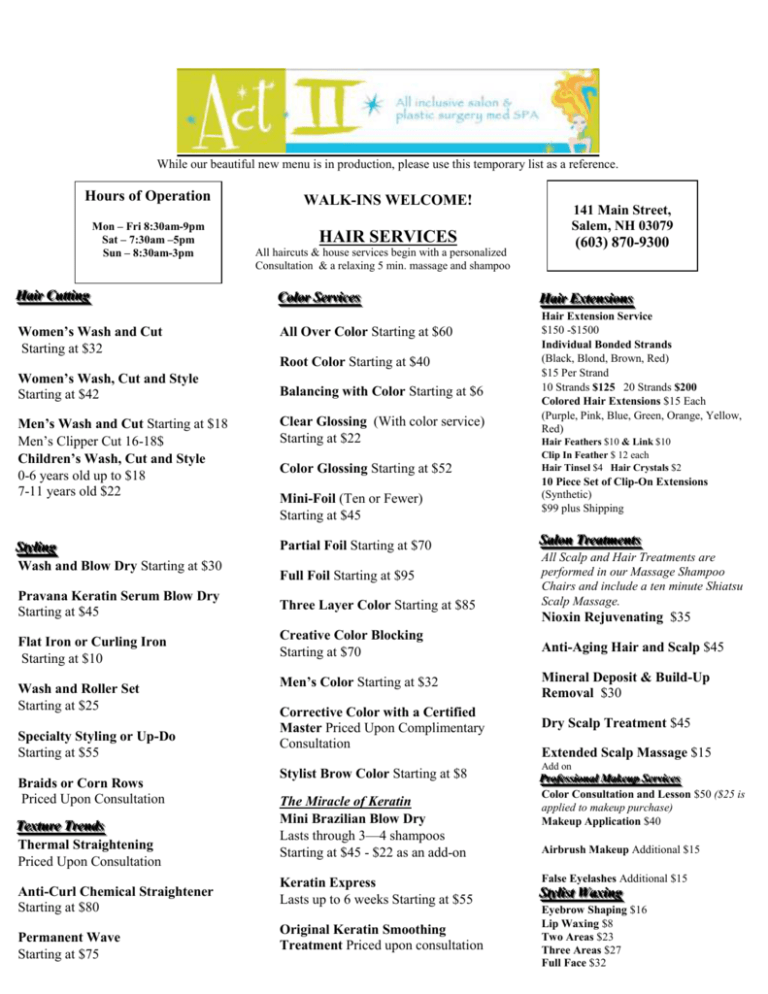 While our beautiful new menu is in production, please use this temporary list as a reference.
Hours of Operation
Mon – Fri 8:30am-9pm
Sat – 7:30am –5pm
Sun – 8:30am-3pm
H
Haaiirr CCuutttiinngg
Women's Wash and Cut
Starting at $32
WALK-INS WELCOME!
HAIR SERVICES
(603) 870-9300
All haircuts & house services begin with a personalized
Consultation & a relaxing 5 min. massage and shampoo
CCoolloorr SSeerrvviicceess
All Over Color Starting at $60
Root Color Starting at $40
Women's Wash, Cut and Style
Starting at $42
141 Main Street,
Salem, NH 03079
Balancing with Color Starting at $6
H
Haaiirr EExxtteennssiioonnss
Hair Extension Service
$150 -$1500
Individual Bonded Strands
(Black, Blond, Brown, Red)
$15 Per Strand
10 Strands $125 20 Strands $200
Colored Hair Extensions $15 Each
(Purple, Pink, Blue, Green, Orange, Yellow,
Red)
Men's Wash and Cut Starting at $18
Men's Clipper Cut 16-18$
Children's Wash, Cut and Style
0-6 years old up to $18
7-11 years old $22
Clear Glossing (With color service)
Starting at $22
SSttyylliinngg
Wash and Blow Dry Starting at $30
Partial Foil Starting at $70
SSaalloonn TTrreeaattm
meennttss
Full Foil Starting at $95
Color Glossing Starting at $52
Mini-Foil (Ten or Fewer)
Starting at $45
Hair Feathers $10 & Link $10
Clip In Feather $ 12 each
Hair Tinsel $4 Hair Crystals $2
10 Piece Set of Clip-On Extensions
(Synthetic)
$99 plus Shipping
Pravana Keratin Serum Blow Dry
Starting at $45
Three Layer Color Starting at $85
All Scalp and Hair Treatments are
performed in our Massage Shampoo
Chairs and include a ten minute Shiatsu
Scalp Massage.
Flat Iron or Curling Iron
Starting at $10
Creative Color Blocking
Starting at $70
Anti-Aging Hair and Scalp $45
Men's Color Starting at $32
Mineral Deposit & Build-Up
Removal $30
Corrective Color with a Certified
Master Priced Upon Complimentary
Consultation
Dry Scalp Treatment $45
Wash and Roller Set
Starting at $25
Specialty Styling or Up-Do
Starting at $55
Braids or Corn Rows
Priced Upon Consultation
TTeexxttuurree TTrreennddss
Thermal Straightening
Priced Upon Consultation
Anti-Curl Chemical Straightener
Starting at $80
Permanent Wave
Starting at $75
Stylist Brow Color Starting at $8
The Miracle of Keratin
Mini Brazilian Blow Dry
Lasts through 3—4 shampoos
Starting at $45 - $22 as an add-on
Keratin Express
Lasts up to 6 weeks Starting at $55
Original Keratin Smoothing
Treatment Priced upon consultation
Nioxin Rejuvenating $35
Extended Scalp Massage $15
Add on
P
P
M
PrrrooofffeeessssssiiiooonnnaaalllM
Maaakkkeeeuuuppp SSSeeerrrvvviiiccceeesss
Color Consultation and Lesson $50 ($25 is
applied to makeup purchase)
Makeup Application $40
Airbrush Makeup Additional $15
False Eyelashes Additional $15
SSttyylliisstt W
Waaxxiinngg
Eyebrow Shaping $16
Lip Waxing $8
Two Areas $23
Three Areas $27
Full Face $32
NAIL SERVICES
For Fingers and Toes
Nail Enhancements
French Polish Add $5 to Manicure or Pedicure
For natural, gorgeous, top quality nail extensions
Buff and Polish $12
Freshen up your fingers with a quick shaping and polish.
Shellac Manicure $28
Shellac Pedicure $45
A complete Hollywood manicure or pedicure followed
by the application of the amazingly long lasting and
protective Shellac Polish! Up to fourteen days of chipfree, beautiful nails with a high-gloss shine.
Paraffin Treatment: Hands $10 Feet $20
Hands & Feet at same time $25
Start with a warm sea salt soak in our Shiatsue massage
pedi chairs, followed by a light massage on feet and
lower legs by a decadent dip in our moisture paraffin.
Add Hot Stone Massage $15
Hollywood Express Manicure $15
Hollywood Express Pedicure $28
Add Paraffin $5 per service
A luxurious Sea Salt soak, exfoliation followed by cuticle
maintenance, nail shaping , and your choice of OPI
polish.
Celebrity Manicure $20
Celebrity Pedicure $40
(Our signature nail service)
A pampering experience complete with a sea salt soak,
exfoliation, massage, cuticle maintenance, nail shaping,
dipped in our aromatherapy paraffin treatment followed
by the application of your choice of nail polish.
Red Carpet Hot Stone Manicure $30.00
Red Carpet Hot Stone Spa Pedicure $75.00
Begins with a delicate sea salt and natural rose petal
soak, custom all-natural exfoliation, extended 20 minute
Hot Stone foot and leg massage with warm oil, cuticle
maintenance, nail shaping, moisture mask and a
decadent dip in our aromatherapy paraffin treatment
followed by your choice of polish. And leave with a mini
solar oil and a cute pair of pedi slippers to take home!
Men's Manicure and Buff $17
Men's Pedicure and Buff $35
A Sea Salt soak, exfoliation, paraffin dip, cuticle
maintenance and nail buffing. Includes massage and
paraffin dip.
Child's Mani & Pedi $28 (includes nail art)
Special Pampering for the little one in your life!
Foot soak, nail maintenance, special nail art!
Prices subject to change without notice.
OPI Axxium Gel Nails Full Set $55+ up
OPI Axxium Gel Fill
$30+ up
A complete House Manicure completed by the
application of an Axxium Gel Overlay. Enjoy freshly
polished look and natural feel for fourteen days! May
be applied to natural nails or with tip extensions.
Original Acrylic Extensions – Full Set $55+ up
Acrylic nail extensions are a great choice for long lasting,
beautiful nails.
Original Acrylic Fill $30+ up
Pink & White Acrylic Extensions – Full set $60+up
Pink and Whites are classic, crisp and match every
outfit!
Pink and White Acrylic fill
Regular Acrylic Fill $30+ up
Pink and White Acrylic Fill $35+ up
Creative Nail Design $10.00
Enhance your polish with Nail Art! Add anything from
simple lines and flowers to detailed designs and
seasonal icons. Decorate your fingertips with whatever
your heart desires!
Facial Treatments
All of our Facial Treatments are customized to suit every
clients unique skin type. We use only the best products for
your skin including A Natural Difference, Obage Prescription
Strength Skin Care and our own professional line, Bon Sante.
Petite Facial $50
Cleansing, exfoliation, mask, moisturize, glow on the go!
Teen Facial $50
Cleansing mask, extractions, and proper skin care designed
with the teenager's needs and concerns in mind
Bon Sante Facial $60
Cleansing, exfoliation, steam, extraction and a customized
mask. Recommended for any one that needs extra guidance
with their skin care routine.
Signature Facial $70
Cleansing, exfoliation, steam, extraction, custom mask and a
massage of the face, neck, and shoulders.
Red Carpet Facial $100
All the elements of the Signature Facial, plus the added luxury
of a back, neck, shoulder, hand and foot massage!
Men's Facial $65.00
The unique needs of a man's skin are targeted with this
cleansing and balancing treatment. Relaxing massage neck
and face.
Obagi Treatment Facial $130
A top of the line treatment using Obagi Prescription Strength
Skin Care. Includes application of a potent Vitamin-C serum
and Microdermabrasion.
Original or Organic Microdermabrasion
Face $80
Neck, hands or decollate $55
Other body parts priced upon consultation.
Vascutouch Therapy $35
For the treatment of skin tags, red spots,
hyper-pigmentation, moles and broken capillaries.
Facial Treatment add-ons
Foot Reflexology while masking $30
LED Light Therapy Priced at consultation
Body Treatments
Body Polish $75.00
Renew your skin with this full body exfoliation followed by a full
body rehydration for a supple finish.
St. Tropez Buff and Bronze $85.00
Tan the safe and natural way! A full body polish followed and
application of St. Tropez Bronzing cream by hand. No need to worry
about looking orange and the buffing process ensures you will not be
streaky!
Prices subject to change without notice.
Air Brush Tan $35
Your own custom tan applied by an esthetician using a handheld airbrush gun.
Wellness
Reflexology Foot Massage $50.00
A specialized accu-pressure massage that promotes whole
body detoxification, healing and a special sense of well
being.
Lymphatic Drainage $35.00
A gentle massage of the head, neck and chest designed
to relieve congestion in the sinus and chest, reduce
fluid retention and alleviate stress by improving
lymphatic circulation.
Energy Balancing $65
Ancient Eastern healing techniques are used to promote
your body's own natural healing ability by balancing your
bio-electric field. When energy is out of balance, it
influences your body's major functions including your
nervous system. May be performed hands on or off and fully
clothed.
Ear Candling Starting at $25.00
An ancient technique that uses a hollow candle to remove
earwax buildup, relieve congestion and improve circulation
in the ears. Fantastic for those who suffer from seasonal
allergies.
Tinting by Esthetician
Performed in a private room.
Eyelash Tinting $28.00
Eyebrow Tinting $15.00
Lash and Brow $38.00
Esthetician Waxing
Brow
$16.00
Half Leg $35.00
Lip
$10.00
Full Leg $60.00
Sideburn $10.00
Half Arm $20.00
Face
$30.00
Full Arm $30.00
Bikini
$25.00
Half Back $30.00
Brazilian $55.00
Full Back $50.00
Underarm $18.00
Massage Therapy
Deep Tissue Massage
30 minute $35
60 minutes $60
90 minutes $90
Swedish or Relaxation Massage
30 minute $35
60 minute $60
90 minutes $90
Aromatherapy Massage
30 minutes $50
60 minutes $75
90 minutes $105
Hot Stone Massage
60 minutes $85
90 minutes $110
Add aromatherapy oils to any massage for
$15
Complimentary chair massage is also
available
Prices subject to change without notice.
Board Certified Plastic Surgeon
Treats each patient with the individualized care and personal attention you deserve. All of your
beauty and aging concerns will be discussed during your private consultation to help discover
the best approach to improve your appearance, confidence and lifestyle.
The fee for consultation is $150.This fee will be applied as a credit toward the cost of
your service.
On-Site Services
Performed on location at Act II Salon.
Surgical Consultations for:
Breast Implants
Fillers - Botox, Radiesse Restalyne
Breast Reduction
Chemical Peels - Obagi Blue Peel
Tummy Tuck
Microdermabrasion - Medical Plastic
Surgery grade
Liposuction
Laser Vein Removal - Face legs and body
Face Lift
Laser Hair Removal
Eye Lift
Laser Blemish Removal - Rosacea, sun
spots, moles,
hyper-pigmentation
Nose Reconstruction
Skin Cancer Repairs
And more!
All Surgical Procedures are performed at the Salem Surgical Center. Post and pre-op care is
carried out on Act II Salon premises. Sheila Simone, Act II Salon Owner and Beauty
Consultant and will provide personalized help with all procedures.
Packages
Post-Op Detox and Pamper Package $125.00
Prices subject to change without notice.
Petite Facial, Reflexology Massage, Nourishing Nail
Repair Treatment, and a Nioxin Hair and Scalp
Rejuvenating Treatment.
Men's Package $100
A 60 Minute Deep Tissue Massage, wash and cut and
a Men's Pedicure.
Day of Beauty $235.00
A Bon Sante Facial, Manicure, Pedicure, 60 Minute
Massage, Wash, Cut, Style and Makeup Application.
Relaxation and Unwind $160.00
A sixty minute Massage, Facial, Manicure and
Pedicure.
Pick Me Up $120.00
A Pilates Class, Wash and Blowdry, Manicure,
Pedicure and Makeup Application.
Children's Package $95.00
Manicure and Pedicure with Nail Art, wash, cut and
style and Mini-Makeup Lesson.
Makeover Package A great gift idea! $425.00
A private consultation with Dr. Marasco, Red Carpet
Facial, Eyebrow Shaping and Waxing, Manicure,
Pedicure, Wash, Cut, Style, Makeup Application, light
lunch with wine and one dozen fresh roses!
Bridal Package $220.00
Manicure, Pedicure, Red Carpet Facial, one Yoga
class, 60 minute Massage and a custom Airbrush Tan.
Bridesmaid/Bachelorette Party Package
A private Pole Dancing class, Manicures, Pedicures
and wine and cheese for the whole party. Please inquire
with our wedding coordinator for price or to create
your own custom package for a girls night out or an
afternoon of relaxation!
Groom's Package $140.00
A Men's Facial, 60 minute Deep Tissue Massage and a
Men's Pedicure.
Wedding Day Bridal Party Package
Please inquire with our wedding coordinator about
planning makeup and hair services for your special
day!
Act II Exercise Studio
Single Class $10.00 (Walk-In)
6 weeks $50.00
Adult Classes
Pilates
Zumba
Yoga
Meditation
Tummy Tuck Abs
Pole Dance
Dancers Legs
Act II Professional Photography
All prices quoted at complimentary consultation.
Before and After Pictures Great for a new look!
Glamour Shots 3-4 separate looks
School Photos
Wedding Photography We have a professional
Wedding Photographer available to document your
wedding from beginning to end. This includes your trial
hair and makeup appointments, Bachelorette party,
rehearsal dinner and wedding day!
Model Portfolios Sheila Simone will style your
clothing, hair, makeup and nails then help you create
a portfolio for you to bring to agencies.
Fashion Avenue at Act II Salon
Come in and shop at our unique accessory boutique! We carry accessories, jewelry and clothing
designed by our talented Act II artists as well as one of a kind high-fashion items that Sheila
travels to L.A., New York, Miami Europe and South America to bring back to us.
Prices subject to change without notice.
Also
GOOD KARMA BOUTIQUE AT FASHION AVENUE!
WHAT GOES AROUND, COMES AROUND!!
(gently worn designer clothes at amazing prices)
Hours of Operation
Monday through Friday 8:30AM to 9:00PM
Saturday 7:30AM to 5:00PM
Sunday 8:30AM to 3:00PM
141 Main Street, Route 97
Salem, NH 03079
(603) 870-9300
Cancellation Policy
It is our policy at Act II Salon that all cancellations be made at least twenty four hours prior to the scheduled appointment
time. If an appointment is cancelled within less than twenty four hours or for any no-shows, clients are subject to be
charged for up to one hundred percent of the service. After two last minute cancellations or any no shows, a credit card
may be required to hold any future appointments.
We greatly appreciate your consideration and understanding!
Mastercard, Visa & Personal Checks accepted
Due to rising cost of bank fee's, gratuity cannot be added to credit or debit cards.
Personal Checks are welcome.
Prices subject to change without notice.