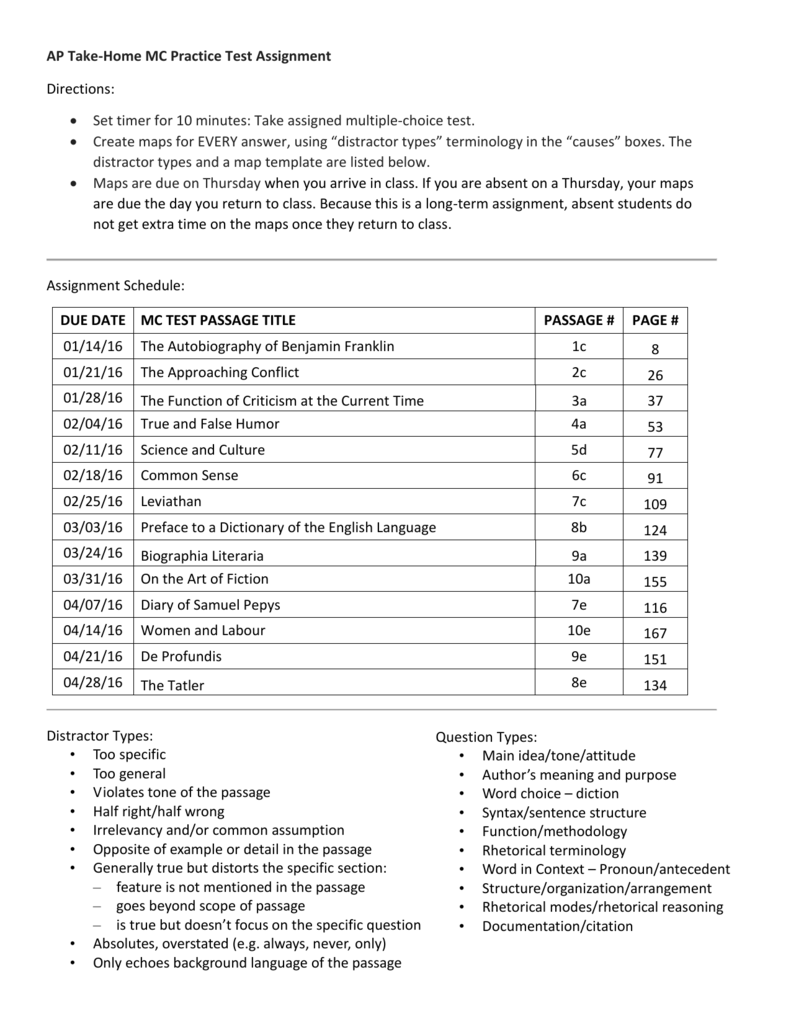 AP Take-Home MC Practice Test Assignment
Directions:



Set timer for 10 minutes: Take assigned multiple-choice test.
Create maps for EVERY answer, using "distractor types" terminology in the "causes" boxes. The
distractor types and a map template are listed below.
Maps are due on Thursday when you arrive in class. If you are absent on a Thursday, your maps
are due the day you return to class. Because this is a long-term assignment, absent students do
not get extra time on the maps once they return to class.
Assignment Schedule:
DUE DATE MC TEST PASSAGE TITLE
PASSAGE #
PAGE #
01/14/16
The Autobiography of Benjamin Franklin
1c
8
01/21/16
The Approaching Conflict
2c
26
01/28/16
3a
4a
37
02/04/16
The Function of Criticism at the Current Time
True and False Humor
02/11/16
Science and Culture
5d
77
02/18/16
Common Sense
6c
91
02/25/16
Leviathan
7c
109
03/03/16
Preface to a Dictionary of the English Language
8b
124
03/24/16
9a
10a
139
03/31/16
Biographia Literaria
On the Art of Fiction
04/07/16
Diary of Samuel Pepys
7e
116
04/14/16
Women and Labour
10e
167
04/21/16
De Profundis
9e
151
04/28/16
The Tatler
8e
134
53
155
Distractor Types:
Question Types:
• Too specific
• Main idea/tone/attitude
• Too general
• Author's meaning and purpose
• Violates tone of the passage
• Word choice – diction
• Half right/half wrong
• Syntax/sentence structure
• Irrelevancy and/or common assumption
• Function/methodology
• Opposite of example or detail in the passage
• Rhetorical terminology
• Generally true but distorts the specific section:
• Word in Context – Pronoun/antecedent
– feature is not mentioned in the passage
• Structure/organization/arrangement
– goes beyond scope of passage
• Rhetorical modes/rhetorical reasoning
– is true but doesn't focus on the specific question
• Documentation/citation
• Absolutes, overstated (e.g. always, never, only)
• Only echoes background language of the passage
•
Clearly wrong answers
Map Template:
 You may create 2 maps per side of your paper and write on the back of your papers (so 4 maps per
sheet of paper). Make sure your name, period number, and passage title are on the first map.