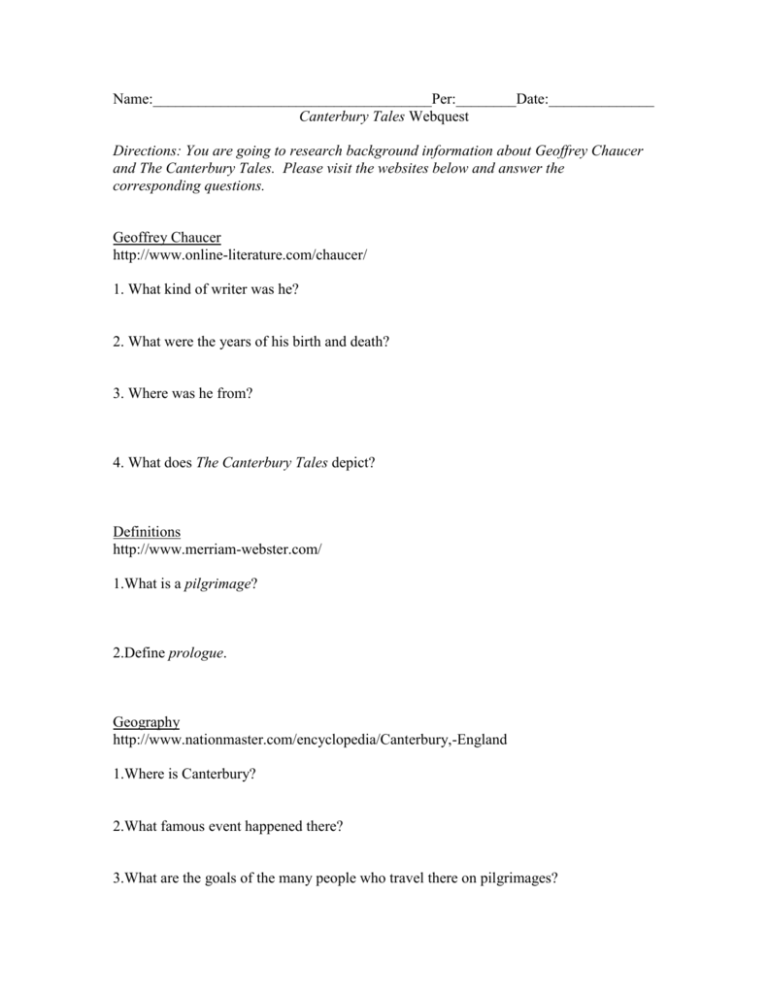 Name:_____________________________________Per:________Date:______________
Canterbury Tales Webquest
Directions: You are going to research background information about Geoffrey Chaucer
and The Canterbury Tales. Please visit the websites below and answer the
corresponding questions.
Geoffrey Chaucer
http://www.online-literature.com/chaucer/
1. What kind of writer was he?
2. What were the years of his birth and death?
3. Where was he from?
4. What does The Canterbury Tales depict?
Definitions
http://www.merriam-webster.com/
1.What is a pilgrimage?
2.Define prologue.
Geography
http://www.nationmaster.com/encyclopedia/Canterbury,-England
1.Where is Canterbury?
2.What famous event happened there?
3.What are the goals of the many people who travel there on pilgrimages?
The Canterbury Tales
http://www.librarius.com/cantales.htm
1.When was The Canterbury Tales written? In what language was it written?
2.What is it about?
3.What happens in "The Prologue"?
"The Three Estates"
http://cla.calpoly.edu/~dschwart/engl430/estates.html
1.What is an "estate"?
1st =
2nd =
3rd=
2.How were women categorized?
The Black Death
http://the-orb.net/textbooks/nelson/black_death.html
1.What was the Black Death?