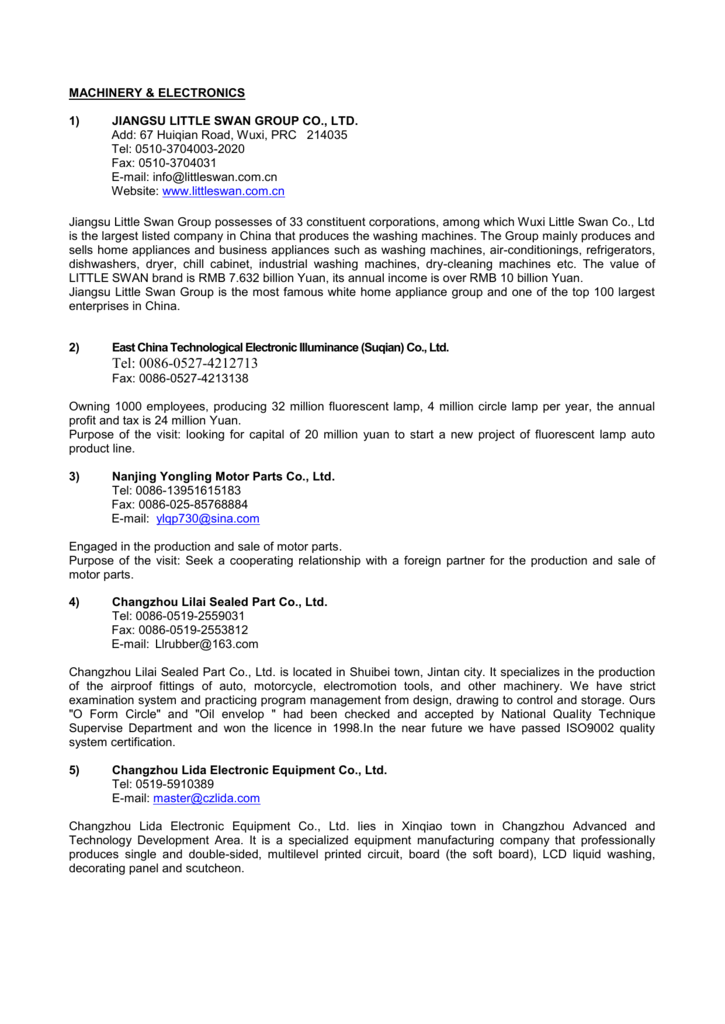 MACHINERY & ELECTRONICS
1)
JIANGSU LITTLE SWAN GROUP CO., LTD.
Add: 67 Huiqian Road, Wuxi, PRC 214035
Tel: 0510-3704003-2020
Fax: 0510-3704031
E-mail: [email protected]
Website: www.littleswan.com.cn
Jiangsu Little Swan Group possesses of 33 constituent corporations, among which Wuxi Little Swan Co., Ltd
is the largest listed company in China that produces the washing machines. The Group mainly produces and
sells home appliances and business appliances such as washing machines, air-conditionings, refrigerators,
dishwashers, dryer, chill cabinet, industrial washing machines, dry-cleaning machines etc. The value of
LITTLE SWAN brand is RMB 7.632 billion Yuan, its annual income is over RMB 10 billion Yuan.
Jiangsu Little Swan Group is the most famous white home appliance group and one of the top 100 largest
enterprises in China.
2)
East China Technological Electronic Illuminance (Suqian) Co., Ltd.
Tel: 0086-0527-4212713
Fax: 0086-0527-4213138
Owning 1000 employees, producing 32 million fluorescent lamp, 4 million circle lamp per year, the annual
profit and tax is 24 million Yuan.
Purpose of the visit: looking for capital of 20 million yuan to start a new project of fluorescent lamp auto
product line.
3)
Nanjing Yongling Motor Parts Co., Ltd.
Tel: 0086-13951615183
Fax: 0086-025-85768884
E-mail: [email protected]
Engaged in the production and sale of motor parts.
Purpose of the visit: Seek a cooperating relationship with a foreign partner for the production and sale of
motor parts.
4)
Changzhou Lilai Sealed Part Co., Ltd.
Tel: 0086-0519-2559031
Fax: 0086-0519-2553812
E-mail: [email protected]
Changzhou Lilai Sealed Part Co., Ltd. is located in Shuibei town, Jintan city. It specializes in the production
of the airproof fittings of auto, motorcycle, electromotion tools, and other machinery. We have strict
examination system and practicing program management from design, drawing to control and storage. Ours
"O Form Circle" and "Oil envelop " had been checked and accepted by National Quality Technique
Supervise Department and won the licence in 1998.In the near future we have passed ISO9002 quality
system certification.
5)
Changzhou Lida Electronic Equipment Co., Ltd.
Tel: 0519-5910389
E-mail: [email protected]
Changzhou Lida Electronic Equipment Co., Ltd. lies in Xinqiao town in Changzhou Advanced and
Technology Development Area. It is a specialized equipment manufacturing company that professionally
produces single and double-sided, multilevel printed circuit, board (the soft board), LCD liquid washing,
decorating panel and scutcheon.
6)
Jiangsu Jingong Instrument and cable (Group) Company
Tel: 0086-0517-6809615
Fax.0086-0517-6897577
E-mail: [email protected]
Website: www.chinajingong.com
Jiangsu Jingong Instrument and cable (Group) Company is a Jiangsu provincial technology run by private
capital, passed the ISO9001 quantity system the attestation. Currently there are more than 850 employees.
Principal products: instrument, wire cable.
7)
Jiangsu Datong Qingjiang Electro-Mechanical Co., Ltd.
Add.8 Qingjiangdianji Road, Huai'an, Jiangsu, China 223001
Tel.0517-3739048
Fax.0517-3739009
E-mail: [email protected]
Website: http://www.gcdt.net/jiangsudatong.asp
Jiangsu Datong Qingjiang Electro-mechanical Co., Ltd. was established in April in 2003 invested by
Guancheng Datong Co., Ltd. and Jiangsu Qingjiang Co., Ltd. At present, we have total assets RMB 188
million and retained assets RMB 78 million.
8)
Jiangsu Superion Science & Technology Company
Tel: 0086-13705139188
Fax: 0086-0518-5515888
E-mail: [email protected]
Jiangsu Superion Science & Technology Company was set up on august 8th 2003.it specializes in research,
development and manufactures the software of the professional information management. The company
offers its services and products to those of the governmental units, enterprises and medical health units, etc.
So far we have worked out 6 kinds of software, which have been registered by the authority in Jiangsu and
the products have gained quite well beneficial results both marketingly and socially. The company has been
confirmed by Jiangsu information industrial department. It is the first software company in Lianyungang so
far.
The main purpose is to investigate and open up Italian and European software markets, to cooperate with
international famous software companies.
9)
Lianyungang Shenda Metal Plastic Material Factory
Tel: 0086-0518-5638696
Fax: 0086-0518-5632143
The former machine and electron industry department empower my unit to produce the structure pieces of
electric equipment. Our chief production is fa28-1/2ks.zg shape material and GGD, GGS, GGK and all kinds
of volume high-low pressure cabinet.
10)
Wuxi Landa Electric Equipment Co., Ltd.
Tel: 0086-0510-8793888
Fax: 0086-0510-8791514 0510-8601705
E-mail: [email protected]
Website: www.landadianli.com
Wuxi Landa Electric Equipment Co., Ltd, has more than 10 years' history in producing the height and press
complete sets. Obtain former the Ministry of Engineering Industries 1995, Ministry of Power Industry form a
complete set electric power production licence of equipment. Body ware at high, low-voltage switch
cupboard, ring networks. Listed in the upgrading of rural power grids of the third batches of national cities by
the State Economic and Trade Commission and recommend the enterprise a catalogue.
11)
Wuxi Huanyu Electrical Magnetism Co., Ltd.
Tel: 86510-5212299
Fax: 86510-5212299
E-mail: [email protected]
Website: www.whuanyu.com
Located in High-new Industrial Development Zone of Wuxi New District, our company is by the ShanghaiNanjing Expressway, No.312 State Highway and Beijing-Shanghai Railway. It makes us convenient to
contact the world.
Based on the guide-line of "connecting people", we have set up a group of high-level employee. Now we
have become a professional enterprise which produce various spec of copper rectangular conductor, paper
wrapped wires, enameled rectangular winding wires, enameled round winding wires, glass-fiber covered
winding wires and continuously transposed conductors. Our product is widely used in high voltage,
immersion technique and dry-type epoxy casted transformer and other special type electrical appliances.
And our annual output exceeded 4,500 tons.
12)
Yancheng Textile Machinery Co., Ltd.
Tel: 86-515-8335975
Fax: 86-515-8335561
E-mail: [email protected]
Website: http://www.ycfangji.com/
Yancheng Textile Machinery Co, ltd. is an enterprise producing pre-weaning equipments designate by China
National Tuckerton of Textile The Main Products: sizing machine sizing dyeing Machine, Pumice, warping
machine and raising machine etc.
13)
Jiangsu Dahong Group
Add: Dongnan textile industry zoo, Yangdong town, Sheyang, Yancheng, Jiangsu, China
Tel.0086-0515-2660268 0086-0515-2680188
Fax.0086-0515-2660383
E-mail: [email protected]
Website: http://www.jshonghua.com/
224332
JIANGSU DAHONG GROUP is a provincial group of companies of JIANGSU, It manufactures collective
products of textile Machineries, cotton spinning, flaxen spinning, weave synthesis fiber, electricity power and
heat combined supply. Owns RMB460 million, capital asserts RMB260million and 9 subsidiaries. It major
products lists various cotton and blended yarn, flaxen yarn, various fabric; weaving preparatory machines
like Warping Machine, Sizing Machine, Sizing and Dyeing combined Machine etc; Hi-speed flexible rapier
weaving machine; auxiliary weaving preparatory machines like size mixer etc.; five technological renovation
devices for looms etc.