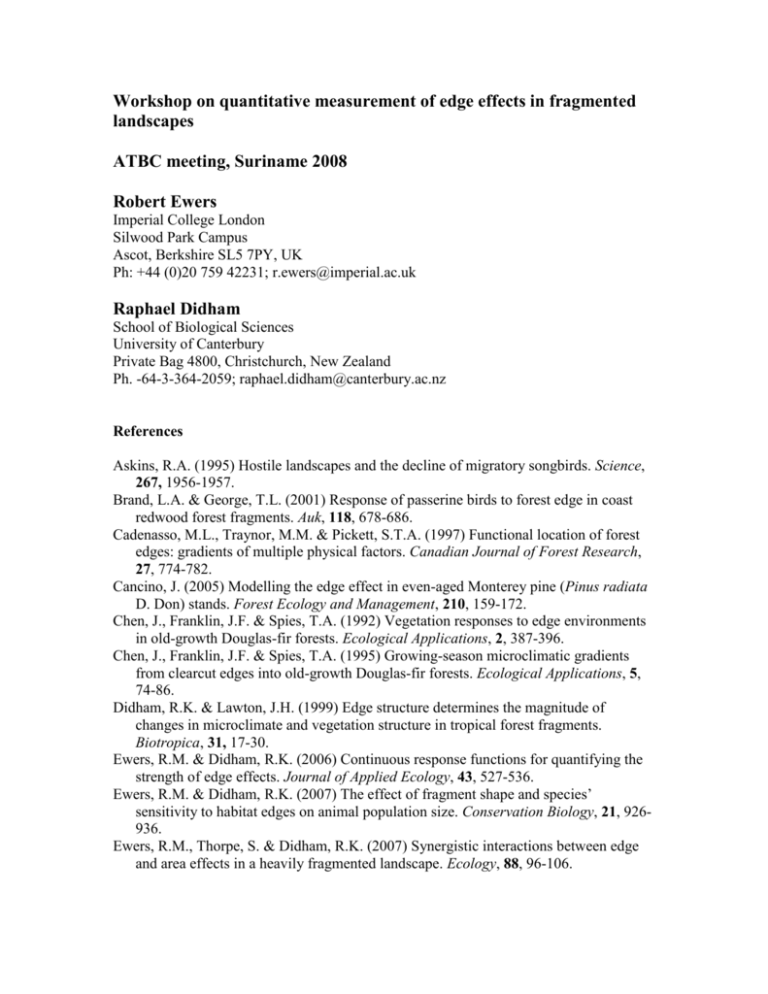 Workshop on quantitative measurement of edge effects in fragmented
landscapes
ATBC meeting, Suriname 2008
Robert Ewers
Imperial College London
Silwood Park Campus
Ascot, Berkshire SL5 7PY, UK
Ph: +44 (0)20 759 42231; r.ewers@imperial.ac.uk
Raphael Didham
School of Biological Sciences
University of Canterbury
Private Bag 4800, Christchurch, New Zealand
Ph. -64-3-364-2059; raphael.didham@canterbury.ac.nz
References
Askins, R.A. (1995) Hostile landscapes and the decline of migratory songbirds. Science,
267, 1956-1957.
Brand, L.A. & George, T.L. (2001) Response of passerine birds to forest edge in coast
redwood forest fragments. Auk, 118, 678-686.
Cadenasso, M.L., Traynor, M.M. & Pickett, S.T.A. (1997) Functional location of forest
edges: gradients of multiple physical factors. Canadian Journal of Forest Research,
27, 774-782.
Cancino, J. (2005) Modelling the edge effect in even-aged Monterey pine (Pinus radiata
D. Don) stands. Forest Ecology and Management, 210, 159-172.
Chen, J., Franklin, J.F. & Spies, T.A. (1992) Vegetation responses to edge environments
in old-growth Douglas-fir forests. Ecological Applications, 2, 387-396.
Chen, J., Franklin, J.F. & Spies, T.A. (1995) Growing-season microclimatic gradients
from clearcut edges into old-growth Douglas-fir forests. Ecological Applications, 5,
74-86.
Didham, R.K. & Lawton, J.H. (1999) Edge structure determines the magnitude of
changes in microclimate and vegetation structure in tropical forest fragments.
Biotropica, 31, 17-30.
Ewers, R.M. & Didham, R.K. (2006) Continuous response functions for quantifying the
strength of edge effects. Journal of Applied Ecology, 43, 527-536.
Ewers, R.M. & Didham, R.K. (2007) The effect of fragment shape and species'
sensitivity to habitat edges on animal population size. Conservation Biology, 21, 926936.
Ewers, R.M., Thorpe, S. & Didham, R.K. (2007) Synergistic interactions between edge
and area effects in a heavily fragmented landscape. Ecology, 88, 96-106.
Fagan, W.F., Cantrell, R.S. & Cosner, C. (1999) How habitat edges change species
interactions. American Naturalist, 153, 165-182.
Fraver, S. (1994) Vegetation responses along edge-to-interior gradients in the mixed
hardwood forests of the Roanoke River basin, North Carolina. Conservation Biology,
8, 822-832.
Harper, K.A. & MacDonald, S.E. (2001) Structure and composition of riparian boreal
forest: new methods for analyzing edge influence. Ecoogy, 82, 649-659.
Harper, K.A., MacDonald, S.E., Burton, P.J., Chen, J., Brosofske, K.D., Saunders, S.C.,
Euskirchen, E.S., Roberts, D., Jaiteh, M.S. & Esseen, P.-A. (2005) Edge influence on
forest structure and composition in fragmented landscapes. Conservation Biology, 19,
768-782.
Huxel, G.R. & McCann, K.S. (1998) Food web stability: the influence of trophic flows
across habitats. American Naturalist, 152, 460-469.
Hylander, K. (2005) Aspect modifies the magnitude of edge effects on bryophyte growth
in boreal forests. Journal of Applied Ecology, 42, 518-525.
Laurance, W.F., Ferreira, L.V., Rankin-de Merona, J.M. & Laurance, S.G. (1998) Rain
forest fragmentation and the dynamics of Amazonian tree communities. Ecology, 79,
2032-2040.
Laurance, W.F., Lovejoy, T.E., Vasconcelos, H.L., Bruna, E.M., Didham, R.K., Stouffer,
P.C., Gascon, C., Bierregaard, R.O., Laurance, S.G. & Sampaio, E. (2002) Ecosystem
decay of Amazonian forest fragments: a 22-year investigation. Conservation Biology,
16, 605-618.
Laurance, W.F. & Yensen, E. (1991) Predicting the impacts of edge effects in fragmented
habitats. Biological Conservation, 55, 77-92.
Mancke, R.G. & Gavin, T.A. (2000) Breeding bird density in woodlots: effects of depth
and buildings at the edges. Ecological Applications, 10, 598-611.
Murcia, C. (1995) Edge effects in fragmented forests: implications for conservation.
Trends in Ecology and Evolution, 10, 58-62.
Ries, L., Fletcher, R.J.J., Battin, J. & Sisk, T.D. (2004) Ecological responses to habitat
edges: mechanisms, models and variability explained. Annual Review of Ecology,
Evolution and Systematics, 35, 491-522.
Sisk, T.D. & Battin, J. (2002) Habitat edges and avian ecology: geographic patterns and
insights for western landscapes. Studies in Avian Biology, 25, 30-48.
Sisk, T.D., Haddad, N.M. & Ehrlich, P.R. (1997) Bird assemblages in patchy woodlands:
Modeling the effects of edge and matrix habitats. Ecological Applications, 7, 11701180.
Temple, S.A. (1986) Predicting impacts of habitat fragmentation on forest birds: a
comparison of two models. Modelling habitat relationships of terrestrial vertebrates
(eds J. Verner & M.L. Morrison), pp. 301-304. University of Wisconsin Press.
Toms, J.D. & Lesperance, M.L. (2003) Piecewise regression: a tool for identifying
ecological thresholds. Ecology, 84, 2034-2041.
Wiens, J.A. (1992) Ecological flows across landscape boundaries: a conceptual overview.
Landscape boundaries: consequences for biotic diversity and ecological flows (eds
A.J. Hansen & F. di Castri), pp. 217-235. Springer-Verlag, New York.
Wiens, J.A., Crawford, C.S. & Gosz, J.R. (1985) Boundary dynamics: a conceptual
framework for studying landscape ecosystems. Oikos, 45, 421-427.
Yahner, R.H. (1988) Changes in wildlife communities near edges. Conservation Biology,
2, 333-339.
Zheng, D. & Chen, J. (2000) Edge effects in fragmented landscapes: a generic model for
delineating area of edge influences (D-AEI). Ecological Modelling, 132, 175-190.