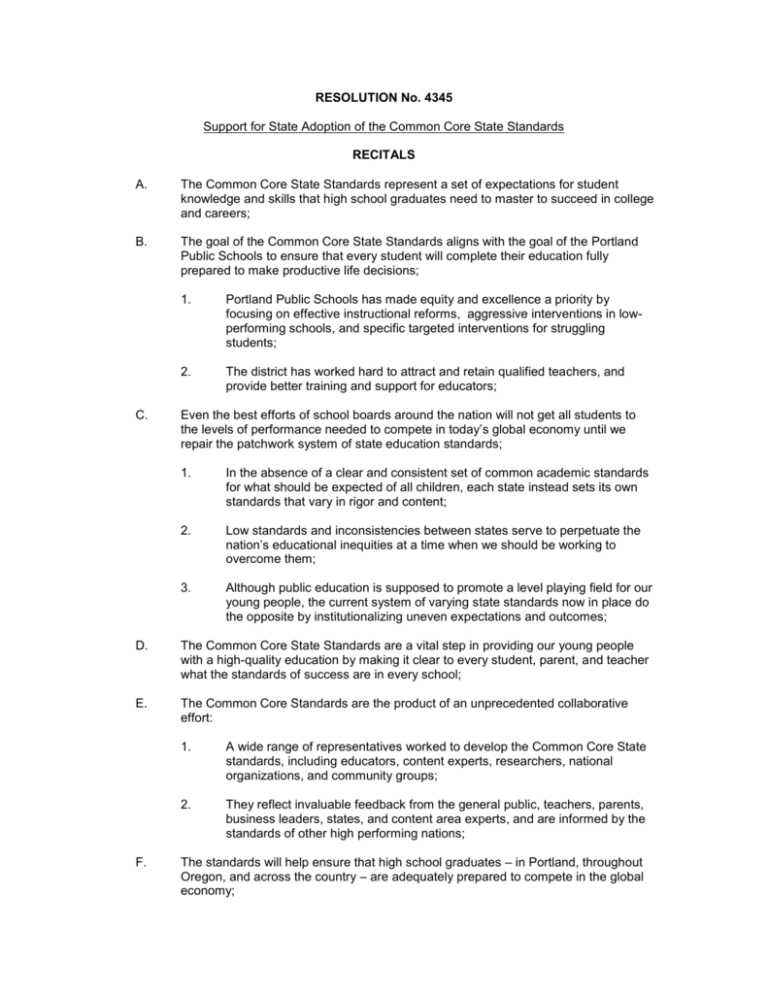 RESOLUTION No. 4345
Support for State Adoption of the Common Core State Standards
RECITALS
A.
The Common Core State Standards represent a set of expectations for student
knowledge and skills that high school graduates need to master to succeed in college
and careers;
B.
The goal of the Common Core State Standards aligns with the goal of the Portland
Public Schools to ensure that every student will complete their education fully
prepared to make productive life decisions;
C.
1.
Portland Public Schools has made equity and excellence a priority by
focusing on effective instructional reforms, aggressive interventions in lowperforming schools, and specific targeted interventions for struggling
students;
2.
The district has worked hard to attract and retain qualified teachers, and
provide better training and support for educators;
Even the best efforts of school boards around the nation will not get all students to
the levels of performance needed to compete in today's global economy until we
repair the patchwork system of state education standards;
1.
In the absence of a clear and consistent set of common academic standards
for what should be expected of all children, each state instead sets its own
standards that vary in rigor and content;
2.
Low standards and inconsistencies between states serve to perpetuate the
nation's educational inequities at a time when we should be working to
overcome them;
3.
Although public education is supposed to promote a level playing field for our
young people, the current system of varying state standards now in place do
the opposite by institutionalizing uneven expectations and outcomes;
D.
The Common Core State Standards are a vital step in providing our young people
with a high-quality education by making it clear to every student, parent, and teacher
what the standards of success are in every school;
E.
The Common Core Standards are the product of an unprecedented collaborative
effort:
F.
1.
A wide range of representatives worked to develop the Common Core State
standards, including educators, content experts, researchers, national
organizations, and community groups;
2.
They reflect invaluable feedback from the general public, teachers, parents,
business leaders, states, and content area experts, and are informed by the
standards of other high performing nations;
The standards will help ensure that high school graduates – in Portland, throughout
Oregon, and across the country – are adequately prepared to compete in the global
economy;
G.
These standards will give the nation a common definition of what academic
proficiency means, help schools focus their efforts on a set of high standards.
RESOLUTION
1.
Portland Public Schools Board of Education urges the Oregon State Board of
Education to adopt the Common Core State Standards:
a.
To ensure that students in Oregon make progress each year,
b.
To ensure students graduate from school prepared to succeed in college,
c.
To ensure students are prepared to succeed in a modern workforce,
d.
And to ensure students compete in the national and global economy of the
21st century.