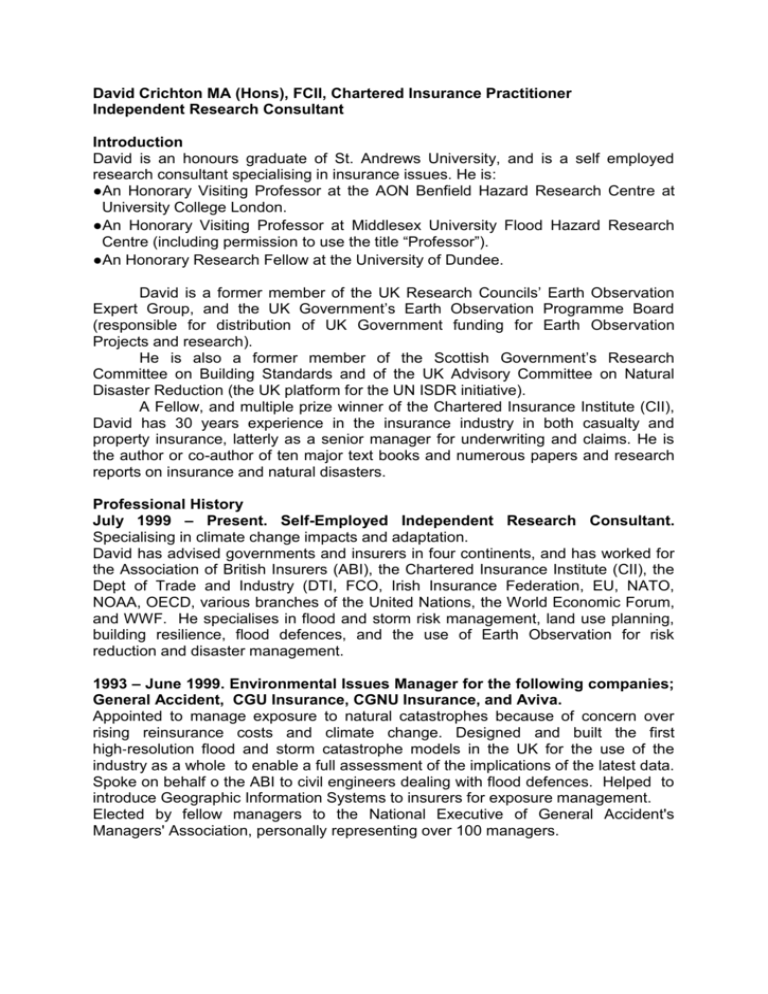 David Crichton MA (Hons), FCII, Chartered Insurance Practitioner
Independent Research Consultant
Introduction
David is an honours graduate of St. Andrews University, and is a self employed
research consultant specialising in insurance issues. He is:
●An Honorary Visiting Professor at the AON Benfield Hazard Research Centre at
University College London.
●An Honorary Visiting Professor at Middlesex University Flood Hazard Research
Centre (including permission to use the title "Professor").
●An Honorary Research Fellow at the University of Dundee.
David is a former member of the UK Research Councils' Earth Observation
Expert Group, and the UK Government's Earth Observation Programme Board
(responsible for distribution of UK Government funding for Earth Observation
Projects and research).
He is also a former member of the Scottish Government's Research
Committee on Building Standards and of the UK Advisory Committee on Natural
Disaster Reduction (the UK platform for the UN ISDR initiative).
A Fellow, and multiple prize winner of the Chartered Insurance Institute (CII),
David has 30 years experience in the insurance industry in both casualty and
property insurance, latterly as a senior manager for underwriting and claims. He is
the author or co-author of ten major text books and numerous papers and research
reports on insurance and natural disasters.
Professional History
July 1999 – Present. Self-Employed Independent Research Consultant.
Specialising in climate change impacts and adaptation.
David has advised governments and insurers in four continents, and has worked for
the Association of British Insurers (ABI), the Chartered Insurance Institute (CII), the
Dept of Trade and Industry (DTI, FCO, Irish Insurance Federation, EU, NATO,
NOAA, OECD, various branches of the United Nations, the World Economic Forum,
and WWF. He specialises in flood and storm risk management, land use planning,
building resilience, flood defences, and the use of Earth Observation for risk
reduction and disaster management.
1993 – June 1999. Environmental Issues Manager for the following companies;
General Accident, CGU Insurance, CGNU Insurance, and Aviva.
Appointed to manage exposure to natural catastrophes because of concern over
rising reinsurance costs and climate change. Designed and built the first
high‐resolution flood and storm catastrophe models in the UK for the use of the
industry as a whole to enable a full assessment of the implications of the latest data.
Spoke on behalf o the ABI to civil engineers dealing with flood defences. Helped to
introduce Geographic Information Systems to insurers for exposure management.
Elected by fellow managers to the National Executive of General Accident's
Managers' Association, personally representing over 100 managers.
1987 – 1993. UK Commercial Motor Manager, General Accident.
Appointed to turn round a loss making account. Responsible for 50 staff and a
turnover in excess of £100m at 1987 prices (including the Queen's motor fleet.)
Redesigned the entire product range, computer systems, and training. Met all profit
and growth targets. Initiated an innovative fleet risk management programme, which
won a special national safety award from the fleet industry and significantly reduced
fleet accident rates.
1976 – 1987. Liability underwriter/manager, General Accident.
First at General Accident's City office in London, then at its Head Office in Perth.
Crichton rose through nine promotions in 11 years to Assistant Liability Manager for
the UK. Winner of the first AIRMIC prize ever awarded to an insurance industry
employee for his work on risk management. Author of a four volume, 1,600‐page
liability underwriting guide which is still in use today.
1973 – 1976. Senior Underwriter, Legal and General, London.
Promoted to senior underwriting position with Legal and General in London dealing
with accident, engineering, liability and specialised property insurances. Won further
CII prizes.
1971 – 1973. Graduate fast‐track programme with Legal and General, Glasgow.
Within six months became acting motor underwriting manager for Scotland, in
charge of a department of 20 staff. Won a CII prize for the best student in Glasgow.
Academic Training
1966 – 1971. Queen's College, St Andrews University, Scotland.
Graduated MA (Hons) in Economics.
1953 – 1966. Dundee High School
An independent private school, the oldest school in the Headmasters' Conference;
established over 750 years ago.
Key Facts
●The only person to be a member of all 19 Flood Liaison and Advice Groups in
Scotland, covering 94% of the Scottish population.
●Has advised more than 30 local authorities in England and Scotland on climate
change and flooding problems.
●He has served on national steering committees for climate change research,
reservoir safety, sustainable drainage, and building standards for flood repairs.
●He has addressed many conferences around the world and gave the Gordon
Manley Memorial Lecture in 2006 for the Royal Meteorological Society.
●He is the only insurer to have been asked to give oral evidence to the House of
Commons Select Committee on climate change and the only insurer asked to give
oral evidence to the Scottish Parliament's Inquiry into climate change.
●He was also the only insurer asked to give evidence to the House of Commons
International Development Committee Inquiry into Global Climate Change.