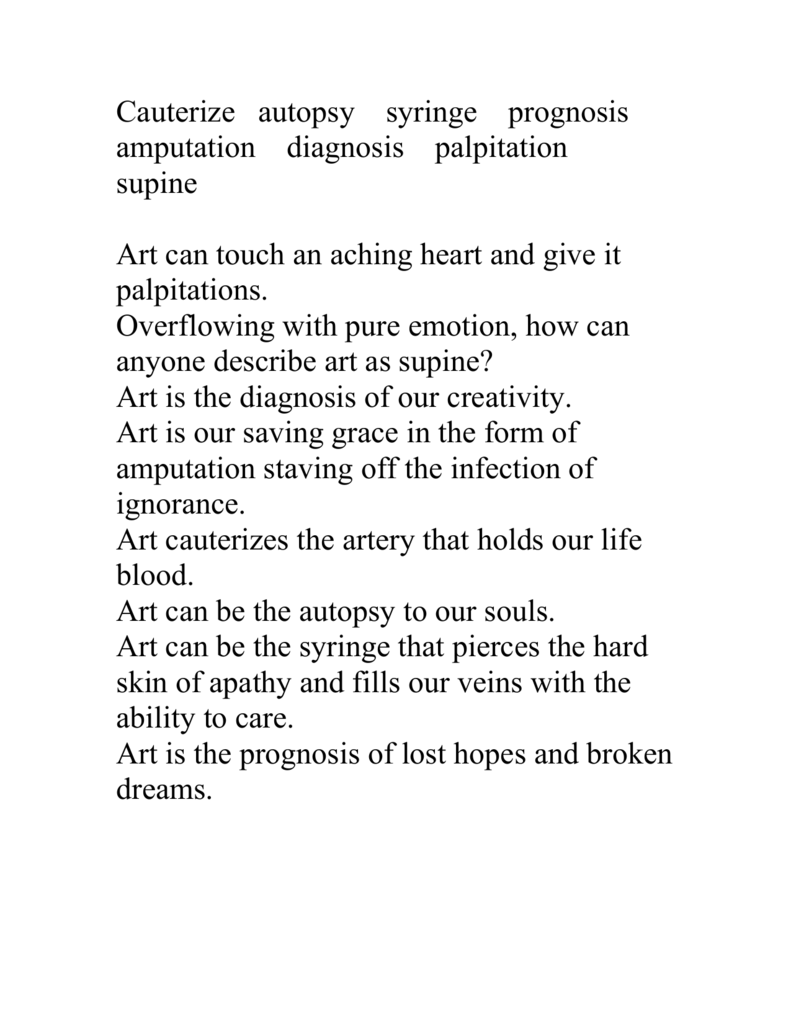 Cauterize autopsy syringe prognosis
amputation diagnosis palpitation
supine
Art can touch an aching heart and give it
palpitations.
Overflowing with pure emotion, how can
anyone describe art as supine?
Art is the diagnosis of our creativity.
Art is our saving grace in the form of
amputation staving off the infection of
ignorance.
Art cauterizes the artery that holds our life
blood.
Art can be the autopsy to our souls.
Art can be the syringe that pierces the hard
skin of apathy and fills our veins with the
ability to care.
Art is the prognosis of lost hopes and broken
dreams.
Defibrillation antibiotics antivirus
incision laceration trauma sedation
Art is the defibrillation needed to revive
society.
Antibiotics cure the bacterial infection that
is the loss of empathy.
My life without art is an incision to my
heart.
Art is like a laceration; it cuts you deeply
Art heals trauma.
Lack of art is sedation to the soul.
Syndrome tonic conjunctivitis disease
pulmonary artery disease intervention
vaccine diabetes
My love for art is a syndrome no one can
cure.
Art is the vaccine for my disease.
Art is like conjunctivitis to my problems,
making them difficult to see.
Art is my intervention from reality.
Art is a tonic for reality.
Like one with diabetes hungers for insulin,
so I hunger for art.
Scalpel penicillin surgery heartbeat cure
therapy
Art is the cure for common boredom.
Art is the therapy I need to relieve me of my
problems.
Those who do not like art are cancerous to
society.
As a scalpel opens our heart, art opens our
soul.