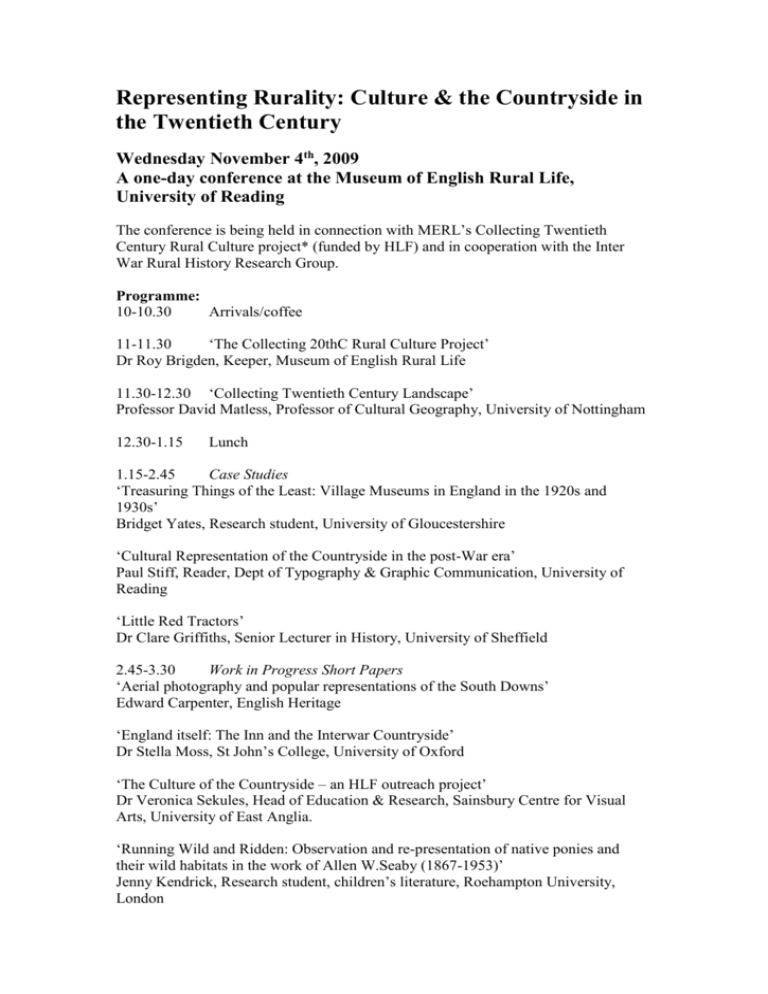 Representing Rurality: Culture & the Countryside in
the Twentieth Century
Wednesday November 4th, 2009
A one-day conference at the Museum of English Rural Life,
University of Reading
The conference is being held in connection with MERL's Collecting Twentieth
Century Rural Culture project* (funded by HLF) and in cooperation with the Inter
War Rural History Research Group.
Programme:
10-10.30
Arrivals/coffee
11-11.30
'The Collecting 20thC Rural Culture Project'
Dr Roy Brigden, Keeper, Museum of English Rural Life
11.30-12.30 'Collecting Twentieth Century Landscape'
Professor David Matless, Professor of Cultural Geography, University of Nottingham
12.30-1.15
Lunch
1.15-2.45
Case Studies
'Treasuring Things of the Least: Village Museums in England in the 1920s and
1930s'
Bridget Yates, Research student, University of Gloucestershire
'Cultural Representation of the Countryside in the post-War era'
Paul Stiff, Reader, Dept of Typography & Graphic Communication, University of
Reading
'Little Red Tractors'
Dr Clare Griffiths, Senior Lecturer in History, University of Sheffield
2.45-3.30
Work in Progress Short Papers
'Aerial photography and popular representations of the South Downs'
Edward Carpenter, English Heritage
'England itself: The Inn and the Interwar Countryside'
Dr Stella Moss, St John's College, University of Oxford
'The Culture of the Countryside – an HLF outreach project'
Dr Veronica Sekules, Head of Education & Research, Sainsbury Centre for Visual
Arts, University of East Anglia.
'Running Wild and Ridden: Observation and re-presentation of native ponies and
their wild habitats in the work of Allen W.Seaby (1867-1953)'
Jenny Kendrick, Research student, children's literature, Roehampton University,
London
3.30-5.00
Tea, followed by plenary discussion
The discussion will be led by a panel comprising Professor John Sheail, Dr Jeremy
Burchardt and chaired by Professor Alun Howkins.
Cost of attending the conference (including lunch and all refreshments) is £10 –
cheques payable to the University of Reading. Attendance is free for postgraduate
students. For further information and to make a booking, contact Roy Brigden at the
Museum of English Rural Life: [email protected] tel 0118 3788663.