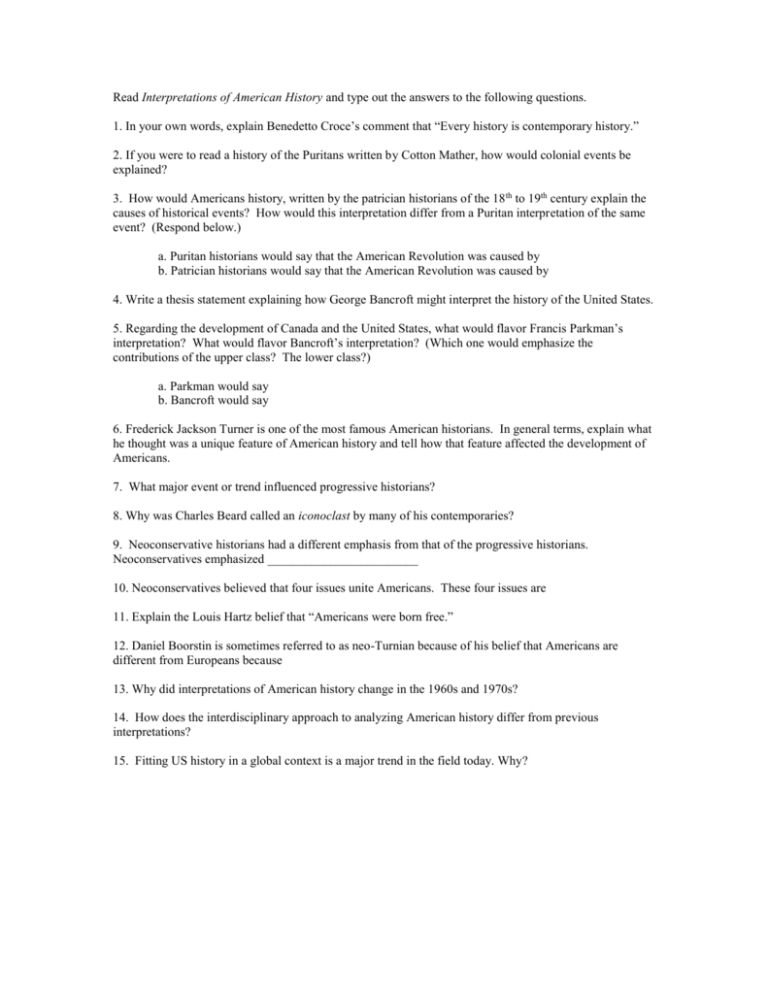 Read Interpretations of American History and type out the answers to the following questions.
1. In your own words, explain Benedetto Croce's comment that "Every history is contemporary history."
2. If you were to read a history of the Puritans written by Cotton Mather, how would colonial events be
explained?
3. How would Americans history, written by the patrician historians of the 18 th to 19th century explain the
causes of historical events? How would this interpretation differ from a Puritan interpretation of the same
event? (Respond below.)
a. Puritan historians would say that the American Revolution was caused by
b. Patrician historians would say that the American Revolution was caused by
4. Write a thesis statement explaining how George Bancroft might interpret the history of the United States.
5. Regarding the development of Canada and the United States, what would flavor Francis Parkman's
interpretation? What would flavor Bancroft's interpretation? (Which one would emphasize the
contributions of the upper class? The lower class?)
a. Parkman would say
b. Bancroft would say
6. Frederick Jackson Turner is one of the most famous American historians. In general terms, explain what
he thought was a unique feature of American history and tell how that feature affected the development of
Americans.
7. What major event or trend influenced progressive historians?
8. Why was Charles Beard called an iconoclast by many of his contemporaries?
9. Neoconservative historians had a different emphasis from that of the progressive historians.
Neoconservatives emphasized ________________________
10. Neoconservatives believed that four issues unite Americans. These four issues are
11. Explain the Louis Hartz belief that "Americans were born free."
12. Daniel Boorstin is sometimes referred to as neo-Turnian because of his belief that Americans are
different from Europeans because
13. Why did interpretations of American history change in the 1960s and 1970s?
14. How does the interdisciplinary approach to analyzing American history differ from previous
interpretations?
15. Fitting US history in a global context is a major trend in the field today. Why?